Photos of Wigan
Photos of Wigan
Album Contents
Album Contents
Wigan Album
Kingsdown road Abram
7 Comments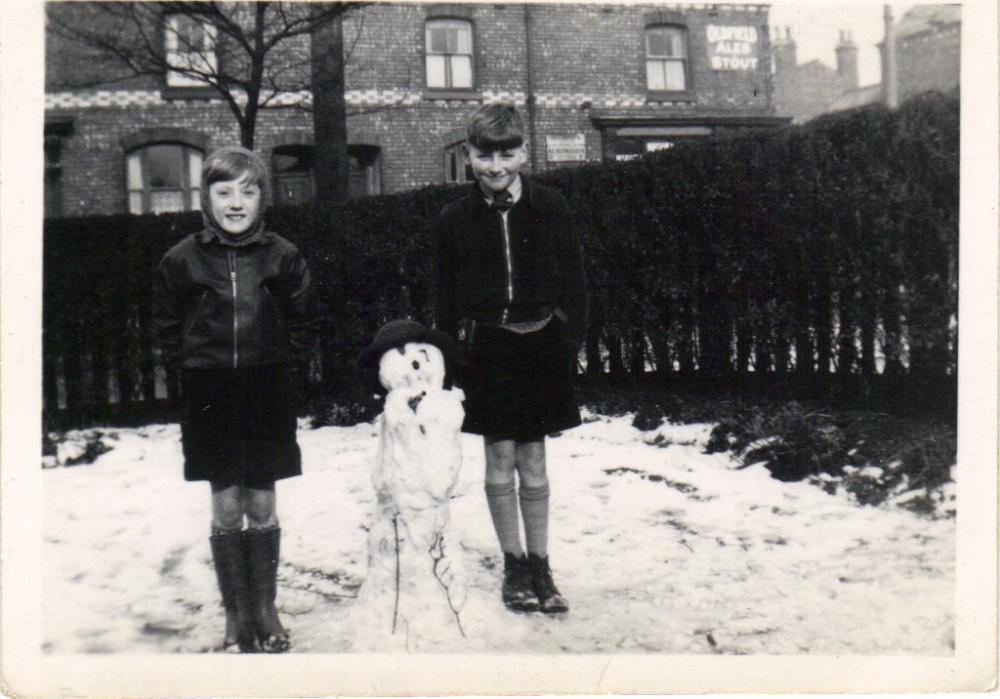 Still Friends Today
Photo: Phil. Taylor
Views: 2,947
Item #: 9786
Keith Pennington and Phil Taylor in my Grandparents' garden in Kingsdown road Abram. 1950 ish
Comment by: Jimmy on 10th March 2009 at 11:40
Keith is that you with your wellies on!
Comment by: ste s on 10th March 2009 at 20:57
hi keith do you go in abram labour club ?
Comment by: keith pennington on 12th March 2009 at 07:40
Hi Jim,told you about wellie's tother day ,those still fit .my mother always said leave plenty of room for growth.good photo Phil ,i can still remember us building that snowman,happy days .Ste, sorry not been in labour club for years,i think the last time i was in there was with Jimmy Scott, and thats going back a long time
Comment by: Jimmy on 14th March 2009 at 10:06
Keith been studing the photo thinking who you remind me of...Billy Bradshaw.
Comment by: keith pennington on 15th March 2009 at 21:39
Hi Jimmy, i'm suprised there was'nt a comment on my nobbly knee's, leatherette jacket ,and balaclava.all trendy in them days.i remember rolling a snowball to make the head.i used to live to the right of the photo at 15 Kingsdown road.Cromptons shop can be seen to the right.Me and Phil were friends from year dot,i can remember us both taking the tyre's off our dinky cars, and posting them through the letter box of 15 kingsdown road,what a stupid thing to do cos we never got them back.A few other names of friends which might be remembered are-Arthur Crompton, Tony Allen,David Bishop,Alan Bellingham,Tom and Fred Ratcliffe,Olwyn Pearson,Marjorie Baxendale,Alan Ashurst,John Lenaine,Harrold Sumner,Geof Banks,Graham Wade,Terrence Connelly,Margaret Wright,Allan Bridge,Adrian Bates,Barry McNamarra,Arnold Crompton,Alice Sumner .Eric Grimshaw, Adrian Pennington,Margaret Lowe,Eric Peet,Michael Keeling,Phil will probably remember a few more who we played with as kids .
Comment by: mickey on 12th February 2010 at 16:17
Good photo. did you know Chris Vince then?
Comment by: Lee Coan on 22nd February 2010 at 10:52
Hi, i just wondered if anyone had any more photos of this bit of kings down road? i'm soon to move into no 9 and would like to see how it used to look. any help i would be greatfull for. Thanks