Photos of Wigan
Photos of Wigan
Album Contents
Album Contents
Wigan Album
Spring Gardens
7 Comments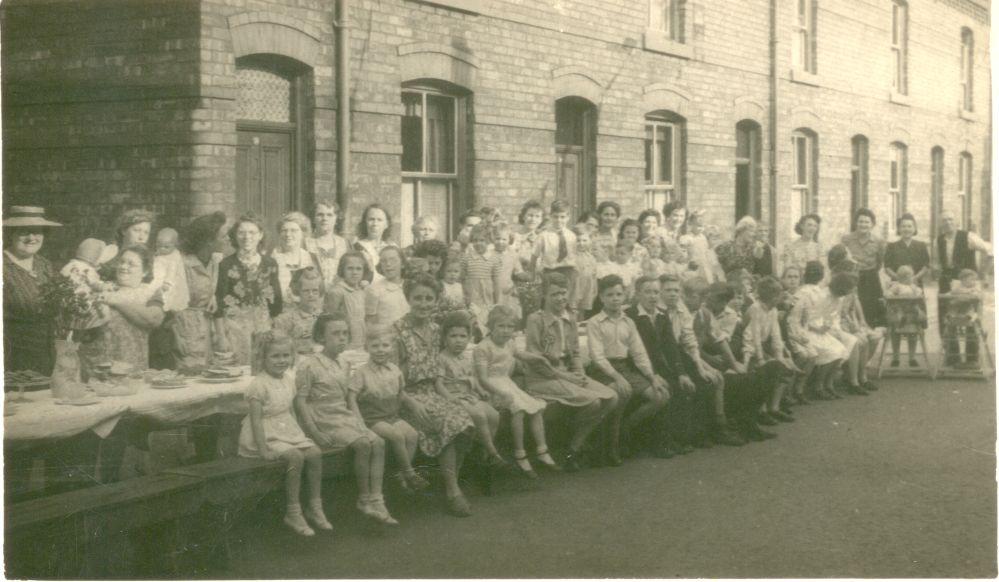 Spring Gardens.
Photo: Kevin Baldwin
Views: 3,212
Item #: 899
Street Party in Spring Gardens, c1940.
the two kids in yhe highchairs are Eric and James Barnes I have this photo taken fron another angle
Comment by: Keith Andrews on 20th January 2008 at 19:07
just wondered photo 'c1940' - could it be 1945, a street party to celebrate end of war ? - i know as a 5yr old i went to street party in Beech Hill, i think it was where Acacia Crescent and Ashcroft Venue cross - (jelly everywhere)
Comment by: Adelle Glover on 13th February 2008 at 02:47
Hi Alan - think my auntie Maggie (Margaret Barnes)is on the front row with my mum to her left (Patricia Howe nee:Barnes). Nan, Hilda Barnes is at the top to the left of the high chairs with James & Eric Barnes in them. Grandad, James Barnes is the man in the waistcoat & mum said Auntie Alice (Alice Litherland) was probably the lady behind the highchairs. This was in around 1945/46.
Adelle, the man in the waist coat can't be my dad as he would have still been in the services in 1940 or even 1945
Comment by: Mrs B on 19th October 2009 at 22:37
Barnes twins were in same school year as my better half at All Saints. He was born 1943 so this picture could be spring/summer 1944. Just a guess!
I NO MY GRANDPARENT HARRIET TOLLEY IS IN THIS PHOTO ALSO MY MOTHER IRENE TOLLEY WHO WAS BORN IN 1935
Comment by: May Duggan on 2nd August 2012 at 19:08
This looks like it is in Ivy Street, I was only born in 1947 but I lived in Spring Gardens until I was 13. Mr & Mrs Yates lived in the first house, Granny Walsh next, then Mrs Marsden, Mr & Mrs McDurmot, Molly Livinstone, and I can't remember the last house. Just wondering if any of these people are in the photo ?