Photos of Wigan
Photos of Wigan
Album Contents
Album Contents
Wigan Album
Chelford Close, Marus Bridge
13 Comments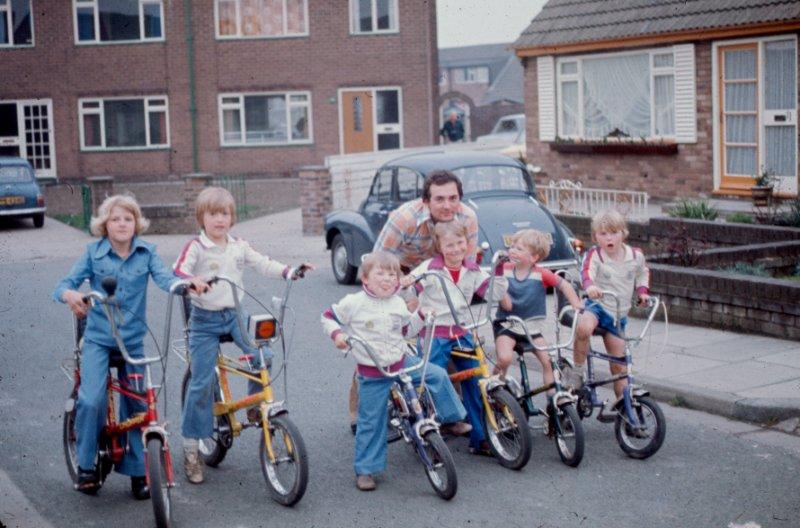 Chelford Close, 1967.
Photo: Ed Owens
Views: 3,017
Item #: 887
Baby boomer bikers in Chelford Close, Marus Bridge, 1967. Recognise anyone?

*update* Just had an email from Dave who says this photo is from the 1970s. The England strip and Chopper bikes are from the 70s.
1st left is bob meadows,then tim moseley.4th along is dave dickinson.Id guess the year about 1978.
this was put on by my god father, names from left to right. Bob meadows, Tim mosley, Ian mosley, Dave dickinson(knocker), Andy beesley, Phil beeesley, adult at back john fron canada.
Eric, did you used to live in St.Pauls Ave next door to Ramwells
frank and collette still got the same front door at number 13,and i still cant reach the pedals on that bike
This is Katie, Ian's 8 year old daughter and I think that Brian has still got that old mini.
Comment by: eric hemingway on 19th July 2009 at 00:54
joan, it was my uncle eric who lived at st. pauls. his brother david is my dad.
Comment by: tim mosley on 5th January 2010 at 17:53
ian mosleys bike had a satchel and was filled with smurfs
Comment by: tim mosley on 5th January 2010 at 17:57
bobs hair straightners are not working today
Comment by: tim mosley on 5th January 2010 at 17:59
eccy stop commin on wigan world and get them streetlights fixed
Comment by: Frank Mosley on 20th March 2010 at 19:32
i am the one behind the gate and yes i still live there
Comment by: Katie Ella Mosley on 20th March 2010 at 19:36
hi thats ma dad pulling his tonge out but he is still got that bike and he fits on it perfectly
Comment by: Tim mosley on 19th October 2018 at 01:54
The man in the plaid shirt is John Owens from Canada. The children are relatives who lived on Chelford Close.