Photos of Wigan
Photos of Wigan
Album Contents
Album Contents
Wigan Album
Bridge Street. Hindley
13 Comments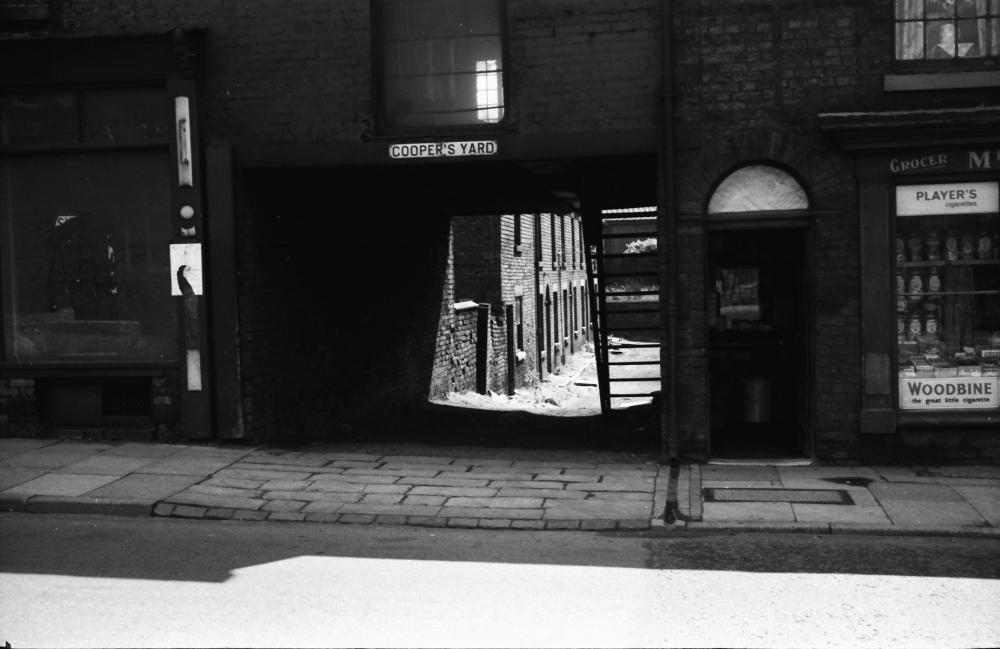 Cooper's Yard, Bridge Street, Hindley 1962
Photo: Arthur Pilkington
Views: 5,581
Item #: 7784
Through the entry between the shops, the houses in Cooper's Yard, probably some of the last houses in Hindley of the "courtyard" type. A pity I didn't include more of the shop on the right - the tobacco adverts are now history.
Comment by: Jean J on 29th October 2008 at 21:39
Great picture, where would this be now? Ta.
Comment by: Maureen on 1st November 2008 at 14:15
remember the shop on the right of the photo, it was Parr's grocery shop and the lady who ran it was Harriet Parr, it was filled to the rafters with everything, you couldn,t ask for the wrong thing, and the selection of sweet was every childs dream.......the photo makes it look rather drab but there was nothing drab about Parrs it was a magical shop...Thanks for the memories (it was at the top of Bridge St on the left as you went downtowards Market St)
I used to live on Chapel Green Rd and have memories of playing in this yard great picture. I now live in Canada and and have just returned from a visit to Wigan, how great to go back in time
Comment by: carol edelston on 12th April 2011 at 14:21
was there an entrance into Cooper's Yard from Chapel Green? Does anyone know when these houses were built or who owned them?
Comment by: ray on 24th July 2011 at 11:02
I walked passed it many times in the Late 50's,
I remember My Grandma telling me, she saw the Spiritualist there in the 20's up the steps in the dark,
Im not sure if she was had a permanent shop up there?
Comment by: alicia glover on 17th January 2012 at 23:57
the cross keys pub was across the road it is now acorns care home
Comment by: christine singleton. ne walker on 4th August 2012 at 20:02
hi i lived in bridgecroft st i remember going in that shop with my mum and dad .happy memories .i walked with st johns sunday school .and i went to all saints school my mum worked in hindley woolworths on the biscuit counter .i now live in wigan .christine xx
Comment by: Alan Wright on 31st January 2013 at 19:16
Great photo! I remember how we used to creep into that entry on our way home from St Benedict's in the fifties. We'd been told that there was a ghost in the room at the top of those stairs, so we dared each other to climb them and get to the top! The ghost must have been deaf because he [or she] never caught us!
Comment by: christine singleton. ne walker on 14th May 2013 at 18:42
hi further down was wilsons fruit shop .i use to love going in there with my mum. when we moved to hereford rd joe wilson diliverd potatos and veg for us. christine xx.
Hello all , just enjoying the pictures , I remember so much of old hindley , especially coopers yard as I also lived in Bridgecroft street the we got moved to Grassmere avenue , brilliant pictures . Steve.
Thanks for posting this Arthur. Many of my Cooper ancestors, including my 3rd great grandfather, Joseph Cooper (1803 - 1886) lived there. As I live in New Zealand it is really difficult to get glimpses of my family history that photos such as this provide. My best wishes for the festive season.
Thank you for this photograph, my x3 great grandfather Joseph Cooper lived at No.3 Coopers Yard in 1871.
Comment by: Annette on 24th November 2018 at 18:04
Thank you for posting this photograph. I too am related to Joseph Cooper but had not seen a photo of Cooper's Yard despite hearing about it since childhood.