Photos of Wigan
Photos of Wigan
Album Contents
Album Contents
Wigan Album
Rabbit run. Bryn rd to Wigan rd Bryn
11 Comments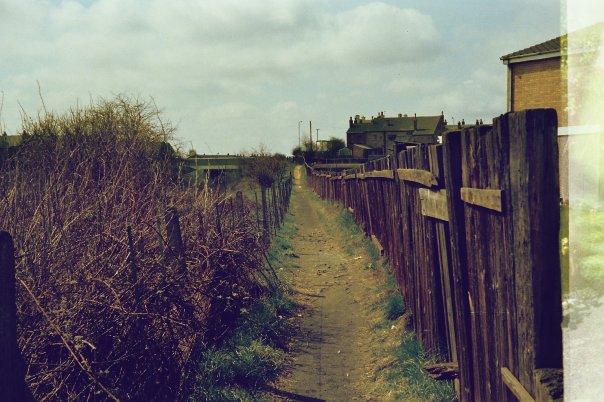 Rabbit run
Photo: Karen
Views: 3,854
Item #: 6975
This is what was known locally as "The rabbit run" at Bryn.
Comment by: nyce horse on 6th August 2008 at 22:58
It's a bit different now,all overgrown, and 10 foot high steel fencing instead of the strands of wire.
It belongs to the Railway, and there used to be some sort of By-Law where they charged a penny to go along it on New Years Day. Used to fly up it on mi bike going to School, memories. Thanks for posting Karen
Comment by: Darren on 7th August 2008 at 14:37
Which scools did you go to nyce? My brother and I went to Evans, Nicol Mere and Cansfield in the 1970's and your memory could very well have been mine!
Comment by: lanky11 on 7th August 2008 at 18:43
I remeber this very well when I was young I used to run down here thanks for posting it Karen
Comment by: nyce horse on 10th August 2008 at 22:27
Bit before your time, Darren, went to Ashton Grammar in Old road, left in '62. What a waste of taxpayers money I was, I hated every minute of it and could'nt leave quick enough.LOL.
i remember the rabitt run well,i used to go up and down it on my bike to potters shop,for half penny spanish.
Comment by: Carol W on 19th September 2008 at 23:32
Hi Karen, Thanks for posting all of these photographs, they certainly bring back memories. My Dad was born in 25 Row and my grandparents lived at 275 Bryn Rd for many years, as you know. I remember using the 'Rabbit Run' many times - I used it as a short cut from my Mother and Father Winstanley's, or my Aunty Milly's, in Railway Terrace, to our house in Grange Rd, Bryn.
Comment by: Bryn156 on 3rd October 2008 at 23:40
Thanks Karen,lovely nostalgic photo..I remember going up & down the "Rabbit Run" in the 40's,used to use it to go from wigan Rd where I lived to St Peters Church...Happy Days
Comment by: Franny on 2nd January 2009 at 20:17
As kids we used to stand at the top near Potters and wait for a police car, stick the fingers up and then leg it down there. One day, a copper got wise and had his mate waiting at the bottom end and we all got a slap for our cheek!
I had arranged to meet Stephen Ronald Burrows here one Sunday in 1967 but I chickened out and didn't go. My dad woud have killed me.I later saw SRB ride past our shop in Downall Green Road.
Comment by: Dlanor on 1st December 2009 at 18:59
just as I remember it! When we lived at Landgate I used to come up the Sparrow fields on my bike to collect my papers from Bill Charnock's shop! lovely to see it as it used to be
remember it well Used to go down it from bryn estate with my uncle Billy Brogan when we went fishing on the flash with him Also remember Hursts shop Lived at the bottom of Grange road and was a regular at the shop and also the Coop across the road ,running errands for neighbours