Photos of Wigan
Photos of Wigan
Album Contents
Album Contents
Wigan Album
scholes
18 Comments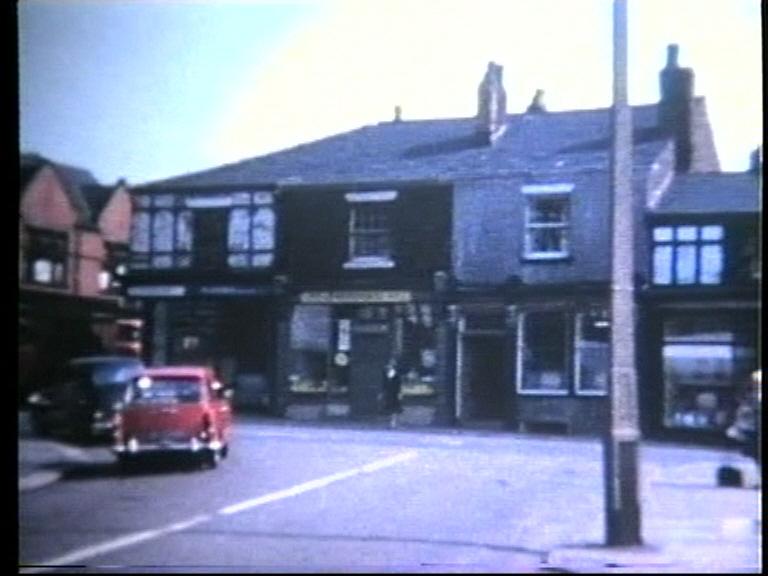 Top of Greenough Street
Photo: Kevin Higgins
Views: 6,964
Item #: 6275
Taken at the junct of Greenough Street, Scholes and Scholfield Lane about 1968. The building to the left of the lighting column is the Rose & Crown or Dust Hole as it was known.
Comment by: Peter Mason on 3rd June 2008 at 19:41
I remember Suttons shop in Scholes at the top of Greenough Street - it was the only shop in Wigan where you could get "baggy" trousers. They sold most other things
was that anywhere near Dr. Johnsons surgery I am sure it was No 5 Greenough St.
Comment by: Gary Jolley on 4th June 2008 at 07:07
I remember a shop half way down Greenough st call Lengans they used to sell catty elastic and had a display in the window that revolved and you could stop it by touching a disc on the glass we thought that was space age .
opposite lenigans was a pet shop and higher up was the Methodist church .
If I remember correctly one of the shops in the photograph was a pie shop we use to save our bus fare after going to wigan baths , the one before the one they are knocking down, and get a penny iced bun ,and walk it home .
Joan.
Dr Johnsons surgey was lower down on the left hand side of the picture.
Lennigans electric shop further down on the left do you think that they were the parents of the present Wigan RL chairman?
The large building on the left was Sherrington's hardware. I remember being sent there for paraffin, to fill the heater in our bathroom. At least the walk home was down hill!
Comment by: Bri Jolley on 11th June 2008 at 17:22
i remember Lenegans, used to get my catty elastic from there. You could get 2 types thin & thick. Further down was Lewis's Ice cream parlour, you could get a glass of hot Vimto for a tanner. Anyone remeber the old herbal shop, about 30 yards up from scholes lights on the left? We used to get a pint of home brewed dandelion & Burdock or Ginger beer for 6d.
Comment by: jim gaskell on 31st October 2008 at 21:03
on the corner was maggy lees the third one from left is thepub called the dust hole we used to watch wit monday walk with mickey dalton at the front the fourth one was alkers pie and cake shop bye the way boltons herbal shop was on the right hand side the hop bitter was awful.
Comment by: Mary P. on 17th November 2008 at 18:23
I'm an Incer, but my mum used to take me up Birkett Bank and down Schofield Lane and into Wigan every Sat. morning. She loved Smailes butchers which was a bit further down from the pub in the photo and the shops stood back a bit from the road. We also used to go to the Scholes Cinema regularly and I remember queuing sometimes right round the street where the bike shop was on the corner!! Although this was about 1950-55, the photo's a real memory jog - many thanks!!
Comment by: OH on 15th February 2009 at 13:19
I used to live in School Street, off Greenhough Street and remember Isherwoods shoe shop on the right going up Greenhough Street. Either he or his brother, had their paintings in the window.
on Whit Monday we children used to get up about 6a.m to line Greenhough Street with chairs & stools so that we had a good view for the processions.
Comment by: John on 27th March 2009 at 17:49
OH, I was born in School St 1950 - have you got any pic's of it at all ?
Comment by: joe thomas on 29th June 2009 at 19:18
i remember the herbal shop in scholes it was on the right going up it was boltons i came from linney street
Can't understand how this can be Greenough St and Schofield Lane as it goes straight across there's no dog leg on it and its been like that since I was a lad and I'me 61 and its been like that for as long as I can remember
Comment by: donald underwood on 10th May 2011 at 21:47
Aye,but thart not owd enough
Going down Scholes from the junction with Schofield (Scoffin to owd wiganers) was Worthington's (5Woodbines & 5 Pashas),Seddons Ladies Wear,The pub also known as Little Maggie's.Mabel Walsh sat outside selling beetroot and so on.I was under my grandmother's stairs in Caunce Street when the bomb dropped on Greenough Street IM Church
Comment by: Eunice Cadman on 28th September 2011 at 13:24
Donald are you related to Lily and Rachel Underwood that lived in the flats at Scholes Crossing??
Comment by: JohAlan on 23rd January 2012 at 15:49
This is how the junction used to be also a little later as traffic volumes increased traffic lights were installed at the staggered junction. It isn't like this now of course now as Scholefield Lane and Greenough St flow directly into each other. If you remember uptil a few years ago 50 yards or so of tarmac at the bottom of old route of Scholefield Lane was still vivisble. People used to park cars for sale there and the council decided to grass over that stretch. I lived in Scholfield Lane from 1955 to 1964. We used to sit on the wall just to the right of the junction in front of the advertising hoardings on Whit Monday and a certain brass band from St Helens alway played When The Saints Go marching In all the way from Central Park until reaching us. Being well behaved we threw sods at them before disappearing to the other side of the wall. Also Johnsons surgery and Lennegans was on the right side of Greenough St going down towards Central Park from Scholes not the left side. It is a great pic pity it is a little blurred.
Comment by: Donald Underwood on 26th May 2015 at 18:35
To Eunice Cadman.Sorry to take so long.Yes,they moved from Caunce Street.My father's sisters
Brilliant, brings back memories my Nan used to live off Greenough Street