Photos of Wigan
Photos of Wigan
Album Contents
Album Contents
Wigan Album
Enfield St.
8 Comments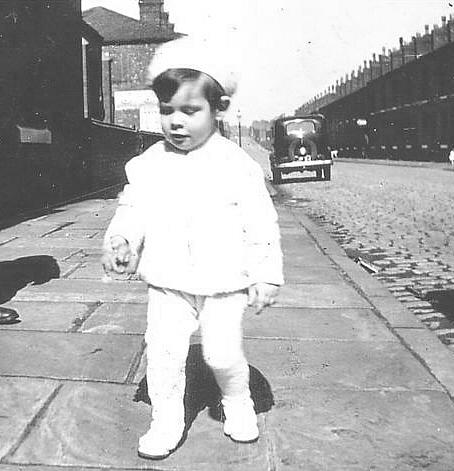 joe faihurst 1941
Photo: fred foster
Views: 4,367
Item #: 6057
This is a pic of Joe Fairhurst in 1941 outside his dad's shop in Enfield St Note the cobbled street and the absence of vehicles. I wonder if that car is still in existence, it would be worth a fortune!!The row of houses to the left have now disappeared along with George Tennants barbers shop. George had one style for lads,"short back and sides and a bit off the top" Your fringe was cut straight across and then you got some hair cream on out of the pump on the mantlepiece!
Comment by: george liptrot on 21st November 2008 at 17:00
IVE seen george nip a few ears in my time and shave a few with a cut throat razor .
George Tennant cut my hair loads of time and come out of the shop and go and to the pie shop across the road
Jack Bilsborough was lather boy for George on a Saturday when all the old men came in for a shave, George had pieces of newspaper cut in squares to wipe the lather on
Comment by: Lesley on 10th September 2009 at 02:01
George Tennant was my GG Uncle, brother of my Great Grandfather John Tennant.
If this is George Tennant born 1900, then he is my gg uncle. I'm his brother leonard's great grandson. If anyone would like to contact me about this please feel free. I'm tracing all the Tennant family from 1841 to the early 60's. cheers
Comment by: joe Fairhurst on 5th May 2016 at 16:58
This is me, Joe, with my broken right arm. This made me a left handed!
Hi Joe!
Are you related to William (Billy Butcher) Fairhurst who lived at 280 Billinge Road, Pemberton?
Kind regards
Lorraine
Comment by: Billy butcher on 2nd October 2020 at 13:28
Hi Lorraine
Yes Billy Butcher 1841—1920 was my great grandfather and was quite a character.he founded the family butchering business in the1860s and legend has it that he was called out to deal with a mad cow which he killed near Foundry lane .hence the jingle. billy billy butcher , claws gone mad, hi thee Billy, Hi thee Billy, that's a good lad!

Kind Regards
Joe