Photos of Wigan
Photos of Wigan
Album Contents
Album Contents
Wigan Album
Cambridge St
7 Comments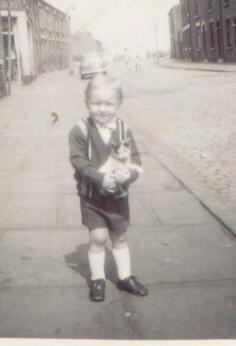 Cambridge st
Photo: Margaret White
Views: 2,822
Item #: 6050
John Gordon took in Cambridge st 1969
Comment by: Ste Jordan on 26th October 2008 at 17:45
What was the name of the lady who owned the shop on the corner behind the little boy? It was always rumoured to be John Thaw's aunty, any truth in that?
Comment by: tony keane on 8th December 2008 at 13:42
The lady who owned the shop was named doris cant remeber her surname. She was john thaws aunt he used to vist her she originated from manchester a lovley lady
Comment by: brian dean on 14th September 2009 at 18:56
the shop ladies name was doris wickens, as said a lovely lady.
Comment by: Alan on 7th July 2012 at 20:51
Near the top of Cambridge St in the war/40's was a small cloggers shop called "Polly Do Alls" We used to sit on a wooden form in stockinged feet whist she re-ironed our clogs,plugging the holes with matchstalks as she did so,
Comment by: tom lowery on 18th April 2013 at 19:52
polly was married to tom lowery my uncle
Comment by: Vb on 23rd January 2017 at 19:35
Polly was known as "Polly-do-out" I used to take my dad's clogs there to be mended. She was fascinating to watch with nails pressed between her lips.
She could wield a hammer as good as any man! Memories!
polly do owt what a woman the name speaks for its self i lived just around the corner at number 7 bankes street the spelling is right bankes .she could do owt.