Photos of Wigan
Photos of Wigan
Album Contents
Album Contents
Wigan Album
Kipling Avenue
14 Comments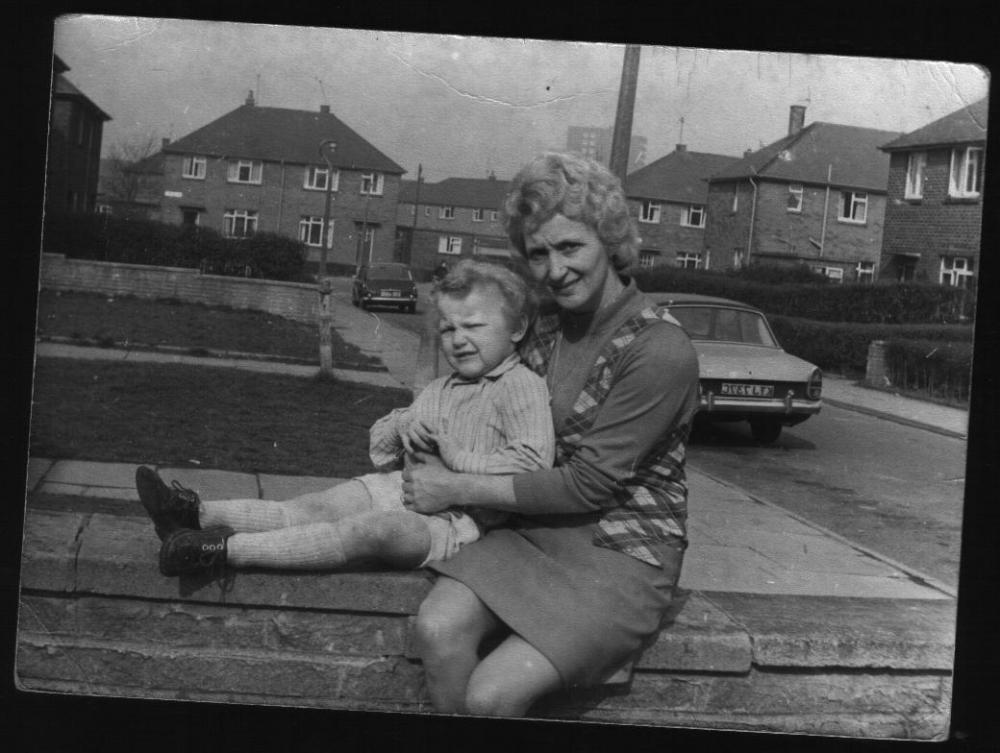 On The Wall
Photo: Joan Beckett (Wilding)
Views: 3,186
Item #: 5997
This is my Auntie Mary Speakman and my brother Anthony Wilding sat on the wall in Kipling Ave, notice the tall flats in the background
Comment by: Jack Charnock on 26th April 2008 at 19:44
Bringing back a few memories with these pics Joan.

Jack
Comment by: RON on 26th April 2008 at 20:54
Looks like the Photo. has been taken from the wrong side of the negative? Check the car number plate<g>
Jackie, hi there I got a pic here of ur dad stood on the steps of 11 Pepys place
Gosh Jackie Charnock whenever I think of you the song "tobacco road" and Terry Penman springs to mind, those were the days in Pepys place Jackie, hows your Raymond doing these days
Jackie, is your mum still alive, the last time I saw her she was living on the estate at Bryn, every time I hear a Billy Fury song I put my hand up and wave to her like I used to when I lived at home at 15 Pepys Place, gosh she loved him. I even found a school pic of me wearing a dress that your mum bought me.
Jackie, I am going to post a pic of both your mum and your dad under the heading Pepys place
Comment by: sandra webster [ nee cook ] on 26th April 2008 at 23:20
Another brill photo really taking me back ... seems just like yesterday ... Hows your John doing ?
Comment by: Jack Charnock on 27th April 2008 at 01:43
Hi Joan
Mum's still alive, but she now lives in a Nursing home, she is lost in her own world now and does not recognise anybody.

Our Ray still lives in worsley mesnes, but I don't see a lot of him.
Jack.
Hi Sandra, glad you liked the photo have you noticed the number plate on the car its back to front, strange. Our John is fine and living in Penrith, Been a long time since O saw you also I am now living in Bolton just around corner from my daughter Zeta and my 2 granddaughters Emily 6 and Holly 4
Comment by: Jimmy on 27th April 2008 at 15:23
This photo is the wrong way round, it needs flipping horizontally
Comment by: jim holding on 7th May 2008 at 22:33
Hi Joan,,,how come Mary sat on wall opposite where she lived ,,photo,s take me back as well,,she was good woman and so was her husband,,good friends to me ,,take care
Comment by: joanne on 26th February 2009 at 16:07
oh my god this is my house were we live now that's really wierd
Hi the name speakman in that street,your not related to Joan and Alan,Raymond,Susan julie and Brian speakman. My grandad was aurthur and my mums Joan .. If not sorry to trouble u it's just the same area so I thought might be related some how...
Comment by: Margaret Longshaw (nee Speakman) on 28th March 2015 at 15:15
Hi Sean The lady in the picture is my mum Mary Speakman and sorry but we are not related to any of the people you mention.