Photos of Wigan
Photos of Wigan
Album Contents
Album Contents
Wigan Album
petticoat lane
11 Comments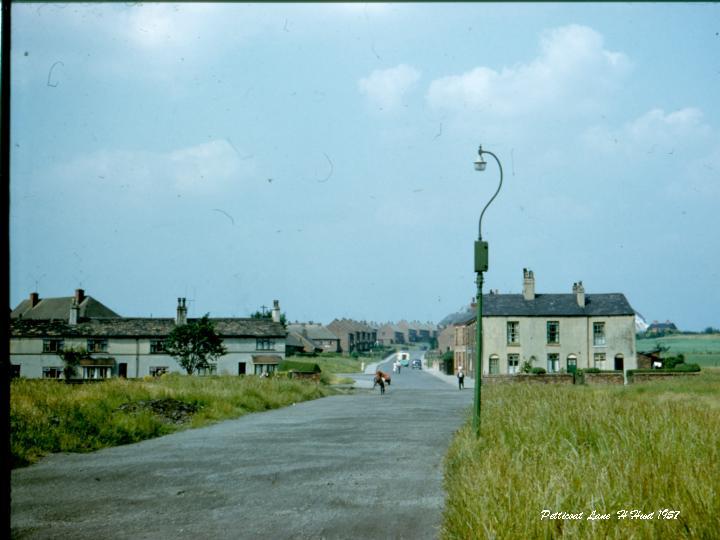 Petticoat Lane
Photo: dk
Views: 4,824
Item #: 4888
I think that this is a good view of Petticoat Lane and I'm guessing at 1957 as I have a lot of shots of Ince Park - Walmsley Park - from this time. The houses to the right were known as the Square and Gidlow house can be seen in the distance overshadowed by the Hemfield Road slag heaps. Ince brook trickled down from Gidlow House and slipped across in front of Island Row
I am sure this is pre-Morrisons.
Comment by: peter frost on 8th February 2008 at 13:47
this is pre most things
it certainly brings back memories
it was before makerfield way.
that road is actually petticoat lane which was the main road onto the new council estate which was still being built around the time the picture was taken
if you have any more like this please post them
Comment by: Joseph on 8th February 2008 at 15:54
Outstanding photos mate of scenes long gone,please put the Walmsley park ones on would love to see the bandstand again.
Comment by: aitch on 8th February 2008 at 21:23
Brilliant photo, the middle one of the 3 houses on the right was were I was born and raised, until we got a council house in the same street as gozzer. Please put the others of Ince park on thats allmy childhood there, thank you. and you are right it is pre Morrisons
Comment by: aitch on 8th February 2008 at 21:26
forgot to mention but if you look closly you can just make out the slag tip behind our old house
Comment by: mikewigan on 10th February 2008 at 19:38
great pic!!!!!!!!,
do you have any pics of the old houses that used to be at the bottom of moat house street???
Comment by: MR BRIAN WHITTLE on 22nd December 2009 at 16:54
HI A GOOD PHOTO OF PETTICOAT LANE AND THE SANDS I WAS BORN IN 29 ISLAND ROW THE MIDDLE COTTAGE ON THE RIGHT MRS BRADOCK LIVED IN THE ONE NEAR THE LANE AND MRS WATMORE LIVED IN THE ONE NEXT TO THE FIELD . WE LIVED THERE TILL I WAS ABOUT 11YEARS OLD ME AND MY THREE BROTHERS WE LIVED THERE THROUGH THE WAR LONG BEFORE THE COUNCIL HOUSE WHERE BUILT WHEN IT WAS A SMALL OLDING
Comment by: trevor-hardy@o2.co.uk on 19th December 2011 at 18:11
what a exellent photo,it is possible to see the end of our house on the right where the van is. the brook ran down the backs of the houses and along side ours into a pipe under the road down too island row. the road was a dirt road from mrs bithells shop up into the early sixties
Comment by: mrs flynn on 6th September 2012 at 20:46
have you of the top of petticoat lane my Aunite use live there in the 1965 In the cottages
i was born in 65 and i remember a small shop that was at the bottom of petticoat lane, not bithalls which were further up and there was a chippy as well. i don't remember the cottages on the right but remember island row and the brook. my auntie alice used to live in the middle of 3 cottages in factory fold. 2 up 2 down and brick outside loo. they were knocked down around 89 i think.
I am trying to trace

June Howarth who became June Bithell after marrying Ronald Bithell
in 1961

Their address was Petticoat Lane Wigan

I believe the had a son Micheal and a daughter who was in the Army at one time and was a Police Officer

Micheal has sadly passed away and I need to at least notify his mother June Bithell

She may have become Corris and or Mcnab subsequently and is understood to still live in the area as Micheal visited her at Christmas time 2018 I believe

All attempts by Essex Police to trace or contact them have failed due to lack of any factual information

However today I found a copy of the above person marriage certificate which lead Me to Petticoat Lane and to here

My number is 08444131778 if anyone can help us in this search as We have his personal effects etc abd they need to know of his Passing

Thank You Steve Davis
Comment by: Keith Watmough on 27th December 2021 at 21:29
My grandparents live in the house on the right William and Mary Anne Watmough.They had 13 children and i only remember 5 living.We used to visit every Sunday from Bolton on the 59 bus and spent many happy hours playing on the common and in the park.Aunties and uncles and cousins would turn up every Sunday.