Photos of Wigan
Photos of Wigan
Album Contents
Album Contents
Wigan Album
Lamberhead Green
8 Comments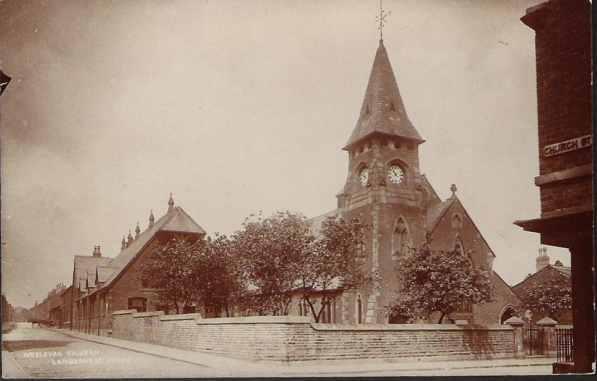 Wesleyan Church Chrch St. Lamberhead Green
Photo: RON
Views: 4,209
Item #: 3578
Real photographic postcard showing the Wesleyan Church, Church Street, Lamberhead Green, Wigan.
Early 1900's
Was the Parochial Hall to the left of that pic and St John's C of E church behind the camera?
Comment by: Allan Shaw on 26th January 2008 at 13:09
The picture appears to have been taken from the corner of Fleet St and the Street that runs down to St Johns Church. The buildng alongside the Chapel was the Wesleyian school which at the time of the picture would still be in use as a school. I think the parochial hall would have been where suggested and no doubt the old stocks were still in situ at the corner of Fleet Street and Orell Road. I suspect the pig and the wall had long since dissapeared. Does anybody rememebr the other street that went to (and pronbaly still does) go St John's Church? On one sie of the street wasa garage for Morefields coaches and on the other the Rubber works.
Comment by: Reggie Dickinson on 30th March 2008 at 20:33
The school was in use as a primary school during the 39-45 war. It was my first school in 1938. I have a postcard of this view. Just to the left off picture was Poll Hillock which during the war housed a large static EWS water tank.
Comment by: Bernard Molyneux on 26th April 2008 at 22:11
That's the corner of Fleet St and Queen St from the other side of Fleet St with your back to St Johns. I think "Church St" is the name of the street the photo was taken from, the one going to St John's, but isn't in the photo itself. The building you can see to the left and behind the church was used as a play-school when I was a kid, in the 70s and 80s. If you were standing where the photographeris now you'd have the little co-op to your left.
Amazing stuff.The name Church Street is actually just visible on the building to the right. Wasn't this a shop called Brimelows?
The schhol behind the church was the Atherton Building, more commonly known as Lamberhead Green Primary School. The school opened on that site in either 1858 or 1859. The present school is now based in Kershaw Street which is just a short distance from the old building.
again my appologies for replying ,the shop you mentioned at the top of church street fred was probally brimelows , i only remember mary baxter having it ,as i was only born 1940 .the metal railings you can just about see on the right , my brother was playing on them and slipped ,ouch up his arm hole
Comment by: Jean Glover (nee Ashcroft) on 8th September 2009 at 11:43
Yes Mary Baxter did have that shop on the right of the picture, she was my aunt. my mother's sister. I spent many happy hours at the back of the shop