Photos of Wigan
Photos of Wigan
Album Contents
Album Contents
Wigan Album
LIBRARY STREET
25 Comments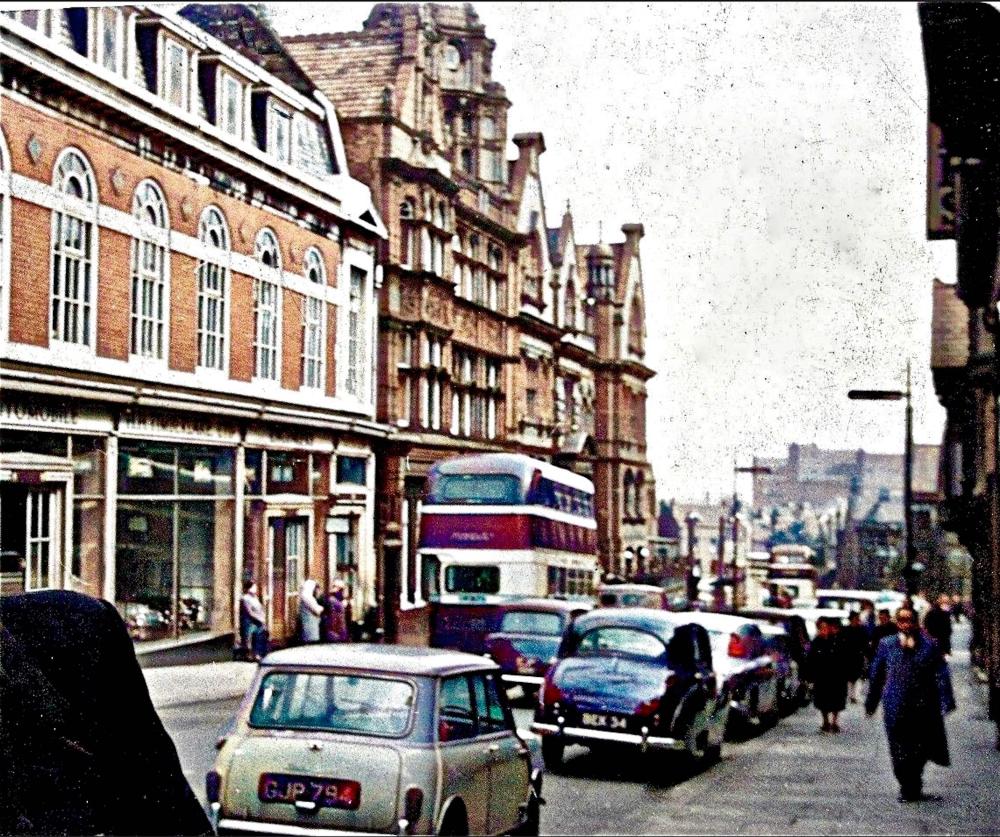 Library Street 1960
Photo: Keith
Views: 1,101
Item #: 34743
As an art student at Wigan Art School and with an interest in photography I took this photo (originally in black and white, now colourised) in 1960. My fellow student's mini can be seen in the foreground.
Comment by: Irene Roberts on 19th November 2023 at 12:54
Library Street hasn't changed all that much and has some lovely ornate buildings until you get to Lego-Land at the bottom end. I remember my Mam and me catching the bus home to Ince from that bus stop in 1960 on a Saturday afternoon, with hot pies from Vose's pie-shop smelling delicious in her basket.
Comment by: Garry on 19th November 2023 at 16:05
It's so nice to see Wigan registered cars...JP and EK from back in the day.
Comment by: Ray on 19th November 2023 at 21:25
Well spotted Garry, the BEK 34 looks like an Austin Somerset from the
early 1950s, and the Austin Mini, GJP 794 is from the early 1060s.
Great picture from Keith.
Comment by: Peter Walsh on 20th November 2023 at 07:31
The bus is outside the most ornate building , with arched entrance on Hewlett Street , The Royal London Friendly Society.
Comment by: Veronica on 20th November 2023 at 08:09
These were the
'hey days' of Wigan never forgotten for our generation.
Comment by: Ray on 20th November 2023 at 08:49
Typing error above, The Austin Mini is from early 1960s.
Comment by: Colin Traynor on 20th November 2023 at 08:50
Not sure what the original purpose of the building was on the left was but I believe that when first constructed there was a Temperance Billiards Hall on the top floor.
Ray, I don't think the Austin Mini was available before the Norman Conquest but I might be wrong!!!!!!!!!!!!!!!!
Comment by: freddie on 20th November 2023 at 09:10
there are no revenue collecting parking restrictions, what is the large building shown at the bottom of the street?
Comment by: Colin Traynor on 20th November 2023 at 10:09
Freddie, I am thinking that is the old Westwood Power Station building.
Comment by: Rev David Long on 20th November 2023 at 11:28
One bit of nostalgia I do have is for very localised vehicle registrations - such as the JP and EK for Wigan, seen here. The present system, whereby the initial letters of a registration identify where the car was first registered, covers so wide an area that you cannot tell which vehicles are really local, and which not. Also, as Wigan itself is on the extreme North of Greater Manchester, almost as many vehicles around seem to be registered in Preston as in Manchester.
Although French registrations carried identifiers for their very large Departments - letters until 1950, then numbers - there was outcry when it was proposed that they would cease to be used when a new system was introduced in 2009. The compromise was that the Department number would be carried in a blue panel beside the registration itself. We surrendered our local identities without a whimper....
Comment by: Derekb on 20th November 2023 at 12:40
Looks like a Hillman Husky going down the street to the right of the bus.
Comment by: freddie on 20th November 2023 at 13:13
Colin, it may be Westwood, but I think it would be more to the right and not really visible from that part of library street, the gas works is a possibility but I am not convinced, maybe it is a mill in Ince
Comment by: Ashley on 20th November 2023 at 13:28
Although the gentleman on the right of the photo is out of focus I'm sure is the same person I used to see around and about Wigan at that time, without ever knowing who he might be. Looks as if he could have been employed by the Prudential Insurance, just a wild guess.
Comment by: Alan Wright on 20th November 2023 at 16:13
The bus will be one of four: the 3 [Hindley Lancaster Road]; the 3A [Hindley Station]; the 3B [Hindley bottom of Ladies Lane]; the 3D or 3E [both Ince]. I remember in the sixties from 4pm onwards the queue for that bus curled up the side of the impressively built building on the left. Happy days!
Comment by: Jack on 20th November 2023 at 23:27
Timberlakes showroom on the left before the bus stop.
Comment by: Mr X on 21st November 2023 at 00:08
The Mini GJP794 identified as an Austin, not a Morris will be 1960 as 12 Wigan Corporation buses GJP8-19 were new that year before the next 14 in 1961, HEK705-707 and HJP1-11. The Austin and Morris were the basic Minis, there was also the posher Riley Elf and Wolseley Hornet and was probably bought from the Timberlake dealer a few yards down Library Street where Wallpaper Supplies is now. I guess the car behind the bus is an Austin A40. McNulty's shoe shop is still here.
Comment by: Colin Traynor on 21st November 2023 at 11:21
Freddie, might indeed have been the Gas Works which was just behind Fairclough Street off Darlington Street. I used to play all around there in the 1950's but cannot remember what the Gas Works looked like. I remember the two little steam engines that used to shunt the coal waggons, one was called Lindsay and the others name I forget, might have been Balcarres????
Living in Harrogate Street you could hear the clank and bang of the waggons shunting and the tooting of the engines in the middle of the night.
Whilst Timberlake's main Garage was further down Library Street on the right I do have a vague recollection of cars being in that building opposite, it was large enough. I remember it being a carpet shop and showroom at one stage.
Comment by: Derek B on 21st November 2023 at 12:49
Colin, Timberlakes showroom you refer to opposite their main showroom , shown on the left of this shot, was where they sold a limited number of used cars from. The large showroom further down Library St. on the left was the one from which they sold small and medium sized commercial vehicles.
Comment by: DerekB on 21st November 2023 at 12:51
Oops, should have said Timberlakes commercial vehicle showroom further down Library was on the right, not the left.
Comment by: Methinks on 24th November 2023 at 17:57
Tried to locate the large buildings at the bottom of Library Street on the Horseshoe map to see if it would jog my memory, but only remember the church and fire station on Chapel Lane.
Comment by: Colin Traynor on 25th November 2023 at 10:26
Methinks. Not sure which large building at the bottom of Library Street that you refer to. The Pavilion Cinema has yet to be built opposite the Free Library and the large building along Rodney Street I think was once a school but may be wrong. Perhaps someone else will know????
Opposite the bottom of Library Street was a small row of houses next to The Westwood Estates Office building, now Franco's. These demolished in the 1960's. There was a girl who lived in one of these, I think her name was Ivy Roan. She once gave me a kitten but my dad made me take it back!
Regarding Chapel Lane, if you look at the map, on the corner of Douglas Street and Chapel Lane was a three storey building that was Wigan Printing Company, next door on Chapel lane you will see a row of houses, one of these was a pawn shop in the 50's and 60' it had three brass balls hanging above.
A little further along and next to the Chapel is an alleyway that had a few houses down the side, this alleyway might have had a name.
In the 1960's this row of houses was demolished and Wigan Printing Co. which needed a fire escape from the top and middle floors extended at the back onto this now vacant plot of land, moving their main entrance from the front on Chapel Lane down this alleyway, that would have been about 1967.
Further along chapel lane passed the church were houses, a few shops and offices, opposite the Fire Station there was a little covered alleyway that went through to the top of Atherton Street.
All these properties on Chapel Lane of course now buried under the dual carriageway.
Hope that helps but let me know if I can help further.
Comment by: AH on 25th November 2023 at 12:20
at the risk of looking in the wrong direction!! the pavilion cinema at the bottom of library st closed on boxing day 1958 later demolished,wigan international pool was built on the site in the 1960s ; the large building in the picture is the gas works
Comment by: AH on 25th November 2023 at 12:52
wigan museum at the bottom of library st, i think was once wigan grammer school ?
Comment by: AH on 25th November 2023 at 13:00
grammar school [correction]
Comment by: RON HUNT on 25th November 2023 at 13:45
A.H. the History shop is on the site of the Old Grammar school. This is a different building Check out the site. there are more images and information.