Photos of Wigan
Photos of Wigan
Album Contents
Album Contents
Wigan Album
Rodney Street 1958
8 Comments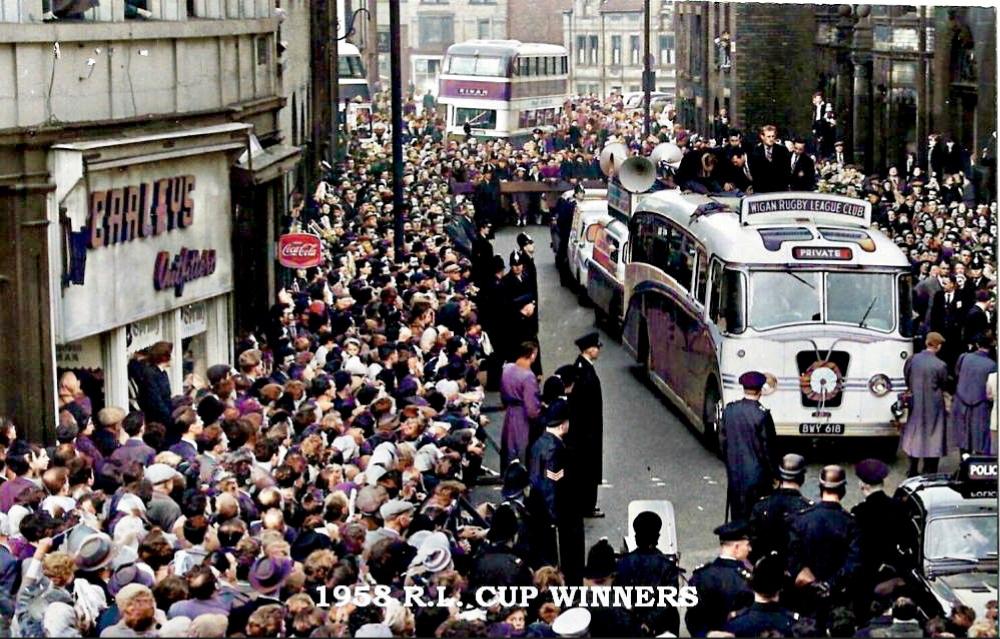 Rodney Street 1958
Photo: Keith
Views: 975
Item #: 34711
A colourisation of a previously posted photo. It shows the Wigan team with the 1958 Challenge Cup as they paraded it along Rodney Street.
Comment by: Ashley on 31st October 2023 at 10:40
Interesting view in the distant top half of the photo, showing old Wigan buildings, which try as l might l cannot recall.
Comment by: Cyril on 31st October 2023 at 11:20
Keith, you done a great work with the photo, I've seen the mono photo and everything does stand out more with being colourised. You could even have a game with the kids with count the coppers?
There are more police men and women too to be seen than there are flat caps, wonder if it was an incentive for on whom caught the most felons to be stationed there on the day, instead of going out on the trudge.
Comment by: Colin Traynor on 31st October 2023 at 11:46
Memorable picture with the old Quadrant Building on the left originally built in 1870. They would be going to the Town Hall for a Civic Reception.
In the background you can see the Horseshoe pub at the corner of Millgate and Station Road and a bit further along behind the bus, that three storey building with the bay window used to be the Wigan Poster Writing Company before they were acquired by Wigan Printing and moved to the top floor of their premises at the corner of Douglas Street and Chapel Lane.
All of course now demolished.
Comment by: Keith on 31st October 2023 at 12:45
I just thought I had to make it clear that the colour purple was not as popular in 1958 as the photo makes it appear. It's simply a problem the present technology has yet to comes to terms with. More expensive and sophisticated software could probably resolve it but it would take much longer.
Comment by: Keith on 31st October 2023 at 17:43
Thank you Cyril, you have noticed the same as myself that certain things tend to catch your eye when rendered in colour than they do when in b/w. Thank you also Colin for identifying the buildings I could not.
So, I am a bit confused - is the traffic travelling in the opposite direction to what it does today? In other words, is the photo taken fron King Street ?
Comment by: Ray on 1st November 2023 at 16:37
Yes Gareth, The photo was taken from King Street, and I think that back then in 1958, Rodney Street was 2 way traffic. The coach would have came
via Wallgate, Library Street, and turned right into Rodney Street. Close by,
back in those days, the Mainline railway bridge in Chapel Lane was a very
low bridge, so the coach would not have arrived by that route. Cheers, Ray.
Thanks Ray...does that mean that the Coca-Cola sign is outside what became Krumbs cafe, and has it been a cafe all this time ?