Photos of Wigan
Photos of Wigan
Album Contents
Album Contents
Wigan Album
Poolstock Lane, Worsley Mesnes
10 Comments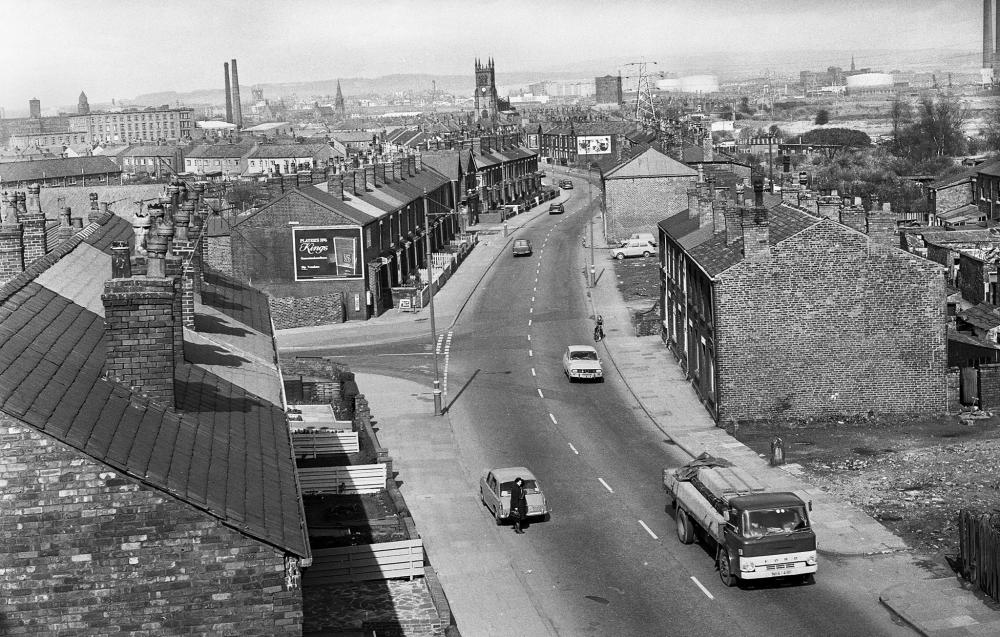 POOLSTOCK LANE
Photo: Frank Orrell
Views: 2,515
Item #: 32755
A rooftop view along Poolstock Lane towards Wigan town centre in April 1972.
Fantastic set of photos Frank....thankyou for posting,
Comment by: Poet on 1st November 2020 at 09:54
It's a curious thing but the 70s didn't seem this long ago if you know what I mean . The scene looks much earlier .
Comment by: AH on 1st November 2020 at 10:38
This photo was taken from the old pemberton loop line railway bridge , the bridge was demolished. now rebuilt and carries the new westwood link road,
Comment by: Veronica on 1st November 2020 at 12:17
There was a pub called the Honeysuckle - has it gone or is it still there? Probably a daft question.
Comment by: John on 1st November 2020 at 14:25
Remember the Beechnut chewing gum machine at the shop it had a Arrow on the handle and every fifth turn you got a free one
Comment by: Keith Beckett on 1st November 2020 at 14:51
It's still there Veronica beside the river Douglas and opposite Corporation Street
Comment by: Veronica on 1st November 2020 at 15:11
Just shows how often I go that way! Thanks Keith .
Comment by: Mr X on 2nd November 2020 at 10:41
This is the former railway line that went from Pemberton to Ince avoiding Wigan Wallgate and used by express trains until the line closed. Poolstock Lane goes from Marus Bridge to the junction with Mesnes Avenue, then it is called Poolstock up to the canal bridge. St James, St Catherines, Wigan Parish, St Josephs RC and soon to be demolished St Thomas churches are visible and the three gas holders and chimneys of Westwood power station and Eckersley Mill.
The new road crosses here that goes from the canal bridge, past the site of the cooling towers and Scotsmans Flash to Warrington Road, Goose Green, but not really a direct route to get to the motorway. This is part of the yet to be built Wigan bypass that goes from the M6/M58 junction at Orrell to the M61 near Bolton through Ince, Hindley and Atherton.
Comment by: CJAlan on 2nd November 2020 at 19:28
This picture has a very nostalgic feel to it. It feels very much like one of those scenes you seen in a monochrome British film from the 1950s or 60s.

Poolstock Lane looks a nice road back then with little traffic and a somewhat community feel with the corner shop at the junction of Worsley Mesnes Drive.

The modern day Poolstock Lane is a gridlock nightmare. Even the new link road hasn't solved the issue. My mum calls it 'the road to nowhere' - it takes you away from Marus Bridge and the motorway!!!
Comment by: James Hanson on 4th November 2020 at 15:34
CJAlan, the idea is that the road will eventually connect Liverpool, via the M58, with Wigan and what you see now is only half of it. The next job will be joining the link road to the M58 (Orrell).