Photos of Wigan
Photos of Wigan
Album Contents
Album Contents
Wigan Album
Herbert Street
20 Comments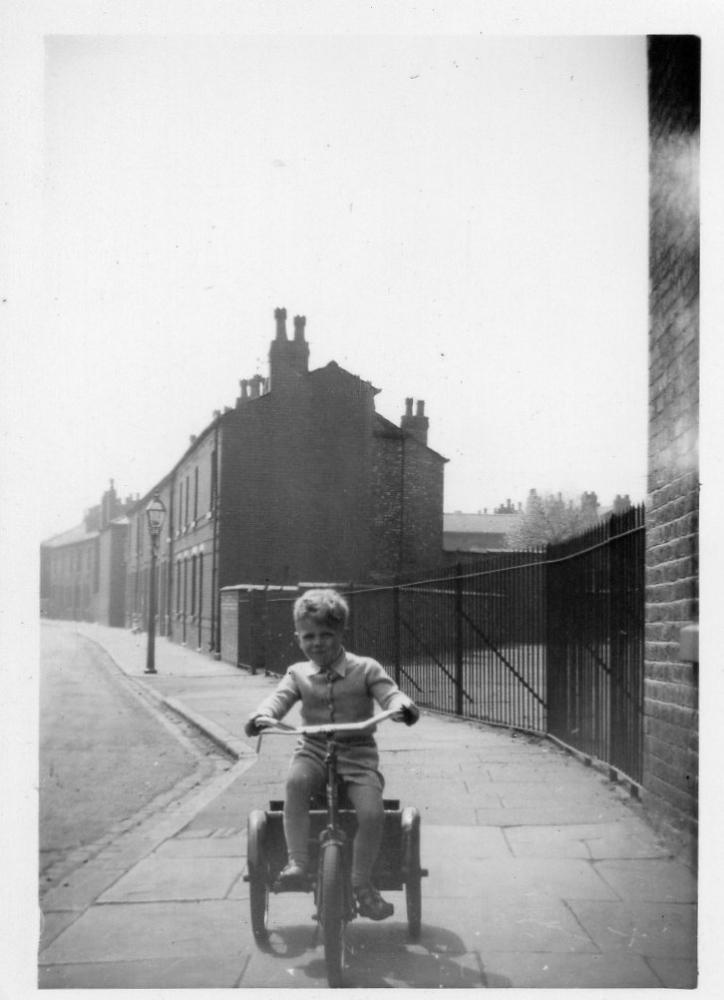 Cycling Along
Photo: David Bale
Views: 1,245
Item #: 32672
Cycling on the pavement in Herbert Street. The end of the house before the park is No 14. The first house after the park I think was 24. Did there use to be houses at one time were the park is?
Comment by: Mr X on 26th August 2020 at 23:08
Is Herbert Street off Wallgate near Wigan Pier, where car showrooms and industrial units are now?
Comment by: Cyril on 26th August 2020 at 23:30
According to a net search Mr X it is and between Miry Lane and Haig Street, I never knew that was Herbert Street and if there are street name signs up then I've missed them besides having gone along there umpteen times.

He's enjoying his tricycle ride along a quiet and litter free street, wonder if he's just called at the local corner shop to pick up his mams messages and put them in the back box.
Comment by: John on 27th August 2020 at 00:28
Cyril, looking on Google street view, if it's up-to-date there is a name sign for Herbert Street, just facing the junction with Pennyhurst Street. At least they've kept the name signs even though all the houses are long gone.
Comment by: Linma on 27th August 2020 at 06:32
I had a bike just like that, didn't we all, but can't remember the colour.
Comment by: Philip G. on 27th August 2020 at 09:03
A nice photo of Master David with the street to himself, and he seems to have handled the bend as though it wasn't there. My trike was maroon and its metal bin had a curved lid.
Comment by: Veronica on 27th August 2020 at 09:21
It's amazing how clean the street is. I wonder if it was early morning! My friend had a three wheeler similar to that. The box at the back had a lid on it, it was blue one. It was early fifties, not sure if it was a Tri-ang
Comment by: MikeW on 27th August 2020 at 14:40
The side by side map clearly shows the location of Herbert street with respect to todays geography.

https://maps.nls.uk/geo/explore/side-by-side/#zoom=17&lat=53.54371&lon=-2.64174&layers=193&right=BingHyb
Comment by: David on 27th August 2020 at 16:21
Walking down Miry Lane from Wallgate In order on the left they were Mason Street, Edith Street, Herbert Street, and Wilcock Street. The other end of Wilcock St was Wallgate near Seven Stars bridge. Then there were two more before the railway bride. Yates St and Lea St. I think these were cul de sacs.
Comment by: TommyT on 27th August 2020 at 17:13
Great photo, David. A happy looking little lad playing on a car-less street.
Are w any happier these days with all the material things that come with modern life?
Comment by: Jud178 on 28th August 2020 at 10:42
I used to live in Vere Street from 1950s great days, used to watch punch and Judy on that park. Lovely memory, lovely times.
Comment by: WN1 Standisher on 28th August 2020 at 15:29
Is the young lad besides what is now First Class Motors on the right with the electrical factors on the left ?
Comment by: Valerie Cooper (walls) on 3rd September 2020 at 15:22
I think Belchambers shop was on the corner. I lived at No 20 Miry Lane, I wish all the houses and people were still there, What happy times we had when we were young.
Comment by: Albert.S. on 4th September 2020 at 12:51
I seem to remember that a few years ago, an enterprising resident of a well known Wigan locality, that has since changed beyond all recognition, organised a reunion for those interested to attend, to exchange, in person, with each other, nostalgic memories.
I believed the event was very successful.
There is great deal of nostalgic memories, in many of the comments on W.W.A.
Comment by: David on 5th September 2020 at 14:11
Valerie,
yes Belchambers was on the corner of Miry Lane and Edith St. On the other corners with Leeds St were Uncle Toms Cabin and Nellie Davis chip shop. I remember a Jackie Walls taking me for a ride on my Dad's motorbike as my dad had not passed his test then. I also remember a Johnny Walls (who I believe emigrated) when we all played out in the street. These were probably your brother and Dad. My name is David Bale and I lived at 12 Herbert Street
Comment by: Valerie Cooper (walls) on 6th September 2020 at 12:42
David, Yes you are right, that was my dad and brother, I had a younger brother Raymond, who sadly we lost 5 years ago. John is still in Australia. Oh what happy (and sometimes sad ) times we had, the world was a safer and I think happier time . But we have to get on with it. Are you the same age as John ?
Comment by: David on 6th September 2020 at 16:14
Valerie,
It is nice to have contact with someone we grew up with. I often wonder what happened to every one. I was 76 in June this year.
Comment by: Valerie Cooper (walls) on 7th September 2020 at 16:37
Hi David, Do we know who the boy in the picture is ?, You were inbetween John and myself. I am 73 and John is 78. I love looking at old pictures of where I grew up,
Love looking on this site, brings back lots of memories.
Comment by: David on 8th September 2020 at 17:09
Valerie,
The Pictures are from ones my parents had so I inherited them. I went through them during lock down. These were from some very small ones. I knew it was not me but I thought it would be nice to post them. I did one of the nursery in Clayton St at the same time, I am on that one. I will see if there is any more that might interest you.
Comment by: David on 18th September 2020 at 20:04
Valerie,
I have no more pictures off local area. I have a picture of children watching a Punch and Judy on the park and one of the front of Nellie Davis chip shop. I downloaded these from Wigan world so they have already been posted. I have one somewhere of my Dad on my 3 wheeler bike.
Comment by: Tony Topping on 21st September 2020 at 16:44
I lived in Yates Street up until 1964 when the council demolished the street.