Photos of Wigan
Photos of Wigan
Album Contents
Album Contents
Wigan Album
Birkett Bank
11 Comments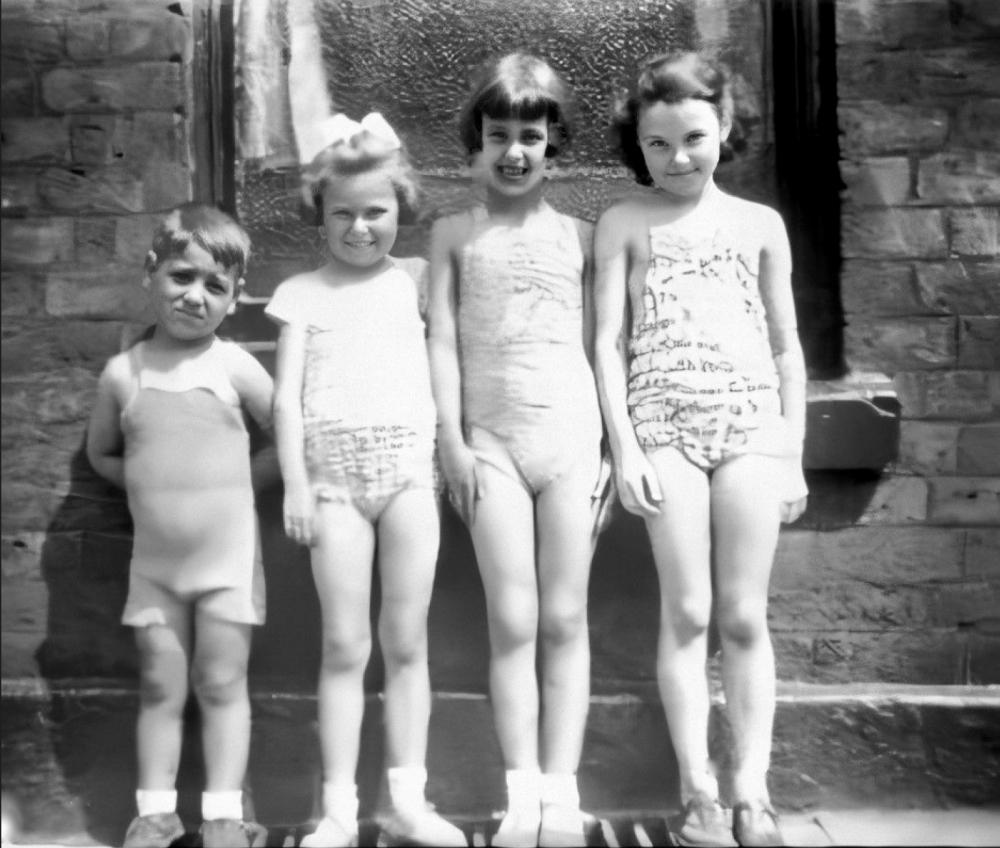 Birkett Bank Bathers 1952
Photo: Keith
Views: 1,299
Item #: 32654
An "enhanced" photo of the 1952, "Birkett Bank Bathers". They are lined up outside the old Crispin Arms that my parents tenanted from January 12th 1950 until February 14th 1956. The line up is from left to right, Henry Meadows (his parents ran the wireless and tv shop a few doors further up), Elaine?, Jennifer? and my sister Anne.

Comment by: Thomas(Tom)Walsh on 12th August 2020 at 19:24
Meadows shop on Birkett Bank, we took the accumulator to be charged ( this was a large battery
to power the wireless ) used by houses lighted by gas. Mr Meadows was a friend of my Dads and the first television programme I ever saw was in the living quarters of his shop . It was ' Children's Hour .
Comment by: Veronica on 12th August 2020 at 21:15
It was a common site in the fifties to see children in their bubbly bathing costumes playing in the street. That's something you don't see anymore even in the heat we have had over the last few days.
Comment by: Keith on 12th August 2020 at 21:19
Tom, we shared a similar experience. The very first television programme I and my sister ever saw, was in the Meadows shop. It was Muffin the Mule and it seemed forever before the next programme was due to be shown. My father shortly after bought our very first tv from the Meadows shop (1951?) but of course it was placed on the bar of the vault and the place was packed when the racing was on and the bookies runner was kept very busy. Providing our "lookout" had confirmed the bobby was not standing outside Bibby's Clarington Haulage Office on the opposite corner, watching out for him.
Comment by: Thomas(Tom)Walsh. on 12th August 2020 at 23:33
Keith what a coincidence. You're quite right after Children's Hour which finished at 6pm The BBC stopped broadcasting until 7pm . 'The Interlude '
Comment by: Linma on 13th August 2020 at 06:32
Remember those swimming costumes, if you had a knitted one boy did it STRETCH when it got wet.
Comment by: john on 13th August 2020 at 15:07
The little lad looks highly unamused.
Comment by: Ab on 18th August 2020 at 09:59
The days when just a swimming costume would do. Today it's bouncy castles and hottubs to keep the kids happy in the garden. People today have got too much money to waste. There was no bouncy castles and kids pools when I was young (and I'm only going back to the 80s), even on birthdays, all we had was a back yard to play in, yet we were happy. Today's kids are complete spoilt brats.
Comment by: Linma on 18th August 2020 at 11:23
Donkey ride in Blackpool £2. Entry into pleasure beach, two adults, three children £175. Can't take your own food buy on site.
Comment by: Veronica on 18th August 2020 at 12:18
We had the best of times in the fifties, playing in the street with other children, all day long using your own imagination to invent games. The weather was better then. Visiting other kids backyards - same - but different. Organising shows and charging 'threepence' or a 'threepenny bit'. It was a happy time even if we hadn't 2 halfpennies to rub together. The highlight of the week was the Scholes pictures on Saturday.
Comment by: Edna on 18th August 2020 at 21:40
Yes your right Veronica,we had the best of times growing up in the fifties.Then being teenagers in the sixties.x
Henry Meadows was in my class at St Catharines