Photos of Wigan
Photos of Wigan
Album Contents
Album Contents
Wigan Album
Millgate
12 Comments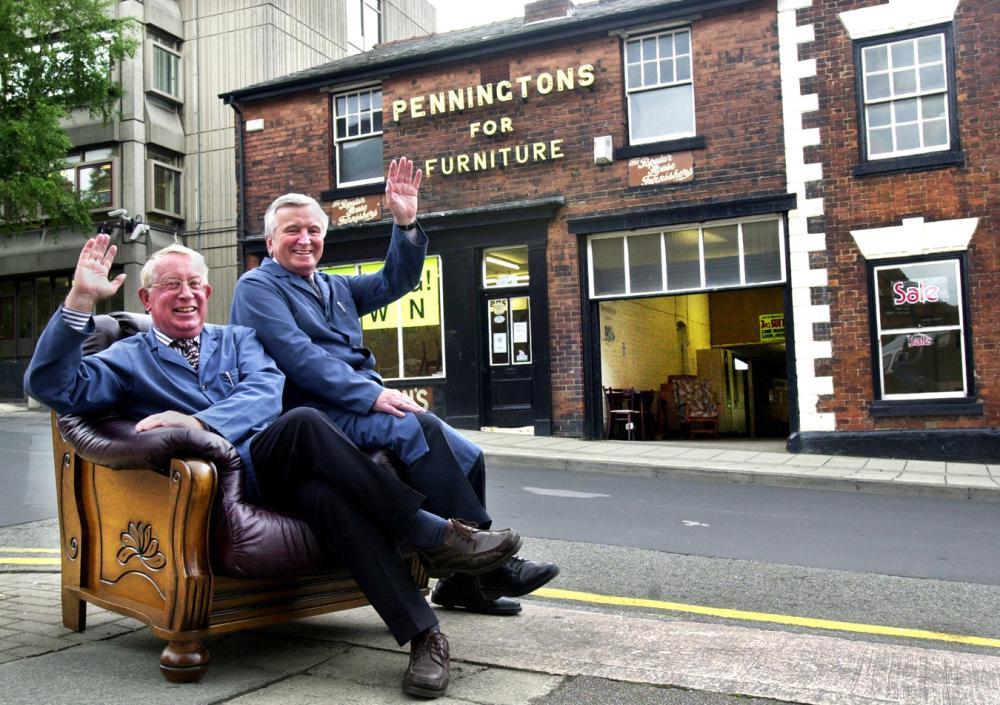 MILLGATE PENNINGTON'S
Photo: Frank Orrell
Views: 1,413
Item #: 32651
Graham Parkinson asked about pictures of Millgate to see if his grandma's shop was on any. I doubt it is on any of these Graham but it prompted me to dig out a few I do have of the street. Brothers David and John Pennington rest easy as Pennington's furniture store closes in June 2001.
The Millgate premises were opened 120 years previously.
Comment by: dave on 8th August 2020 at 22:31
Brings back memories bought my first kitchen units there in 1962 i think the brand name was Lady Love .
Comment by: Edna on 8th August 2020 at 22:54
We bought a bed here for my son, and it broke at one side after about 2 months.I think it was John who asked had he been bouncing on it.Bacically he was saying he had used it like a trampoline.NO!! We said.He was very reluctant to change it.
Comment by: Garry on 9th August 2020 at 08:38
Wigan family History gone forever, so sad, and for what, the Grand Arcade that nobody likes including myself.
Comment by: Graham Parkinson on 9th August 2020 at 09:49
Many thanks Frank. My grandma 's shop isn't on any of these photos but nevertheless they have brought back some memories. The one of the Boro Chippy shows the new civic centre in the background which is where the shop (Cunliffe's) was sited.
Comment by: Mr X on 9th August 2020 at 10:17
The Pennington brothers look like Morecambe and Wise singing Bring me Sunshine sitting on the sofa. I remember Penningtons furniture shop, I don't know when it opened but can't believe it is 19 years since it closed in 2001. The front of the building is still there, was going to be a cafe but never happened.
Comment by: Eddie rowland on 9th August 2020 at 12:00
Wigan album spoiled with all these flashing adverts when you are
Studying the the photographs.
Comment by: jerusha on 9th August 2020 at 14:53
Comment by: Veronica on 9th August 2020 at 15:21
It was such a quaint 'shop' I remember walking down hill inside. Usually kitchen furniture was at the bottom end and on the left a rickety staircase with bedroom furniture in the top rooms. 3pce Suites were downstairs. I remember getting a teak piece of furniture with glass cupboards at the top and drawers and cupboards underneath which took nearly all the space up along the living room wall. I can't remember what the furniture was called. I loved looking around Pennington's you were sure of a bargain. It was the place to go after McCurdy's shut down in Scholes.
Lovely photos thanks to Frank for posting them.
Comment by: James Hanson on 9th August 2020 at 19:21
We all know what broke that bed, Edna.
It was your husband, jumping off the wardrobe onto the bed, dressed as Batman.
Comment by: Dave on 10th August 2020 at 07:40
David Pennington was a neighbour of mine a lovely man he and his wife Joan made us very welcome when we moved in the street and didn't know anyone, I remember he invited us into his home at new year,I recall he had lots of black and white pictures of the business with furniture deliveries by horse and cart,Sadly he passed away about ten years ago.
Comment by: g p on 12th August 2020 at 00:00
did'nt Trevor Lake the rl player have a garage somewhere near Penningtons !
Worked at Penningtons during the summer of 1970 with Stephen Kindred. Six days a week for £6. The two cousins in the photo and their two father's were wonderfully tolerant of two unruly teenagers. Taught me all I know about getting a three piece suite through a narrow doorway.