Photos of Wigan
Photos of Wigan
Album Contents
Album Contents
Wigan Album
Millgate
2 Comments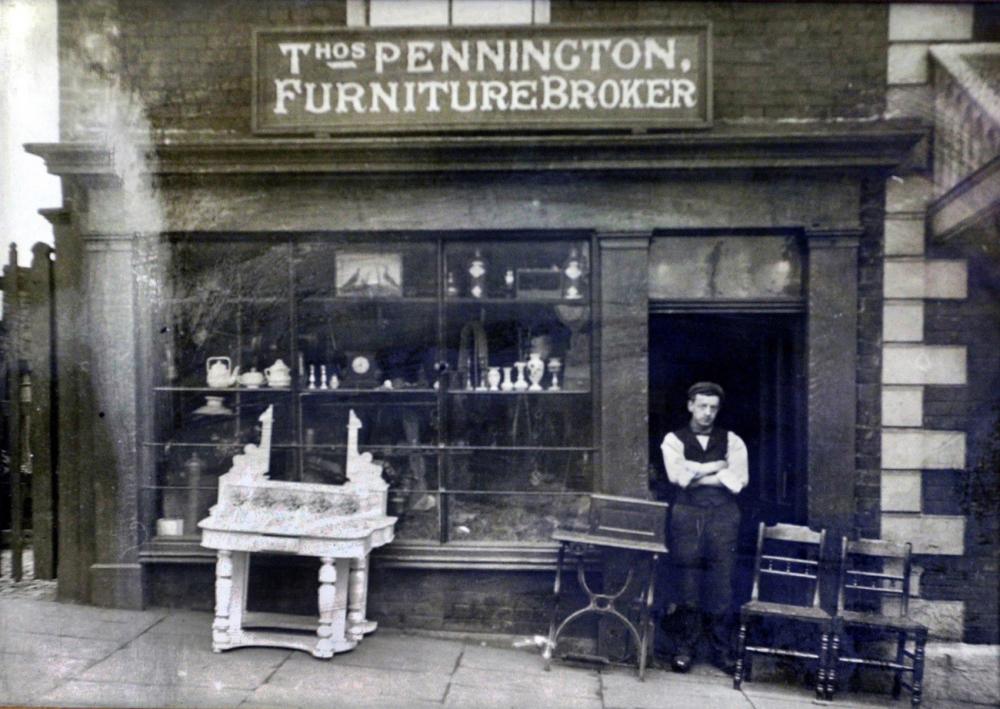 MILLGATE PENNINGTON'S
Photo: Frank Orrell
Views: 751
Item #: 32650
The Thomas Pennington Furniture Broker premises in Millgate at the turn of the 20th century.
Comment by: Cyril on 9th August 2020 at 14:16
Wonder if Thomas had any inkling his business would still be there 120 years later, how much too I wonder what that fancy washstand on the far left would make at auction today.

I have a chair just like those on the right, though it was in a very sorry state when I acquired it, with layers of blue and other colours of paint, the rush seat had been replaced with plywood and it had at some time been used to saw some wood as the saw had cut into the top one of the legs, the front bottom turned stretcher was also worn down with having been used as a foot rest over the years, the legs too had been worn down by I was told the many back and forth movements over flagged floors. At the time there was a training centre for teenagers to learn skills in the old council workshops on Frog Lane, where Boston House is now. So I took it to there for them to strip and polish it and they made a grand job of it too with the turnings standing out again, I had to re-do the seat myself, though I used seagrass rather than rush, the workshop also made some rush protectors for the sides and front, though after around thirty years it isn't looking as grand as it did then, but I'm happy I rescued it from being burned.

A shame those training centres had to close as they did give teenagers a lot of experience not only with joinery and furniture but with other general skills such as gardening, plumbing and electrical which I'm sure helped them to find employment.
Comment by: Peter Walsh on 31st August 2020 at 07:15
My wife Alwyn Turner,s great grandmother was Frances Ellen Pennington born 1853 died 1893. Thomas Pennington was her 4th Great Uncle.