Photos of Wigan
Photos of Wigan
Album Contents
Album Contents
Wigan Album
Millgate
4 Comments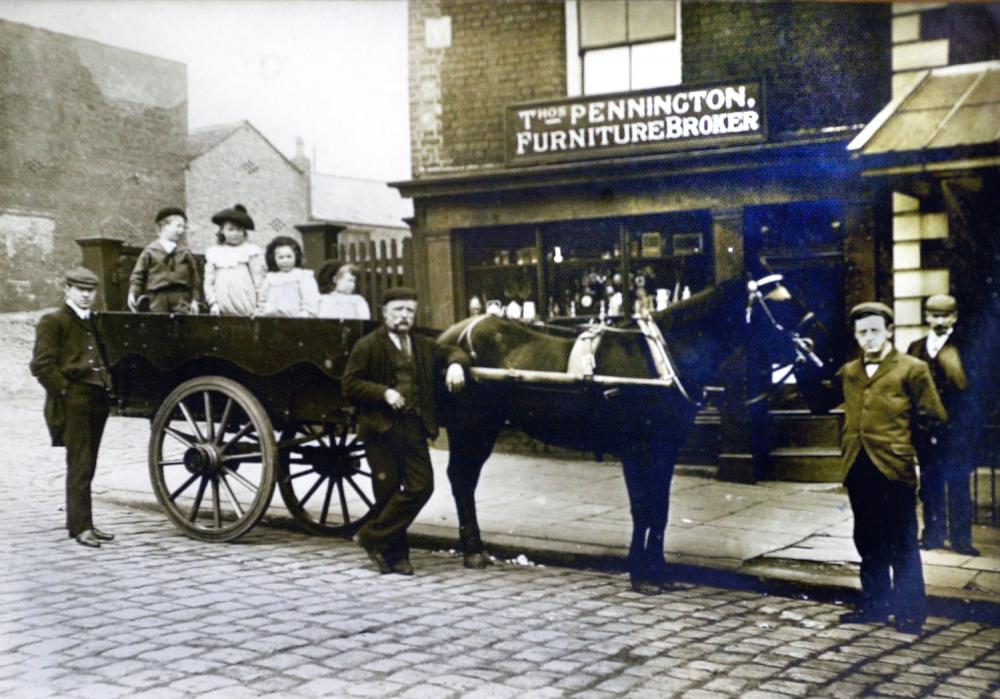 MILLGATE PENNINGTON'S
Photo: Frank Orrell
Views: 626
Item #: 32649
The Thomas Pennington Furniture Broker premises in Millgate at the turn of the 20th century.
Name: Thomas Pennington
Age in 1911: 66
Estimated birth year: abt 1845
Relation to Head: Head
Gender: Male
Birth Place: Orrell, Lancashire, England
Civil Parish: Wigan County/Island: Lancashire
Country: England
Street address: 46 Millgate Wigan
Marital status: Married
Occupation: General Broker Household Members:
Name Age
Thomas Pennington 66 General Broker
Zion Pennington 28 General Broker
Louise Pennington 37
Thomas Clarence Pennington 4
John William Pennington 8/12
Comment by: Alb on 17th August 2020 at 11:33
What a co-incidence that I just happen to see this very photo (a very large sized print which must've cost a fortune) hung on the wall in the Eddington Arms in Hindley last week whilst out with my mate, the only pub that wasn't behaving abnormally with this social distancing and requiring you pass your details and pre book over nonsense. Was this taken from that photo?. How's it a Frank Orrell photo, he wasn't even born then.
Alb, Obviously I didn't take this photograph but when you submit an item for wiganworld you have to give a name. I would supply a credit if I knew who took a picture
As I've stated before on here a lot of the pictures that I post are not mine but copyright of jpi media who own the Wigan Observer and Wigan Evening Post and it's only with their permission that I can post these images.
As regards the photo that you saw in the Eddington Arms, I've no idea how they obtained it. It certainly wasn't from me and I've not profited from supplying it.
I don't make any money out of other people's photos and don't even make money out of my own pictures. I've published nine books of pictures and am heavily in debt from that enterprise.
I don't submit pictures to wiganworld or publish books with any expectation of making money. I just consider myself lucky that I was in a job that now allows me to hopefully supply some memories for people.
Comment by: Cautious on 19th August 2020 at 21:18
So, Alb, you found a pub flouting Covid restrictions and rejoiced? We live in different worlds.
Keep praying....