Photos of Wigan
Photos of Wigan
Album Contents
Album Contents
Wigan Album
Millgate
9 Comments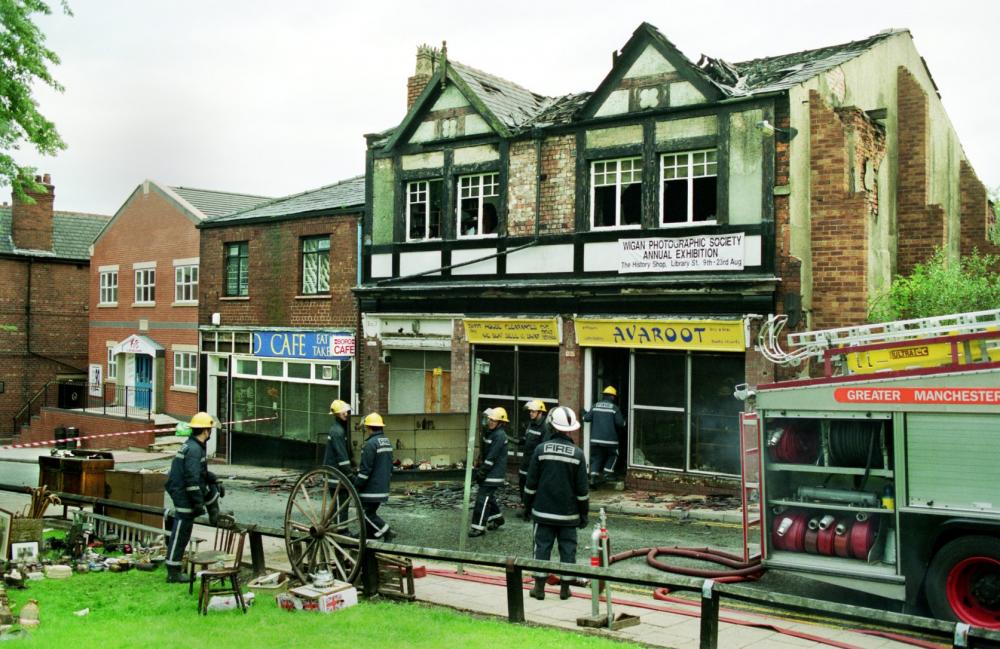 MILLGATE AVAROOT
Photo: Frank Orrell
Views: 693
Item #: 32642
Fire fighters remove smoke damaged items from the Avaroot bric-a-brac store in Millgate after a fire in September 1997. Arson was suspected at the listed building. Next door is the derelict Boro Cafe and the Fits leisure centre.
Do you know, I completely forgotten Avaroot, and yet I often had a mooch round and bought a few things from there.
Comment by: Cyril on 9th August 2020 at 14:32
Irene, I too enjoyed having a root around in there and in Paul Prescott's later premises on Back Mesnes Street, Paul Morris had the huge premises on The Wiend where you could spend many a hour having a mooch in those many rooms, corridors and attics crammed full of books, collectibles and curios.
Comment by: Edna on 9th August 2020 at 16:08
Irene, I had also forgot about Avaroot as well, and I loved it.Still went when they moved.I am getting a little worried now about the old grey cells!!.x
Aren't we all Edna? But I remembered The Chippy next door....once a Wiganer, always a Wiganer! xxxx
Irene if you like a mooch, try the shop on the bend at Clarington Forge, you can spend a couple of hours MOOCHING.
Comment by: Edna on 9th August 2020 at 21:54
Ho! Yes Brian, I keep forgetting about that one as well.I have been told it's very good.
Comment by: Linma on 10th August 2020 at 11:52
Irene you're right, you can take the lass out of Wigan but you can't take Wigan out of the lass.