Photos of Wigan
Photos of Wigan
Album Contents
Album Contents
Wigan Album
Wallgate
17 Comments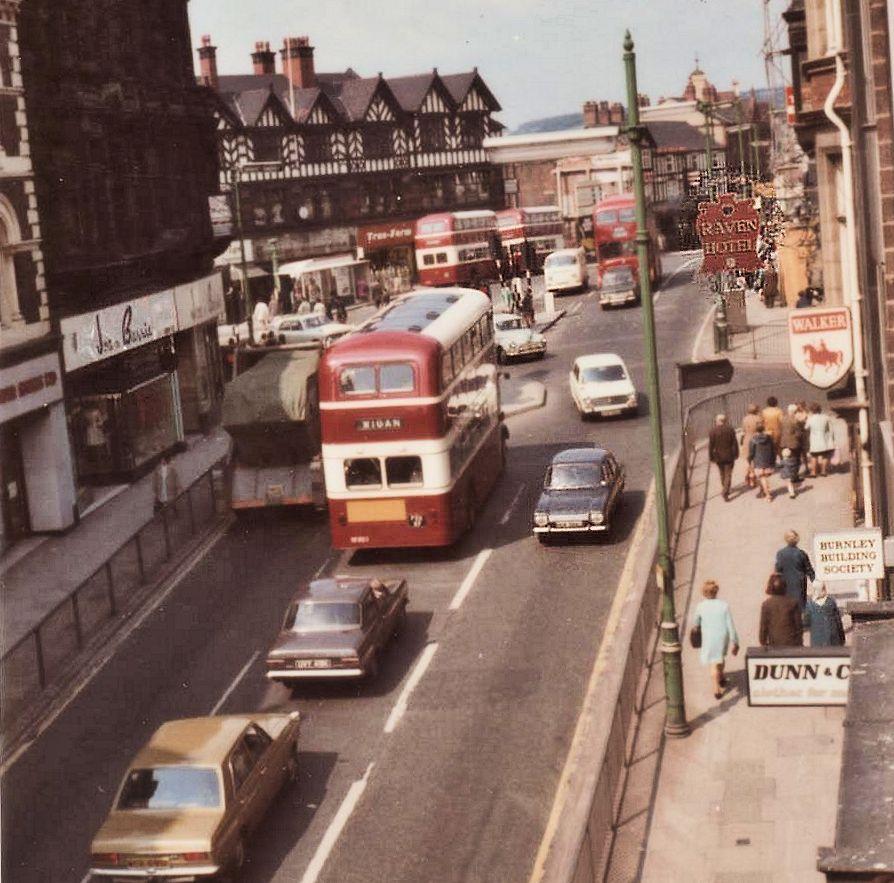 1972 - Wallgate
Photo: John Gaskell
Views: 3,712
Item #: 30794
Close to top of Library St; looking down from office of R Gregson, Insurance Broker. I believe Ron is still around and would love to hear from him
Comment by: Veronica on 16th October 2018 at 23:25
Remember buying clothes from Joan Barrie's in the sixties. Quite a few dress shops then, you could take your pick.
Comment by: Helen of Troy on 17th October 2018 at 07:37
It doesnt look alot different in 1972 to when I knew Wigan in 1953...before the rot set in ??
Comment by: Ed on 18th October 2018 at 16:35
Can anyone name the cars on the photograph.
Comment by: Ed on 18th October 2018 at 16:42
Can anyone name the shop withthe red sign nearthe bus that is parked up.
Comment by: Andy C on 18th October 2018 at 18:01
It's called True Form Ed, If you look at the 1982 photo of Marketplace a few post's on it's still there, but then with a different coloured sign!
Comment by: Veronica on 18th October 2018 at 18:36
Is it True Form (shoe shop)?
Comment by: Maureen on 18th October 2018 at 18:38
Ed,I'm sure it's True Form.
Comment by: Suesa on 18th October 2018 at 19:46
That is True-Form shoe shop Ed
Comment by: John Gaskell on 18th October 2018 at 20:14
True Form, the red sign; A shoe shop
Comment by: DerekB on 19th October 2018 at 13:05
Ed, the cars going towards Wallgate are Ford Escort (next to the bus), the two white cars behind it are Morris or Austin 1100 and behind that a Morris Minor. Not sure of the two behind the bus but think the fawn one is a Hillman Minx.
Comment by: Ray on 19th October 2018 at 15:41
Ed, I can identify most of the vehicles. 3 Leyland Wigan Corporation buses, I Albion Lowlander bus of Ribble,
a Volkswagen van, a Vauxhall Viva, a Morris 1000, an Austin 1100, a Ford Escort,and a Skip Lorry.
Comment by: Mr X on 19th October 2018 at 21:45
By 1972 the police officer on traffic duty had finished, but Market Place was still the main route through town, with two way traffic for another year. Cars are two Ford Escorts, an Austin or Morris 1100, Volkswagen van, Vauxhall Victor FD, Morris Minor, and a Hillman Hunter or Singer Vogue. There is a Ribble Albion Lowlander bus, and three corporation Leylands, being front entrance short PD2s DEK2-3D, DEK4-7E and FEK1-9F with two rear windows. Earlier longer PD3s EJP501-510, GJP8-19, HEK705-707 and HJP1-11 have three windows, not sure if 1962-64 PD2s JJP502-509, KEK739-750, AEK1-10B had two or three windows.
Comment by: English Electric on 20th October 2018 at 09:01
I was interested to see the two-way traffic arrangements still in place for Market Street and Market Place in this picture dated 1972.

Does anyone know (Mr X sounds like a fount of knowledge) exactly when the original gyratory one-way road system was implemented around Millgate, Rodney St and Harrogate St?

I clearly remember the first time I experienced that new one-way system on the eastern side of the town centre was with my mother on a No. 3 Corporation bus to Hindley. During that journey my mother was chatting with another passenger about the outrageous increases in bus fares, and how you didn't realise that the 5p it now cost to get to Hindley was actually a whole shilling.

This would put that bus ride some time after "D-Day" in Feb 1971 - and before this photo taken in Wallgate. Was the 1970s one-way system introduced in stages or have I got my dates mixed up?
Comment by: Alan Wright on 20th October 2018 at 15:55
So good to see the old Walkers sign on the right hand side. A guarantee [landlord-willing!] of a great pint of bitter.
Comment by: Al on 23rd October 2018 at 15:27
Lots of cars here that would be the lust of retro classic car enthusiasts today. That Escort, if its a rare model or had any significant history to it, would be worth quite a few Bob today; there's an MK1 Escort on eBay in Wigan for sale as I speak for 65 grand. Utterly ridiculous money some of these cars fetch now. At least those cars still had charm and character about them - and vibrant colours, now they're soulless and sport dull grey and silver colours.
Comment by: baker on 25th October 2018 at 23:44
i had a holiday in a mark1 escort 1300 estate,when my cortina was off the road with clutch problems.i kept tapping the petrol guage from birmingham down to the isle of wight must have got close to 45mpg out of that escort.on my return the cortina went in for part exchange for an escort estate.happy days
Just a quick question? rot set in ? please explain?