Photos of Wigan
Photos of Wigan
Album Contents
Album Contents
Wigan Album
HARPER STEET 1918
15 Comments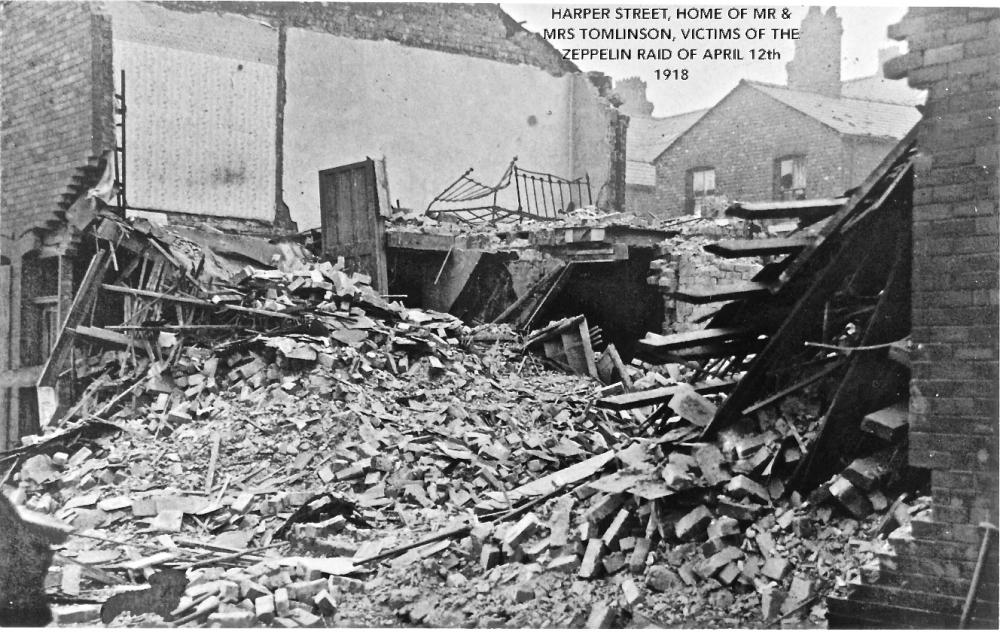 HARPER STREET 1918 ZEPPELIN BOMB DAMAGE
Photo: Keith
Views: 1,757
Item #: 30785
Following on from Ron's "shrapnel" posting of the German bombing of Wigan in the first world war, here is a photo of the bomb damage in Harper Street during that Zeppelin raid of April 12th 1918.
It shows the house where sadly Mr and Mrs Tomlinson were killed. My grandmother and my auntie were a few doors away, they were very fortunate as they hid under the kitchen table for "safety" - all their windows were blown out and the flying glass killed their dog.
Comment by: Ken on 14th October 2018 at 10:29
Which housenumber was this as my greatgrandfather died in 1915 at number 21 also my grandmother and grandfather the Fillinghams lived at number 19 but I dont know which year they moved their.Number 21 was at the end next to Ingelwood Av. Did they change the house numbers after the bomb all info will greatfully recived.
Comment by: Albert on 14th October 2018 at 11:11
Visited Harper Street on many occasions in the forties, and fifties. It is where my uncle, and aunty lived, at that time, Albert, and Ethel Short, I got there at most times, by jumping the canal's bywash, after visiting my grandma, in Ince Green Lane.
Comment by: Ken on 14th October 2018 at 11:22
Just looked at Wigan Cemetery burials it says the Tomlinsons lived at 35 Harper St where was this I can only remember up to number 21.
Comment by: Ken on 14th October 2018 at 13:25
Remember the Shorts lived next door to my grandarents at no 17 they had a daughter as I remember.
Comment by: Keith on 14th October 2018 at 14:45
Hi Ken. My grandmother and her sister lived with their family at number 27 Harper Street at the time of the bombings. As you face that house (on google maps for example) you need to go to the right to find number 35. From the reports the unfortunate Mr and Mrs Tomlinson were blown out of their beds into the street and killed instantly. The last house on your journey to the right is number 41, which is attached to No.2 Clarington Grove the only house now left in that Grove.
Comment by: Keith on 14th October 2018 at 14:52
Albert, my grandmother Annie Brown (nee Gorrie), who after marriage moved from Harper Street to Clarington Grove and I regularly visited her In the 1940's and 50's and remember a number of people, mainly young children, who were not as agile as yourself, since I can still see them running up the Grove, quite distressed and soaking wet from head to foot.
Comment by: Veronica on 14th October 2018 at 18:58
The by wash that Albert jumped across was the one we as kids regularly jumped across. I recall losing a shoe one time and was scared of going home! I didn't know Harper St was so close to Clarington Grove. April 12th was my Grandmother's birthday - I daresay she would never have forgotten that day the bomb dropped.
Comment by: Ken on 14th October 2018 at 19:19
I thought Harper St stopped at Inglewood Av and Clarrington Grove started at the other side thankyou for clearing that up for me Keith.
Comment by: Albert. on 14th October 2018 at 21:00
Ken. The daughter you refer to was my cousin Margaret. She passed away earlier this year. May she rest in perpetual happiness,and peace.
Comment by: Keith on 15th October 2018 at 00:15
You might find it helpful Ken if you were see an aerial map I posted in 2011, showing just where the bombs fell. It's "available" if you go to ASSORTED and then ZEPPELIN RAID 1918.
Although I loved my grandmother I never made the connection between her real life long fear of thunder and lightening to the terror of the bomb that nearly took her life and the shock of it all. There was no warning at all that the raid was imminent.
Comment by: Albert on 15th October 2018 at 09:47
I have no recollection of anyone that failed in their attempt to jump over the bywash,to be drowned, or suffer any adverse injuries from the explicit result of attempting to jump the bywash, with the exception of getting thoroughly wet. Having said that, I concede that I may be totally wrong in my assumption. I also acknowledge that it was a very dangerous thing to do.
Comment by: John D on 15th October 2018 at 10:59
A girl named Margaret Short was in the same class as me in the early 1950's at Whelley School.
Comment by: Pete Barker on 15th October 2018 at 15:00
On the same day that the zeppelin dropped these bombs. My paternal grandfather , Pte.John Barker, 9th Battn Loyal North Lancashire Regiment and a true wiganer, was shot and taken POW during WW1. He was shot in his right eye and captured for the rest of WW1 during the German Spring Offensive/Kaiserschlact, just outside Armentieres, France. My family who then lived around Queen Street and Miry Lane must have really felt World War 1 was a catastrophe.
Comment by: Albert. on 15th October 2018 at 16:25
John. I presume that would have been the secondary school. I know she went to the infants' school near to the Darlington Street railway bridge. I was ten years older than Margaret, so I would have been away in the forces at that time.