Photos of Wigan
Photos of Wigan
Album Contents
Album Contents
Wigan Album
pemberton centre
21 Comments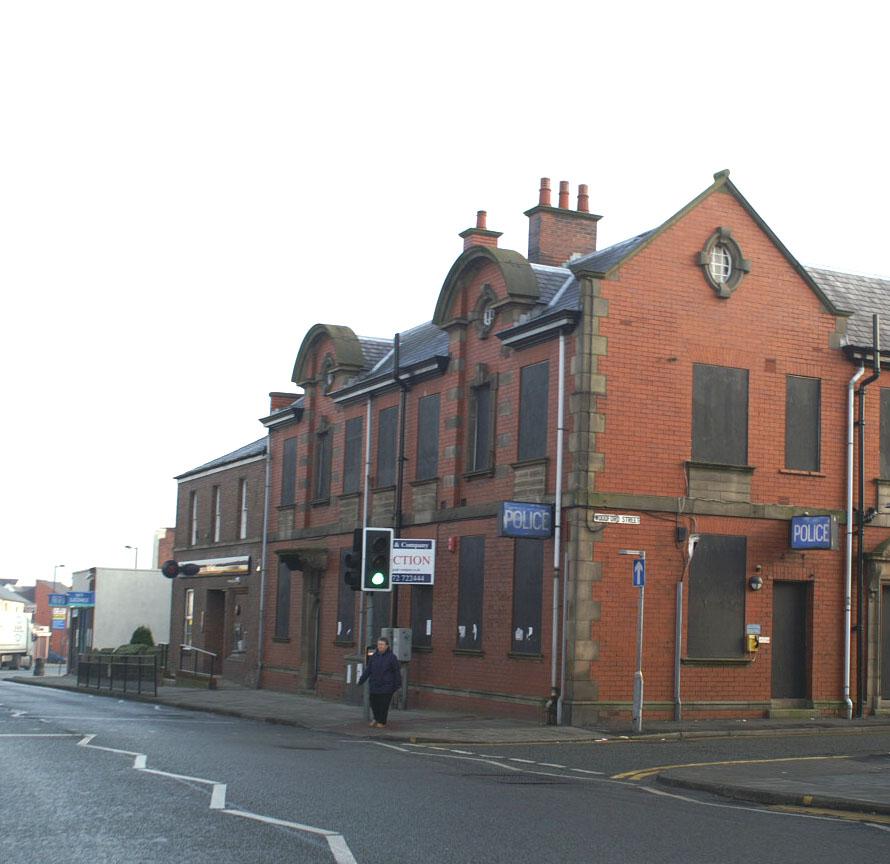 Pemberton Police Station, 2005
Photo: Rev David Long
Views: 2,858
Item #: 30751
Corner of Woodford Street. Demolished 2010.
Comment by: Jarvo on 18th September 2018 at 13:21
In later years it never seemed to be open. But I remember in the mid sixties when Scott Crone lived in Woodford House (part of the building) along with his parents and brothers and sisters. No coppers these days, but Pem isn't poorer for it. The war against young dickheads seems to have abated. I think the mobile phone has stopped them in their tracks.
Comment by: Philip G. on 18th September 2018 at 15:07
Jarvo. Am I right to assume that TS Lady Crawford had dropped anchor at the bottom end of the street on the right of the photo? I last stepped onboard in 62-63.
And what in heaven's name have your lads done to their strip? I watched then on TV recently when they resembled a flock of linnets - never Old Gold!
Comment by: Jarvo on 19th September 2018 at 00:06
If they play under the lights, it does look like old gold. But I totally agree, Philip. We waited 40 years for Adidas, and they messed it up. I won't be buying a shirt that's for sure. Norman Deeley must be turning in his grave.
Comment by: Philip G. on 19th September 2018 at 08:01
Thanks Jarvo. Having your lads back in the top-tier looks and sounds great. I hear it now, Wolverhampton Wanderers 4 Manchester United … 4 (Half-time 0-0).
Oh, I searched, and then found that TS Lady Crawford had indeed dropped anchor at the bottom end of 'Woodford Street' - PaD 27th July 2015.
Comment by: TRacey on 19th September 2018 at 21:56
According to locals, the police station station was said to be haunted. Probably someone they locked up in the cells and forgot all about!
Comment by: Chris on 21st September 2018 at 12:03
The whole of Pem is haunted by ne'er-do-well's and always has done. The cop shop is empty because they gave up with the drunks, smack heads and their dealers running the place, go into any pub and there they are sat around like wanna be gangsters waiting for the local Fagin to turn up to pass on their wares. Depressing bloody place with majority of the people in a permanent vegetative state, can't work won't work is the watchword of the godforsaken area. Unmarried mothers in leggings effing and Jeffing at their toddlers while the babby is stuck in the pushchair with a feeding bottle filled with Vimto and they carry on breeding time after time, no wonder decent folk can't have a nice things or houses with these vermin that roam Pem. I live in this place so don't tell me it ain't so.
Comment by: Veronica on 21st September 2018 at 14:54
You paint a very depressing picture Chris - but very true in many cases. It's not only in Pemberton though - lots of Police Stations are closed down up and down the country. I never thought I would see the day the one where I live would close. We do need them more than ever these days. Since Westhoughton lost its Police Staton we have had two bank robberies at Barclays. Now to get inside we have to go through two sets of doors with safety locks on them. It seems like the days of the Wild West has returned - but much worse than Jesse James and his brother Frank and co! As for the little toddlers in pushchairs knocking back Vimto my heart bleeds for them - especially when it's cold and they have no socks on their feet.
Comment by: Jarvo on 21st September 2018 at 18:15
And I always thought that Scholes and Ince were much worse. Platt Bridge in particular is dodgy. Pem is no worse than these places, believe you me.
Comment by: Chris on 22nd September 2018 at 11:57
It's no use comparing one place with another, the place I live is as I have described and it's a disgrace. The people are the most ignorant I have ever come across, they are nothing less than self centred state handout bloodsuckers who want everything for nothing and think the world owes them a living. Yes this may be the same in other parts but here they seem to pride themselves on being the lowest of the low, god forbid any honest working person should have anything nice because they become the target of these vermin.
Comment by: DTease on 22nd September 2018 at 16:19
I can see you have a point Chris, but I had to lie down in a darkened room after reading your comments. I haven't been so depressed since I broke my leg and was forced to watch "Eastenders" for a full half hour.
I take it that you hold out no hope for the future then Chris? Should I start preparing for the end now then? Surely there is still some hope, after all "Strictly" can't go on forever can it?
Comment by: Chris on 23rd September 2018 at 08:06
Mock if you must but then you probably don't live here and have the constant worry of your vehicle being vandalised or stolen or your home violated and ruined on a regular basis to the point that your family are scared to be alone if you have to be away overnight or longer. Pemberton is a horrible place, worse now but it was just as bad many years ago.
Comment by: Al on 25th September 2018 at 11:21
The war against young "d***heads" as you put it is rather hypocritical and ironic considering half of the police today are complete buffoons, ex school bullies, thugs and people who clearly have mental and anger management issues. They just employ any clown off the street and there's no proper training to assess if they're suitable for such a job.
Comment by: chris charnock on 30th September 2018 at 23:31
well chris if thats your opinion.... move away>> ive lived around ere neaerly 50 years..... yea some nobs here as everywere else ...........but your bang out of order with your opinion pak
Comment by: Chris on 1st October 2018 at 12:47
I'm sorry if the truth hurts you Chris Charnock. I can't afford to move I have invested a lot of time and money into my home working non stop to do so and I have no intention of seeing it ruined by the workshy scum that surrounds the place who think they can take what they like. The place is a cesspit and if my opinion displeases you you will have to live with it. What is a "pak"?
Comment by: Jarvo on 1st October 2018 at 19:17
Comment by: Chris on 2nd October 2018 at 11:57
Jarvo I don't know if what he posts is a 'pak' of lies, I don't know him but I am certainly not telling lies.I think perhaps he meant to type pal.
yea was meant to say pal..... but you get my drift mate
I seem to remember there was an iron plaque on the wall with linear measurements marked on , presumably so that traders could check any goods against this official standard.
Having read your previous commemts chris... who do you think you are? Like i said born and bread here in pem, if you dont like it jog on? There is bad and good were ever you may live......... dont dis our town when you know nothing about us?? HOW long you lived here chris??