Photos of Wigan
Photos of Wigan
Album Contents
Album Contents
Wigan Album
Wallgate
7 Comments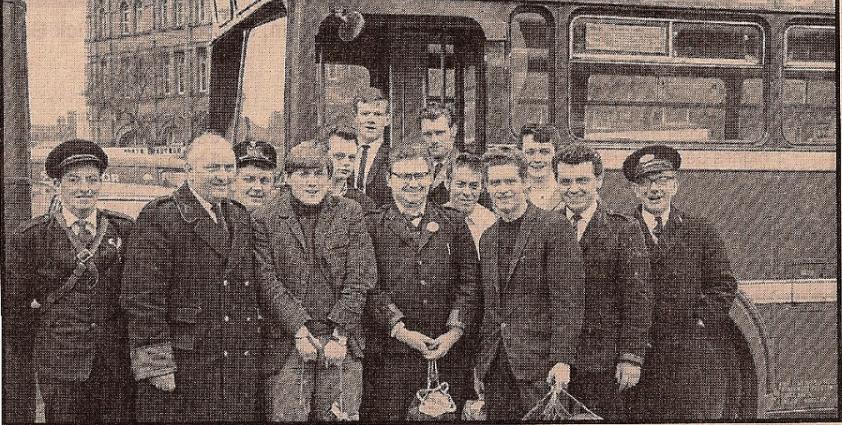 Ribble crews
Photo: Joe Thomas
Views: 1,972
Item #: 30153
Ribble Football team 1965 Ray 'Jock' Hendry is second left
Comment by: Ray Smyth on 1st February 2018 at 15:57
Joe...I remember the conductor, far left and Jock Hendry,
also the chap with glasses in the centre, and Inspector
Jimmy Smith, far right. The other Inspectors at Wigan were
Jimmy Lyons, Jimmy Hurst, Jimmy Moss, Bert Hodgson, and
Joe Farrell. Ray.
Comment by: Maureen on 1st February 2018 at 17:13
Doesn't the lad the fifth from the left look like Martin Clunes.
Comment by: Poet on 2nd February 2018 at 12:30
I see the resemblance Maureen. I think he also favvers the actor Martin Sheen.
Comment by: Poet on 2nd February 2018 at 12:31
Sorry that's Michael Sheen.
Comment by: Ray Smyth on 2nd February 2018 at 15:45
I referred to the Ribble Bus Inspectors in my post earlier.
One of them, Jimmy Lyons was a keen keeper and breeder of canaries. One winters day in early 1969,I was working a late
turn from 4pm, and finishing about twenty past midnight.
About 10 past 8pm, I arrived back at Hope Street, having done 2 round trips to St Helens and a Billinge. My next journey was the 9pm 376 to Southport. I had a butty and a
brew in the back office,and about 8.30pm, Jimmy Lyons came
to me and said "When you have finished your jackbit, I want you to nip to North Western Station,and collect a cardboard
box off the London train, It will contain 2 pedigree and expensive canaries to add to my breeding stock". Jimmy said
that as it was lashing down with rain, Take spare bus 1642,
which is on the bus station,rather than walking there and back in this dreadful weather. So off I went in a 78 seater
double decker to carry 2 tiny passengers. This was in the days when British Railways carried small livestock on their
passenger trains. Ray.
Comment by: john m on 4th February 2018 at 08:44
is that 3rd from left front row derek Derbyshire who later worked at northern counties
Comment by: Joe Thomas on 5th February 2018 at 14:19
Ray the conductor you mention his first name is Seth cant remember his last think his driver was Ken Peddie your spot on with the inspectors names 3rd right is Arthur Tinnion tall lad behind is Joe Culshaw