Photos of Wigan
Photos of Wigan
Album Contents
Album Contents
Wigan Album
Wallgate
15 Comments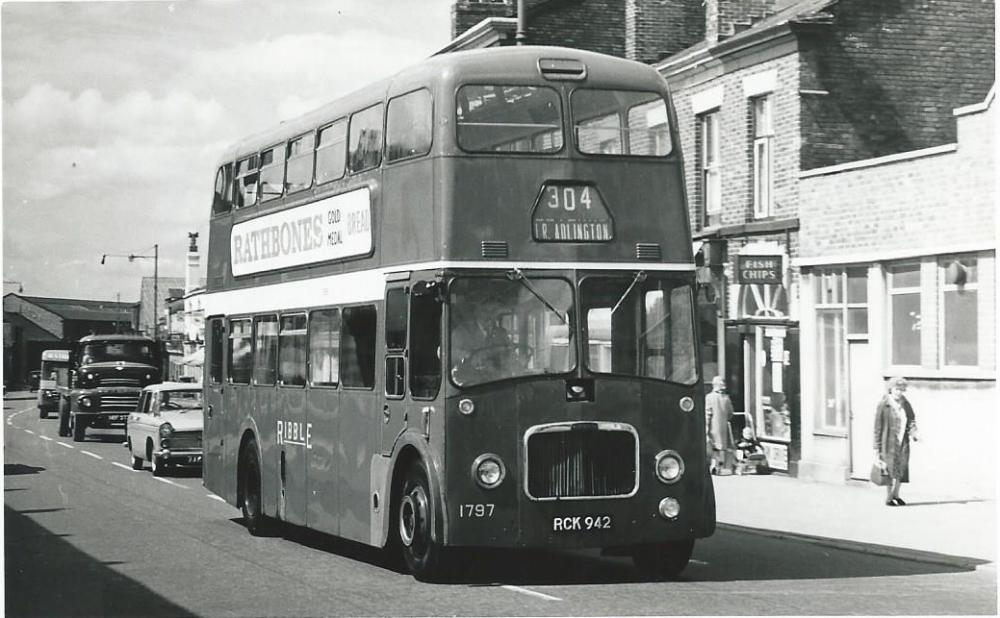 Ribble 1797
Photo: Ray Smyth
Views: 2,645
Item #: 30113
I think that this picture may have been seen on
Wigan World before, but I cant find it anywhere.
I have tried to identify the Ribble bus driver,
It looks a bit like Tommy Driver, who I know was
with Ribble in the late 1960s when I drove Ribble buses.
Comment by: Mick on 19th January 2018 at 16:45
Will that be Wigan pier in the back ground
Comment by: Julie on 19th January 2018 at 17:03
What are the make of vehicles behind the bus Howard?
Comment by: Mick on 19th January 2018 at 18:16
Yes Mick, it will be Wigan Pier. The bus is just approaching the junction of Wallgate and Clayton St.
Comment by: Ray Smyth on 19th January 2018 at 18:37
Mick...Yes, that is Wigan Pier in the background. On the
opposite side of the road from Wigan Pier was the Ribble
bus garage and depot. National Tyres now occupies the site.
Comment by: JJP on 20th January 2018 at 08:15
Julie, I think the vehicles behind the bus are, Austin Cambridge (or a Morris Oxford same vehicle different badge) next is a Leyland Comet rigid and behind that is a Commer walkthru Van usually fitted with a Perkins 4-203 engine, noisy, smoky and very smelly they were. 'I suspect' Howerd will say the same.
Comment by: A.W. on 20th January 2018 at 09:49
is that the Margaret Works visible on the right?
Comment by: Ray Smyth on 20th January 2018 at 11:39
JJP...You are spot on with your knowledge of wheeled vehicles. I had a"Commer" walkthrough van for a short
while in the early 1980s,by which time they had been
renamed "Dodge", dreadful machine. To the right of the
Leyland PD3 bus is another wheeled item...A "Tansad". Ray.
Comment by: Johnny on 22nd January 2018 at 13:10
I remember catching the Ribble from Billinge to Wigan. Wigan - St Helens route. 362?? Phil would know!
The last one left at 1030 from Market Square. Many a mile I've walked hone seeing a date to her last Municipal bus (the old cherry red and whites).
Comment by: Philip Gormley. on 22nd January 2018 at 21:38
That's right John, last bus home was indeed the 10:30. I'm not exactly sure how the 362 operated, though. Ray Smyth offers a little more at Item 29325. The Orrell St James's Road/Sandy Lane alternating route is no more; Sandy Lane only, now.
Comment by: Ray Smyth on 23rd January 2018 at 10:14
Johnny and Philip...The Wigan to St Helens route 352 was via
St James`s Road and Billinge, The 362 route was via Church Street and Sandy Lane, and on through Billinge. From memory,
buses indicating 352 Billinge went via St James`s Road, and
buses showing 342 Billinge went via Church Street and Sandy Lane. Another occasional route in that area was 372, which
operated for the benefit of school children. The morning bus
would come from St Helens or Billinge, and just before the
Running Horses pub,it would fork left on to Sandbrook Road
and deliver the children to a school on the left, then on to
the Delph Tavern, turn right on to Sefton Road, and re-join
the normal route back to Wigan. The afternoon bus did this
journey the other way round to take the children to Billinge
and St Helens. I will post some more pictures soon. Ray.
Comment by: Johnny on 23rd January 2018 at 12:29
Thanks Ray!
I had moved to Billinge in 1963 and was starting Upholland Secondary. I asked the stop and was told Running Horses. Guess who told me Phil? Eddie Cunliffe at the bus stop! Strange looks I got from the other kids..Look at the new starter. Mind you I soon settled in !
Comment by: Philip Gormley. on 23rd January 2018 at 16:52
Ray: Thanks for the info regarding Ribble bus routes. I find your mention of buses turning into Oxhouse Road, immediately before The Running Horses, and then dropping-off pupils at Up Holland Sec', to be of further interest. I seem to recall that the Billinge crew of 1960-64, always disembarked at The Running Horses on their way to school, and in 1960, having paid tuppence for the journey. The 372 that you mention, could have brought in the crews from Up Holland and adjacent points. I guess you'll also remember the L.U.T. 55 that travelled from Billinge to Leigh, stopping 'every ten to the hour', at the side of St Aidan's Church, on Newton Road. The bus began its journey to Leigh from Roby Well (now Roby Well Way.), Billinge, which is about 75yds from Ozy's Burnt Umber Bovine.
John: So that was your first meeting with Painter & decorator-cum-Drummer Boy Eddie Cunliffe, was it. Thanks.
Comment by: Johnny on 24th January 2018 at 10:33
Thats right Philip. I used to get the LUT from Ashton on my visits to Billinge. Again many long walks home when missed!
Comment by: Joe Thomas on 26th January 2018 at 13:57
I worked on the Ribble in the mid 1960's I may be wrong the driver looks like Norman 'Jock' Hendry also the advertisement on the side would be lit up at night
Comment by: Ray Smyth on 26th January 2018 at 19:29
Joe Thomas...You could be right Joe, It is a pity the photo
is not a bit clearer. I am trying to recall Jock Hendry, the
name rings a bell, but I cant picture him in my mind. I do know that it wasnae me at the wheel. Also, just in case any
reader is confused with the route number and destination showing 304 Lower Adlington,and the bus being on Wallgate,
it will have just left the Ribble garage to commence its
journey to pick up loads of school children in Lower and
Upper Adlington, and drop them off en route back to Wigan.
Other than at school times, a single decker was usually big
enough for route 304. Ray.