Photos of Wigan
Photos of Wigan
Album Contents
Album Contents
Wigan Album
James Street, Lower Ince
26 Comments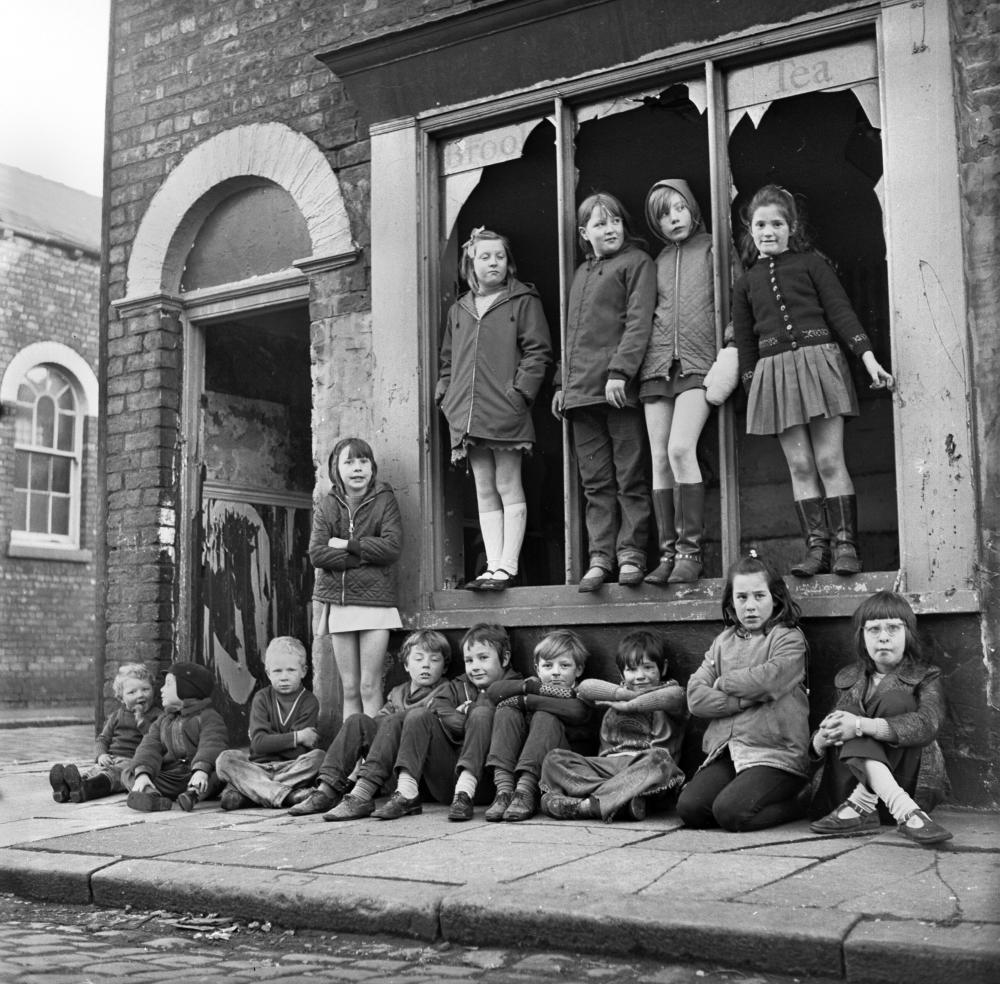 JAMES STREET DERELICTION
Photo: Frank Orrell
Views: 4,056
Item #: 29659
Children of James Street, Lower Ince, who had nowhere to play except in the derelict houses and slums in 1971. The nearest playing field was over a mile away.
Comment by: Veronica on 18th August 2017 at 22:43
What a brilliant picture to look back on. The two little 'uns on the left are particularly appealing as they all are. I like the way they are arms folded in readiness!
Comment by: Julie on 19th August 2017 at 00:41
They don't get better than this!
Comment by: Veronica on 19th August 2017 at 08:46
Bash St kids come to mind!
Comment by: Pete Schofield on 19th August 2017 at 09:03
Great picture Health and safety experts would have a field day today broken glass hanging down etc. Yes kids had absouletly no thoughts of the dangers in those days yes the good old days I grew up in the 50s and 60s and made my own entertainment. No modern technology a lot of kids these days havent a clue what they would do without this that and t'other
Comment by: Philip Gormley. on 19th August 2017 at 09:04
Shades of a Reuge carousel - 'tweet-tweet'.
The lad seated second from the left must have spotted something, Veronica.
Although those kids will have been well into their 20s and 30s by the time I went to Ince in 1996, I vaguely recognise some of their features - either I knew them, or their own children, who bore their features. Sadly, no names come into my mind.
As for playing fields, Frank, I don't which one you had in mind, but at the other end of James Street was the 'Devil's Bridge' tunnel under the WCML, leading to the vast open space of the 'cornfield', and in the other direction, they would soon have reached the large field on Winifred Street, behind Britannia Bridge School, and, a bit further on, but well within the mile, was Foster's Playing field.
A great pic, all the same.
In 2008 this pic: https://www.flickr.com/photos/fray_bentos/2345501910/in/album-72157594155559143/ was posted on the Flickr site. As you can read in the Comments there, I identified the location - the chapel seen on the left in Frank's pic is still there, at the junction of James Street with Chapel Street. The site of the demolished shop from Frank's pic is in shot - as is a young girl, who was soon identified as Margaret Mortimer (nee Woodward). I think that may be her, second from right, kneeling in front of the shop....
Comment by: Garry on 19th August 2017 at 09:43
You could not get a picture like that now HSE would be all over it lol
Comment by: Albert. on 19th August 2017 at 10:13
You can just see a small portion of "Westwood Independent Methodist Church". It would appear that where the children are, was originally a shop.
Comment by: Elizabeth on 19th August 2017 at 11:23
Fab photo,it looks even older than 1971.
Comment by: Veronica on 19th August 2017 at 13:55
Reminds me of that song with the words 'dirty as a dustbin lid' and one little lad just under the window looks like he's fallen asleep! I hope those kids see this picture.....:o))
Comment by: Albert. on 19th August 2017 at 14:21
Throughout the fifties, and very early sixties, other than a five year period in the forces, I lived at the bottom of Chapel Street, in Winchester Grove, the side window faced towards Chapel Street. towards the end of the fifties, and 1960/61. my mother placed my police helmet on top of a tall display cabinet that stood in front of this side window. She maintained that it deterred burglars.
Comment by: Maureen on 19th August 2017 at 14:26
What a cracking photo this is..a moment in time if ever there was one...I hope all the kids on this shot get the opportunity to see themselves.
Comment by: Mr K on 19th August 2017 at 19:39
One of those young ladies didn't know at the time, that she would be lucky enough to marry me.
Comment by: Maureen on 19th August 2017 at 20:56
Comment by: John on 20th August 2017 at 09:24
The shop was Hiltons groceries in James street I use to deliver orders for him in lower ince and keys houses
How could I obtain a copy of this photograph please?
Comment by: Ste Wigan on 20th August 2017 at 15:14
Brilliant!
Takes me back to when I was 11 years old!!1
Angela, If you let me have your email address I will send photos to you free of charge.
Comment by: Alb on 21st August 2017 at 10:11
Normal kids getting up to normal things and likely doing no harm. But of course things like that today are frowned upon by the useless eater, lazy, McDonalds eating, coco-cola guzzling generation with have now with their constant Twitter and Facebook and Iphones/Ipads. As we often say, kids have everything these days in terms of technology and gadgets (things we can live without), yet the freedoms they have like the above photo are almost non-existent now. The powers that be don't want kids to be doing things like this, they want a dumbdown society where more and more freedom is restricted and controlled with silly regulations and laws. Now even the public fields seem to be no go areas as, particularly around Wigan, they are being turned into private football grounds with god knows how much public money being spent on it. So now the public and kids can't go anywhere, except where there are CCTV cameras watching their every move.
Sat or kneeling right to left:- works in Morrisons, don't know her name, Margaret Mortimer, Philip Mortimer, Carl Sharples, don't know, Gary Sharples, Darren Woods, don't know, Sharples younger brother, can't remember his name. Only other one I know is Angela Mortimer in the window on the right. Good times, I used to play over there myself
Comment by: Albert. on 4th September 2017 at 13:30
Andy. Were the Sharples related to the Sharples that lived in Cheltenham Avenue?. I went to school with Kenneth Sharples. He had a brother, Russel.
Comment by: John on 5th September 2017 at 09:57
Albert , they were no relation .two of the boys still live in James St. That photo of the pens was taken from their bed room window
Comment by: Albert. on 6th September 2017 at 10:56
Thank you, John. It was just with the family being in close proximity.
My Great Grandparents lived at No3 James Street. Richard and Margaret Ann Johnson.
Comment by: MikeW on 21st January 2022 at 16:36
True there was no health and safety in those days but by the same token no one claimed for £1000s if they tripped over a paving stone