Photos of Wigan
Photos of Wigan
Album Contents
Album Contents
Wigan Album
Market Street
12 Comments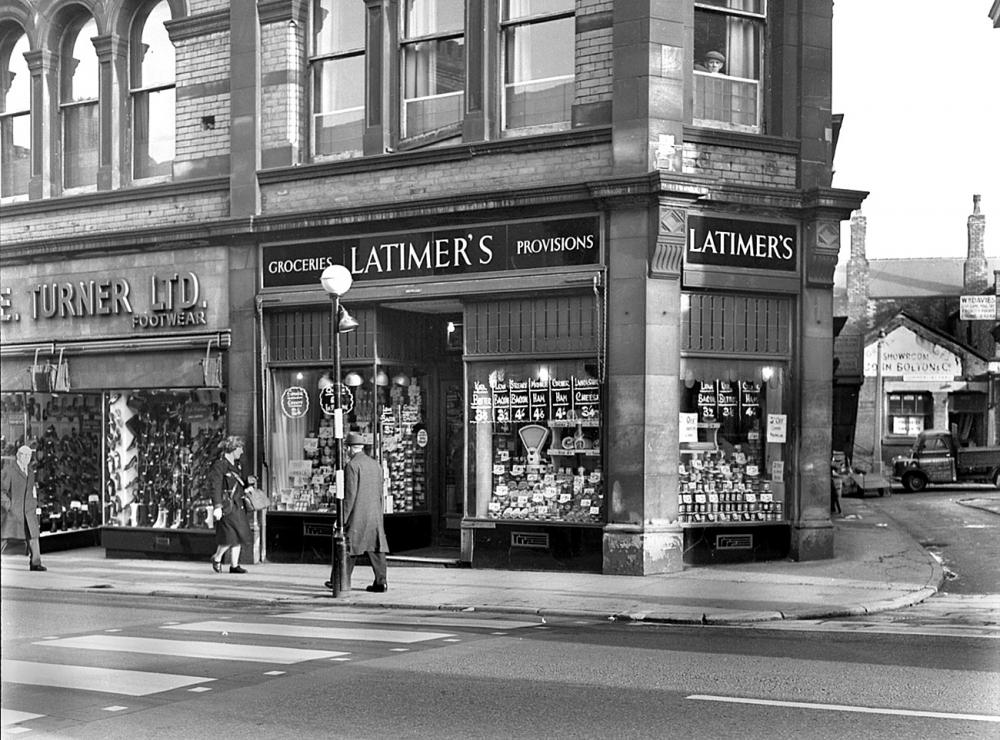 LATIMERS MARKET STREET
Photo: Frank Orrell
Views: 2,836
Item #: 29536
Latimer's grocers shop with Turner footwear next door and the Market Street entrance to the Commercial Yard on the right in 1966.
I have bought your books Frank, vols 1&2 and they make really good reading, I can recommend them!!
Comment by: Garry on 8th July 2017 at 05:48
Comment by: Mick on 8th July 2017 at 06:58
There somebody peeping from upstairs
Yesterday I bought Franks volume two book of photos and there are some great photos and memories in it.
Comment by: irene roberts on 8th July 2017 at 08:48
I remember going to Latimer's for fresh yeast, (which my Mam always called "barm"), for making bread in Domestic Science at school. I would have only been 15 but was already going out with Peter, (now my husband of 43 years, who I married at 21), and he worked at Sawbridge's Butchers in Commercial Yard, very near to Latimer's. Such a lot of interesting alleyways and arcades have been lost to form the soul-less town that Wigan is today, but of course that's Progress, isn't it?....Isn't it?
Comment by: Veronica on 8th July 2017 at 08:52
What memories this picture stirs- every Saturday morning sent on an errand for Latimer's best bacon. My basket on my arm and trotting in the side entrance and the smell of the shop as you went inside. It was always hustle and bustle and queuing up to get served. These pictures are magic. Did you know you were being watched Frank?
Comment by: jack on 8th July 2017 at 10:17
Thanks for the photo Frank of old Wigan town centre. How could Wigan council demolish these buildings in what was a vibrant street to replace them with a goods entrance to shops, most of which are now empty.It really is a crime what they did to the town.
Comment by: Ste Wigan on 8th July 2017 at 19:07
Love these photos!! Keep them coming!!
Comment by: Garry on 9th July 2017 at 07:27
Progress is a word often used by the Council or other organisations to promote radical changes. A word that hides mistakes and is well used today. The only changes that progress in Wigan for me is the new road layout to the saddle that cuts out Pottery road.
I must have been with you veronica,because I always remember your mam having bacon from latimers
Comment by: Veronica on 19th July 2017 at 09:20
I don't think I took you there Theresa -but I took you everywhere else in your tan-sad!! I was only about 10 at the time- then I had to go to Vose's pie shop!
Comment by: irene roberts on 19th July 2017 at 22:23
Vose's sold the most delicious oval-shaped pies, Veronica. Of course I'm too young to remember then....my Mam told me about them, lol!! Oh, I could just go one at this moment!
Comment by: Veronica on 20th July 2017 at 08:48
Indeed they were Irene. I remember them well - lovely thick pastry that melted in your mouth! Always a queue in there as well. Another one was Pie Joe's in Scholes which was nearer - some belting shops in Scholes! I went on errands from a young age when I think about it. There was no need to go up town really. But as you know it was an event then to go 'up Wigan'.