Photos of Wigan
Photos of Wigan
Album Contents
Album Contents
Wigan Album
Abram
7 Comments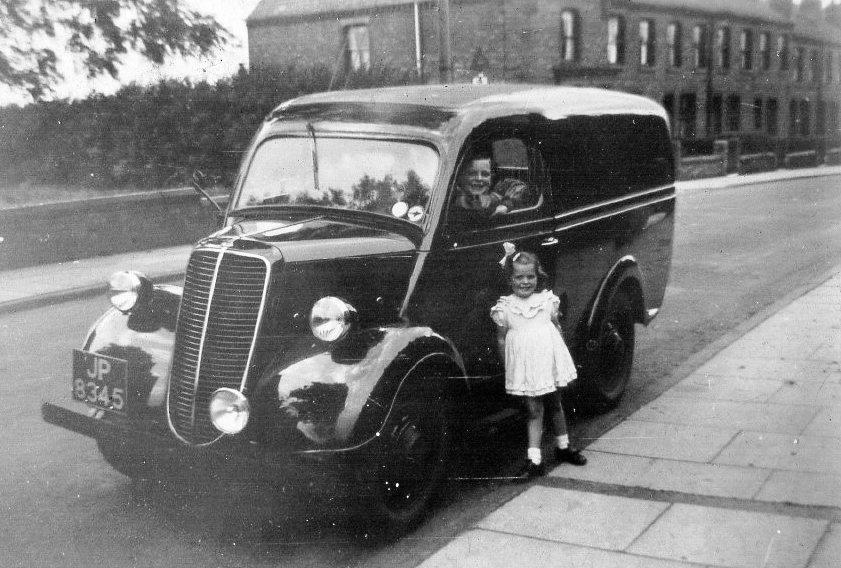 Siblings - Les & Eileen Miller
Photo: Les Miller
Views: 2,376
Item #: 27727
Warrington Road Abram - Les & Eileen Miller in granddad's (butcher Jack Webster)Fordson 10 van. Circa 1950
Comment by: GW. on 25th March 2016 at 11:51
A beautiful photo. Some pictures have a way of cheering one up. Thanks Les.
Comment by: Albert. on 25th March 2016 at 16:34
They had pride in their vehicles in that era. Kept them well polished.
Comment by: Garry on 25th March 2016 at 18:13
Lovely shot Les. I remember Jack the Butcher well, he was mobile with his Bedford van round Ince in the 1960s and 70s. He also had a Butchers shop on Liverpool road Platt-Bridge up to demolition of the row of shops.
Comment by: Aubrey on 25th March 2016 at 22:23
It is a while since I last saw you Les, but I can recognise you both in the photo. We knew each other very well on the 50s. Great photo.
Comment by: AB on 28th March 2016 at 14:14
I remember going with my father to buy one of these 10 cwt Fordson vans in 1948, There was a waiting list for them. The price was about £190, Very basic.Only had a drivers seat a passengers seat was extra. But a good workhorse
Comment by: DerekB on 29th March 2016 at 16:00
A good workhouse as you say AB. As a school kid myself and another lad delivered milk from the back of one all around Beech Hill in the school holidays - Elf and Safety would have had a throm at the sight of us with our legs dangling over the back from the open doors. But what a pig ugly vehicle even for the time, compared to the it's Bedford, Commer, Morris and Austin equivalents.
Long time no see Les. How are you and Bridget going on .great photo by the way. The van had 3 gears, first gear towards the driver, second two away from the driver, best wishes to you both fro Ken and Susan