Photos of Wigan
Photos of Wigan
Album Contents
Album Contents
Wigan Album
Wigan Street 1960
13 Comments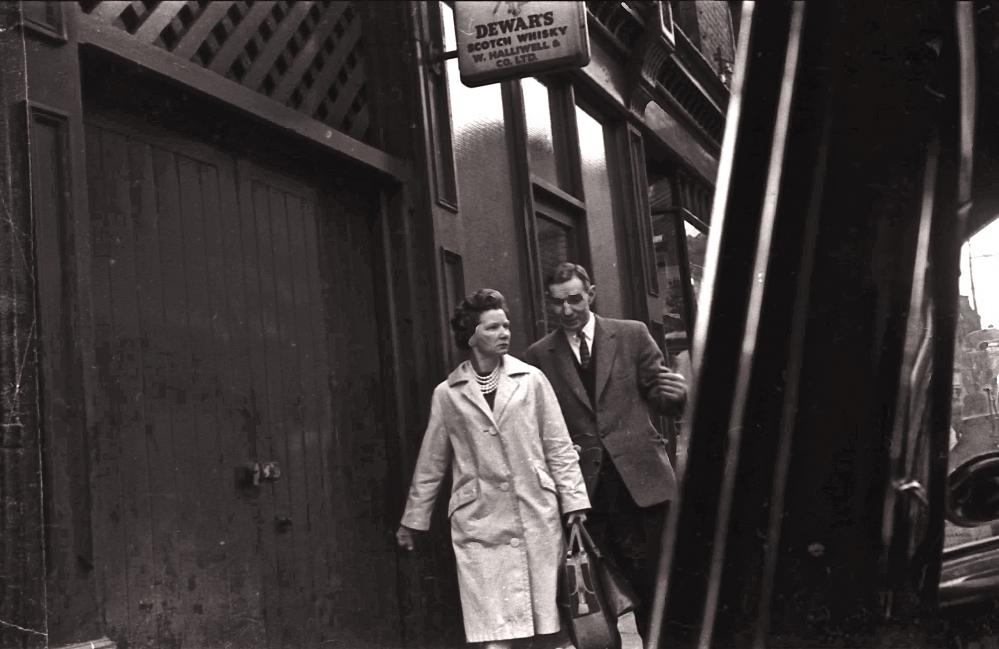 Wigan Street approx.1960
Photo: Keith
Views: 2,519
Item #: 27440
An impromptu photo taken in Wigan town centre around 1960. Having been away from my home town since 1967 I can't place which street this might be, although the Halliwell sign should be a clue.
Comment by: RON HUNT on 15th January 2016 at 23:04
Could it be King Street directly opposite the Court Cinema?
Comment by: Mick on 15th January 2016 at 23:40
Yes Ron,Halliwells had a wine merchants/off licence, opposite the Court Cinema.
Comment by: ted on 16th January 2016 at 07:49
that your mum and dad keith??? Iremember themfromthe Wellfield
Comment by: Vb on 16th January 2016 at 10:07
You get a sense of 'faded grandeur'in this picture of King St in its hey day! No Bargain Booze here but a genuine Wine Merchants.i wonder what the gentleman and his lady wife would think if they saw King St now on a Friday night!
Comment by: RON HUNT on 16th January 2016 at 10:15
There was a LEWIS'S ice cream/snack bar next door
Comment by: Carolaen on 16th January 2016 at 10:26
Vb. I also have fond memories of Maltbys in Crompton Street. I used to pass this everyday walking to and from Scholes to the WGS and window displays and their annual catalogue was an education in itself.
Comment by: brian johnson on 16th January 2016 at 12:31
spot on Ron i remember it well in king st
Comment by: Vb on 16th January 2016 at 14:43
Wigan was renowned for its distinctive and characterful shops ......you could buy anything for the connoisseur provided you had the money. If not you could just 'window shop'! Like you said Carolaen the window displays were a sight to behold. It was the advent of the 'soulless supermarkets' that helped to destroy High Streets up and down the country.
Comment by: Keith on 16th January 2016 at 14:52
Yes Ted, you are spot on.
Comment by: Al on 16th January 2016 at 17:56
I agree, Wigan had a distinctive chracter and uniqueness to other places, but sadly that's just a thing of the past. Wigan now is just a clone of any other town, same corporate shops, shopping centres, supermarkets and street layouts designs. I suppose if we didn't have supermarkets and big chain stores then people would moan saying the facilities aren't adequate to their needs, for instance accessibility for disabled and elderley and access for those annoying mobility scooters, as well as facilities for baby changing, and so on. People demand too much from a shop or pubic place these days as though everything has to cater for their needs, but we seemed to have coped well without those things back then.
Comment by: Alan H on 16th January 2016 at 20:28
Al,you complain about mobility scooters.Don''t us senior citizens who lived through the war deserve the scooters so that we are not housebound and dependent on other people to simple things like a it of shopping? Get a life and let us get on with ours.
Comment by: BLOGGS on 17th January 2016 at 11:08
Alan H,
Ihave been disabled since the age of four and never found the need for a mobility scooter, most of the people using these are just fat.
Comment by: Renegade Reg on 18th January 2016 at 12:14
What appalling comments on the use of mobility scooters, do you realise we have an increase of people who need these scooters to be a part of society and enjoy the things we take for granted. We are seeing many young men who have returned from war zones minus limbs and worse, do they not have the right to live as best they can? Yes some, as a lot of ex service men do gain weight after their stint of active service and get fatter, maybe they should be put on a ward somewhere out of sight so they don't embarrass you all when doing your shopping. Many people who have a serious illness or elderly also have the right to use whatever gets them out and about whether it be walking frames or scooters, someone also mentioned WWII veterans who need them, would you ask them stay home and not use these aids, going off the comments I think you would just to make your day out more enjoyable. Seems the town as changed but the ignorance and village mentality hasn't.