Photos of Wigan
Photos of Wigan
Album Contents
Album Contents
Wigan Album
LIBRARY STREET
9 Comments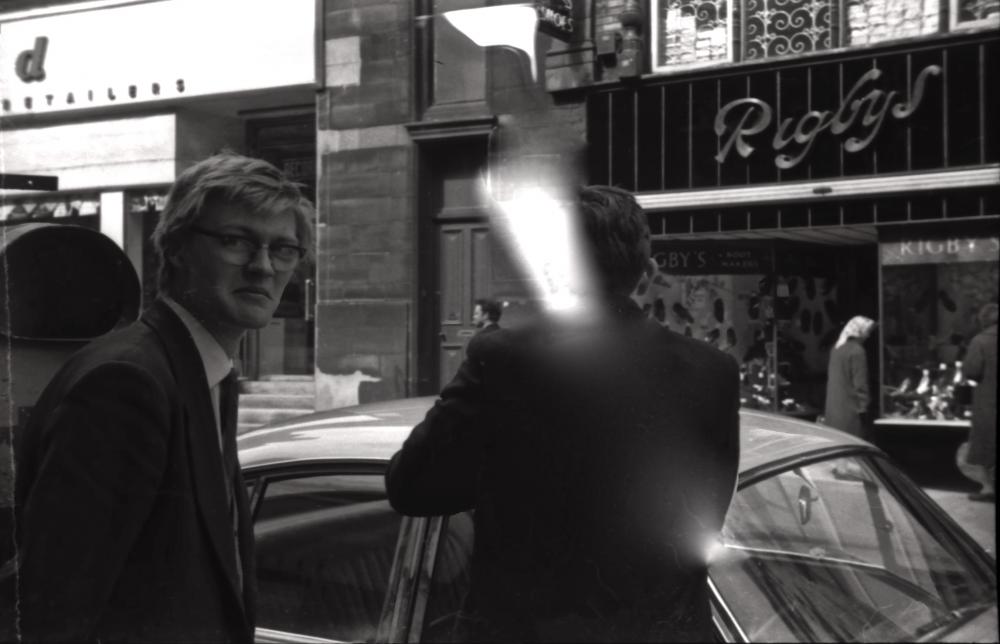 Library Street Lightsaber 1961 approx
Photo: Keith
Views: 2,249
Item #: 27314
Library Street, 1961 approx, showing Rigby's shoe shop and two more Wigan art students, Tom Sutton and the back of Malcolm Unsworth, who due to my imperfect photo developing techniques, seems to be wrestling with an early form of Luke Skywalker Lightsaber or should that be Lightsabre? All my information on this gleaned from my 5 year old grandson and his 2 year old brother.
Comment by: Kenee on 27th December 2015 at 10:54
I believe the shop on the left is Broadmead Electrical Retailers, on the corner of Market Place, now Moon Under Water.
Comment by: Broady on 27th December 2015 at 12:40
Was the Moon under Water not a building society at one time??
Comment by: Caroalen on 27th December 2015 at 14:40
My Dad bought a reel to reel tape recorder from Braoadmeads in 1964, Goodness knows what would have cost in todays money. I think the students are stood outside of Dawsons' record shop.
Comment by: Jonno on 27th December 2015 at 15:07
Smart students those days, jackets and ties etc.
Comment by: Gerry on 28th December 2015 at 08:08
They are stood a little further up than Frad Dawes radio shop
Comment by: Carolaen on 28th December 2015 at 16:53
Fred Dawes - That's the name I was thinking of. It's been a long time!
Comment by: Joseph on 28th December 2015 at 21:01
Loved going into Rigby's, It was like going back in time, they would wrap your shoe box in Rigby's own brown paper from a large rolling machine on the counter with their logo and address on it then to top it all tie it with stripey way string.
Comment by: Kenee on 29th December 2015 at 15:05
The Moon Under Water was Halifax Building Society in the 1980s and possibly early '90s. I also got a tape recorder from there, a Philips, it cost 39 guineas. About 1967 Broadmeads became Civic Stores, my parents bought a radiogram from them, their own brand, it was made in USSR.
Later on I upgraded it for them, installing a Garrard record deck and Leak receiver with Dynatron speakers.
Comment by: irene roberts on 29th December 2015 at 20:19
Our Joseph, that's fascinating! I have a "thing" about old packaging, but I never went in Rigby's so never saw that happen. There was an art and a talent for wrapping goods that has since been lost in a world of plastic bags, one which I would love to have learned.