Photos of Wigan
Photos of Wigan
Album Contents
Album Contents
Wigan Album
Sherwood Crescent
3 Comments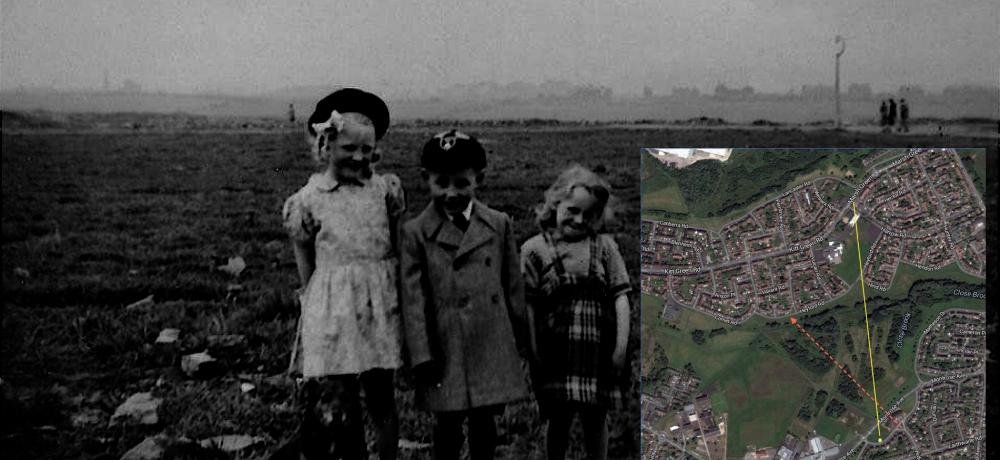 My Best Friends
Photo: David Halliwell
Views: 1,934
Item #: 26070
After much consideration and discussion I think I have established exactly where the photo was taken. It was directly in front of 16 Sherwood Crescent looking across the fields. The people are walking on the footpath that was directly opposite Ridyard Street, this crossed over Montrose Avenue and continued along towards the clay pit and brickworks at Marsh Green. This was a cinder path, quite level as it was an old railway trackbed, was great for riding bikes and had two hollows in it as it passed the 'red ash'. These hollows were the Big Dipper and the Little Dipper. I have enlarged the photo and increased the contrast to reveal more of the houses and could that be the chimney of the brickworks on the left hand side? The inset photo shows the direction of the footpath, (the red dotted line), and the angle of the camera, (the yellow line). The yellow dot represents where we were standing.
Comment by: ann 21 on 23rd February 2015 at 21:04
Comment by: Thomas Clancy on 24th February 2015 at 14:50
Going along the path at the left hand side of the Red Ash, (this was the site of the old Norley Pits)you would come to Norley Quarry,which was still opperational and then City Road Orrell.The houses on the right would be Marsh Green.Not many in those days.
Comment by: Jimmy on 24th February 2015 at 16:44
I've got my bearings now with this photo, the railway trackbed that the people are walking along went past the back of Red Ash to the brickworks in Walthew Lane, then carried on to the coal tipper at Crook.