Photos of Wigan
Photos of Wigan
Album Contents
Album Contents
Wigan Album
Sherwood Crescent
12 Comments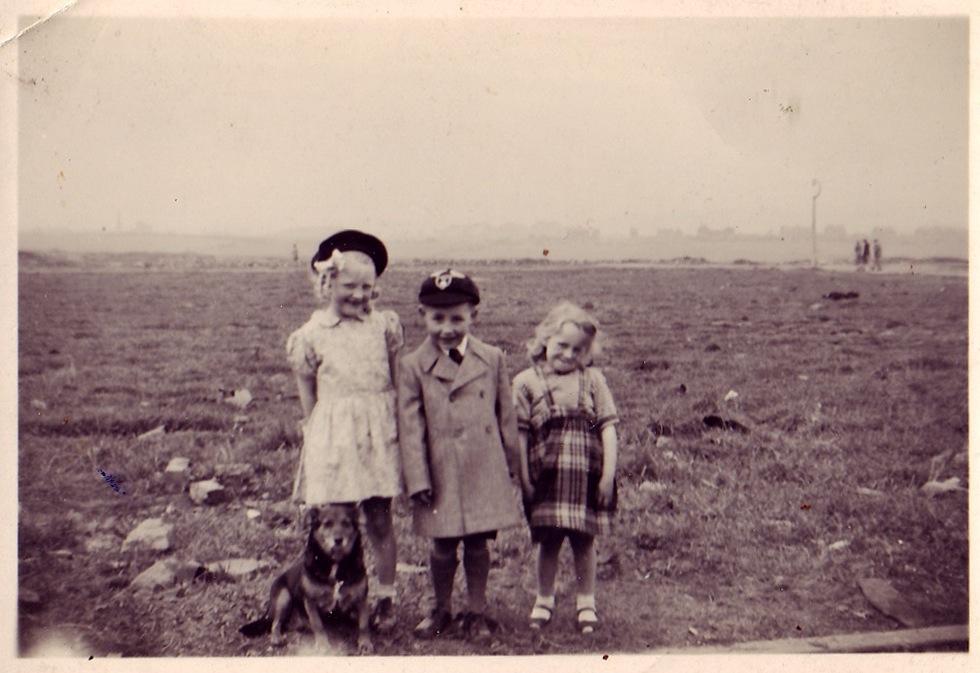 Me and my Best Friends
Photo: David Halliwell
Views: 2,017
Item #: 26043
My last shot in Sherwood Crescent for a while, this looks further up the crescent towards Sherwood Drive. The dogs name was Floss but I don't know the girls names. They aren't family so must have lived in the street at that time. I am a couple of years older here, maybe four or five so the year would be 1951/2. I think the row of houses across the background could be Scot Lane
Comment by: Jimmy on 19th February 2015 at 19:45
David, I think you'll find that the houses in the background will be Norley Hall.
Scot Lane can't be seen from Sherwood Drive, or Crescent.
Comment by: Julie on 19th February 2015 at 23:54
Super picture David, like the whole set. Thank you
Comment by: David Halliwell on 20th February 2015 at 01:19
Hi Jimmy
I am pretty sure this photo was taken from the top end of Sherwood Crescent, just where Sherwood Drive starts, looking diagonally across the field towards the Close Brook. If you put a ruler on a map and follow it through it crosses Scot Lane just about where Hunter Road, Marsh Green, comes off Scot Lane. There were no houses in the line of sight in those days. Norley Hall would be behind the photographer and to the left and Marsh Green Estate was not built at this time.
Comment by: vb on 21st February 2015 at 11:49
"Ah....Bisto"! All these photos are great for looking back at. A really good representative of the 50's. Thanks David
Comment by: Julie on 21st February 2015 at 17:38
David/jJimmy, either way these lovely children had loads of land to play on. Bet they remenber like I do. Never forgot the space we had, now warehouses..
Comment by: Thomas Clancy on 22nd February 2015 at 14:06
Houses in the back ground,would be Scot Lane and Marsh Green(before estate was built.)I lived at .64 Mathieson Drive,in the fifties.Two of my old school mates lived in the crescent Frank Cain and Pat Stridgeon.
Comment by: Jimmy on 22nd February 2015 at 14:29
If that is Scot Lane in the background the children must be stood on the site where the Montrose Pub was later built.
The road behind them where the people are walking along is Montrose Avenue
David said that the shot was further up towards Sherwood Drive, that's why I thought it was Norley in the background.
Comment by: David Halliwell on 25th February 2015 at 08:24
Hi Thomas
I vaguely remember the Cains and Stridgeons, did they live next door to each other, nos 20/22? And was there a Peter Cain?
The only member of the Stridgeon family I can recall is Kathleen who I think went on to become a librarian.
Comment by: Thomas Clancy on 25th February 2015 at 14:13
Hi Dave i only recall Frank,did not know Peter.Wether Frank or Pat lived next door not sure.
Comment by: Julie on 27th February 2015 at 17:18
David , We called the separating ground between the two estates Daisy Hill, what did you call it?
Comment by: David Halliwell on 1st March 2015 at 15:42
Hi Julie
I don't think we had any special name, but 'the meadows' rings a bell.
Comment by: Jen McGuire on 29th January 2018 at 14:47
Hiya just noticed some of you know the stridgeons. Anne was my mum, who went on to be a librarian at Marsh Green. I'm actually trying to find my uncle Pat. I think he's moved to Bury but I'm not sure. Do any of you still have contact with him or his wife June?