Photos of Wigan
Photos of Wigan
Album Contents
Album Contents
Wigan Album
Wallgate
17 Comments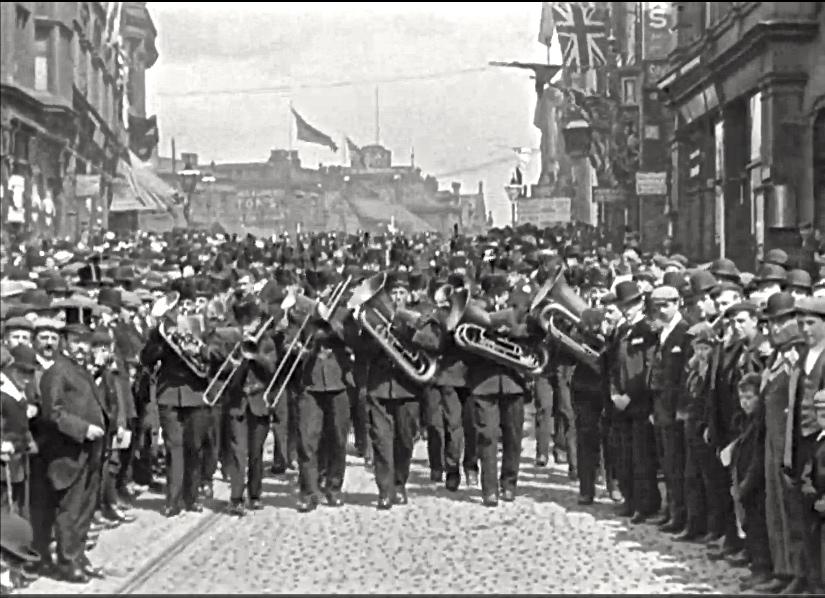 Processional Parade, Wallgate 1902
Photo: Keith
Views: 2,542
Item #: 25872
1902 Wigan, Wallgate. My ignorance of all things musical is profound, especially brass bands, if this is what this is. It seems to me that this might be part of the Wigan Volunteer Force, 1859 - 1908 (also known as the Wigan Loyal Volunteers) who were taking part in the Mayoral procession around the town and I know that hidden, just behind the front row is a large drum, nearly as big as the person banging away on it. Apparently members of the force were exempt from service in both the regular army and militia. I'd appreciate any information on my speculation.

Comment by: Aubrey on 12th January 2015 at 15:09
Keith,
Sorry no information for you, but the photo is a belter.
Comment by: John on 12th January 2015 at 17:24
Lot of flags out, Keith, do you know what was the occasion? Boer war ended in May 1902. Coronation of Edward VII was in August 1902 - could it be one of these?
Comment by: Keith on 12th January 2015 at 17:31
Thank you Aubrey glad you appreciate it - it took my breath away when I first saw it.
Comment by: Julie on 12th January 2015 at 17:57
Keith, As per your previous picture, where these male only events?
Comment by: Keith on 12th January 2015 at 19:01
As far as I know John this was a Mayoral Procession to celebrate the coming to the throne of Edward Vll. Julie, I have seen the whole procession and not one lady was present in the marching "dignitaries" but remember Women's votes were still years away. In fact although women "got to vote" some 16 years later, only women who were householders over the age of 30 (6 million women) got the vote in 1918; women over 21 did not get the vote until 1928. Incredible to think it was such a short time ago.
Comment by: Ken on 12th January 2015 at 19:21
Not many females watching seem to be an all male thing.
Comment by: julie on 13th January 2015 at 00:09
Forgive my grammar. Just noticed.
Comment by: Thomad(Tom)Walsh. on 13th January 2015 at 11:00
Keith, the photographs you have posted lately are absolutely fantastic.
Thank you.
Comment by: Keith on 13th January 2015 at 14:57
Tom, I'm pleased you appreciate them. I have a few more to post of Wigan in the same time frame..
Comment by: Kenee on 14th January 2015 at 10:32
The women would be in the kitchen, getting the dinner ready.
Comment by: Keith on 14th January 2015 at 15:54
You are probably right Kenee, my later photo of the people coming out of the preliminary Parish Church service to mark the beginning of the celebration shows many women hurrying out, no doubt on their way to prepare a meal at home. Also although there were women and girls in the throngs watching the parade they were heavily outnumbered by men and boys.
Comment by: Julie, on 14th January 2015 at 16:21
Thanks Keith for such a historically valuable picture. Added to your comments about the absence of women and the voting rights of women at that time (or lack them) it shows how important pictures like these are. Every picture tells a story as they say, this one especially does. Thanks again keith , excellent!!..
Comment by: Mick on 15th January 2015 at 11:51
Julie – it's a sad fact that when this photo was taken, most women simply wouldn't have had the time to go and watch processions of this nature.
The absence of modern technology meant they had to rely on dolly tubs and wash coppers to do the household laundry, and coal fired kitchen ranges to cook. Many still baked all the household bread (a time consuming procedure, but in many communities a woman who fed her family 'shop bought' bread was considered shocking).
They would also probably had at least one small child to look after, and no pram to push it in.
Another thing to consider is peer pressure. If a woman had decided to abandon her household jobs and go out to view such an event, many of her female neighbours would have considered her little bettter than a slut.
The historian Robert Roberts wrote two excellent books – 'The Classic Slum', and 'A Ragged Schooling', which tell of his childhood in a rough area of Salford, before World War One. They provide a remarkable picture of life at this time, and the role a woman was supposed to play as a housewife and mother.
Both books are still in print.
Comment by: Kenee on 16th January 2015 at 11:11
I grew up in a late 19thC terraced home, my grandparents lived there, then my parents. My grandmother and my mother referred to the living room, the main room in the house, as 'the kitchen'. The actual kitchen where the sink and gas cooker were found they called the back room or pantry. I have only recently come to realise that they called the living room 'kitchen' because that was where the range would have been and where the cooking used to be done.
Comment by: Julie on 16th January 2015 at 16:09
Thanks Mick, how interesting. I will certainly look up the books you kindly mention. The true value of pictures like this is when dig beneath the surface , it is only then do you get a true appreciation of how things were. Thanks again Mick
Comment by: Mick on 16th January 2015 at 17:20
Glad to help, Julie. Your local library should be able to order the books for you.
They are also available for order through Waterstones.
Comment by: Julie on 17th January 2015 at 16:36
Thanks Mick, I know , having previewed the books you do kindly brought to my attention, will greatly upset me they are a must read for me. My god how hard those people had to struggle just to survive. I must admit to getting very angry when people complain in this modern era, they have no idea. Thanks Mick for telling me about these books.