Photos of Wigan
Photos of Wigan
Album Contents
Album Contents
Wigan Album
Wallgate
10 Comments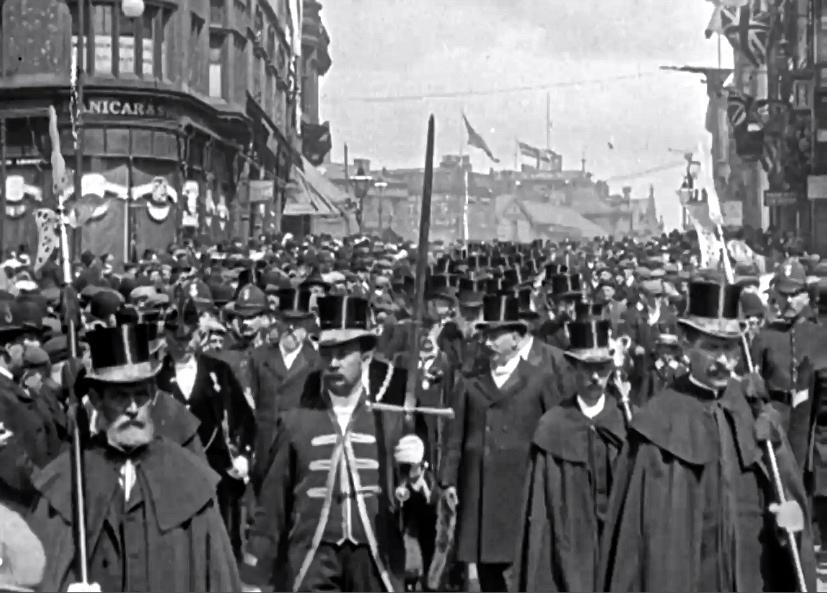 Wigan's Regalia 1902
Photo: Keith
Views: 2,056
Item #: 25862
The display of halberds, maces and sword did much for pride and identity of Wigan as the town continued its independence and self efficiency as a County Borough.
Here they are carried down Wallgate during the Mayor's celebrations in connection with the coming to the throne of Edward Vll in 1902.
All the "important" representatives are in the march around the town centre, police, brass band, the militia and Aldermen etc.,
The black silk top hats were also much in evidence, apparently these were made from cheesecloth, linen, flannel and shellac. Using various types of flat-irons, the shellac was 'baked' in the linen around a five-piece wooden hat block and covered with black silk plush, which came mostly from France.
Comment by: Aubrey on 9th January 2015 at 22:33
Comment by: Jonathan on 9th January 2015 at 22:43
The town "on display" - perhaps echoes of a time when it was in full control of its own Civic affairs.
Comment by: Grannieannie on 10th January 2015 at 08:54
Possibly the top hats had a shorter journey than from France maybe they came from Denton, now in Tameside Gtr. Manchester. There is a long history of hat making in this area. Specialist headwear such as "bobbies helmets" were also made in this area.
Comment by: Joseph on 10th January 2015 at 12:35
I think the reference to "black silk plush" was simply an "ingredient" that was sourced from France, rather than the hats being made there.
Comment by: Tom1303 on 10th January 2015 at 12:46
Very interesting photo
Thank Keith
Comment by: Graham Taylor on 10th January 2015 at 17:23
Keith the regalia is still in use today. I was part of the Mayors escort last November on Remembrance Sunday wearing the red robes and carrying a halberd.
Comment by: Julie on 14th January 2015 at 17:12
Wonderful historical picture Keith . I appear to be alone in wondering about the role of women in those days. Was it like Kenee suggests ..in the kitchen cooking dinner? Were women forbidden from these events Keith or was it a case of how it was in those days? Am I wrong Keith to condemn what appears evident in your picture to be a totally male dominated society? I proclaim my own ignorance to the forum as regards the era of Keith's wonderful picture , but ask ,those who know , why women were so clearly pushed aside. Or was it their role was simply cook , clean, and look after the children..
Comment by: Keith on 15th January 2015 at 21:38
Julie I'd like to be able to provide an answer to your challenging questions but I'm no expert. However, if you think about the sheer size of families in those days it was a wonder that women managed to get out at all. My own great grandmother, who I never met, gave birth to 14 children, I suspect that was not totally unusual, 8 of these died as infants and that was probably higher than the average mortality rate for children. My great grandmother died in 1910 some 6 years after these photos, aged 54. I suspect many women were slaves to work at home. When you try to imagine their real situation it does not take long to realise the incredible burden of their everyday lives.
Comment by: Keith on 15th January 2015 at 23:55
Ooops - I always thought I was fairly decent at Maths, I'm having second thoughts - my great grandmother passed away 8 years after these celebrations.
Comment by: Julie on 16th January 2015 at 16:26
Thanks Keith, you and Mick have explained or tried to , what I was getting at . How sad that other ladies of the forum did not wish to explore or open up role of women in this era. It would be unimaginable today. So so valuable your picture Keith , thankyou