Photos of Wigan
Photos of Wigan
Album Contents
Album Contents
Wigan Album
Mawdesley Street Hindley 1923
17 Comments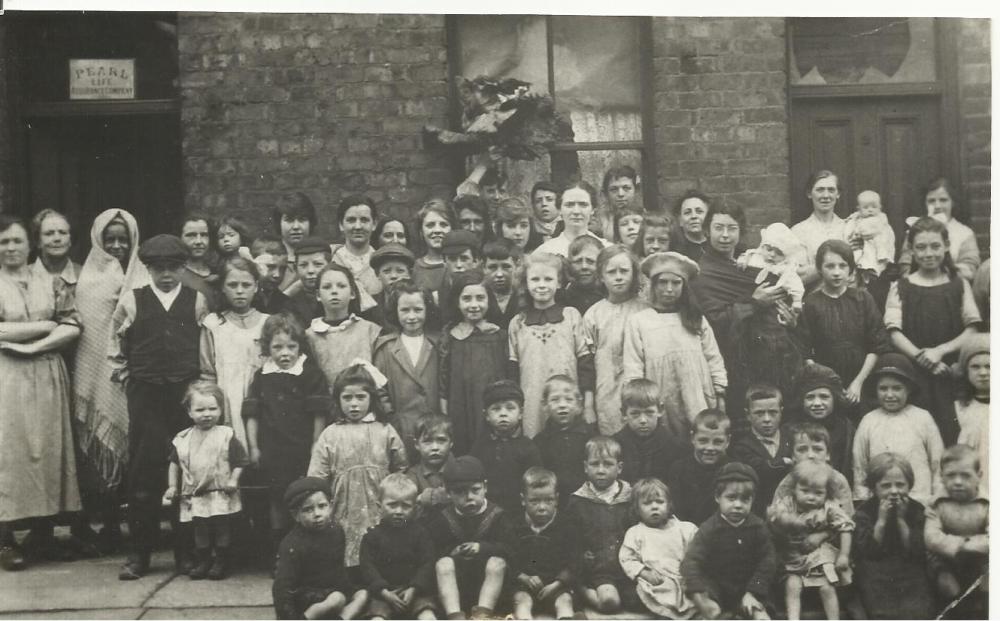 Mawdesley Street, Hindley circa 1923
Photo: Walter Southern
Views: 2,018
Item #: 25010
Almost the same gang but a little older now. Annie Davies is holding her baby brother John who was born 1923, she has him wrapped in a shawl. As was so often the case Annie was left to look after her brother when her mum died in 1930
Comment by: Pw on 25th March 2014 at 18:02
Does anyone have any names for other people on this photo? C
Comment by: tony on 25th March 2014 at 18:41
another cracking photo, I wonder what the lad at the back is holding up in is hand.
Comment by: walt(North Yorkshire) on 25th March 2014 at 20:50
Hi Tony, we have studied this photo over and over and have come to the conclusion that the boy at the back is holding up a Cauli or perhaps a cabbage. The original photo belonged to my wife's uncle the then baby in the shawl, his elder sister became my wife's mother some 25 years later. John passed away back in 1996 and we have kept these pics ever since.
Comment by: Ken R on 25th March 2014 at 22:53
I think the lad is holding Rhubarb.
This picture is fabulous,it depicks Hindley of what life was like in the early 20's.As a Hindley born and bred lad and a member of the Local History Society we need more of these social history photographs,Have you any copies?.
Comment by: Garry on 26th March 2014 at 09:57
I think it's a chicken flapping it's wings. Good photo.
Comment by: Pw on 26th March 2014 at 10:43
Walt, the correct spelling was Mawdsley St.I lived there up until the 60's just before they were demolished.Some these children are probably my uncles and aunt.I have only ever seen one photo of my Grandma and one lady on the looks very much her, she died before I was born.The last time I went down there they had built flats but they had left the cobbled street and the flagstones that are on the photo but that was about 30 years sgo.I wish I had more information. Excellent photos
Comment by: walt(North Yorkshire) on 26th March 2014 at 11:23
Hi Colin, glad you find these pics interesting we do have a few more which we will post over the coming days, keep an eye out for them. Incidentally, the pic posted with these two and showing Edwin and Esther Davies is also a Hindley pic, they lived firstly in Mawdesley Street then moved to 232 Liverpool Rd ( long since demolished ) perhaps you can take a copy of them for your records.
Comment by: vicky on 26th March 2014 at 12:09
this is such a beautiful photo, some of the expressions on the faces of the children is heartbreaking. Times were hard then and everyone was equal...everyone had nothing and i bet most of them were happier than a lot of todays children.
Comment by: Henry7 on 26th March 2014 at 13:46
Vicky I agree I bet they were happier than they are today. How lovely to see all the families together like that, even though they were poor I bet there was a good community spirit, something which is sadly lacking in today's materialistic world.
Comment by: allan wood on 26th March 2014 at 15:42
Lovely piece of history,well worth keeping Walter.
Comment by: Pw on 27th March 2014 at 08:21
Walt, I do remember a John Davies from down Liverpool Rd ( The Lump) .He had grey hair and always seemed a nice quiet man.
Comment by: walter Southern on 27th March 2014 at 10:40
Yes PW, that's was him alright, John Davies 1923 - 1996, if you look at Wiganworld - Assorted - St Benedicts - Hindley -Bowling, you will see pics of him that you will recognize. He did live all his life in Hindley, he was my wife's uncle.
Comment by: Pw on 27th March 2014 at 11:17
Yes that him with the trophies,recognised him straightaway.Thanks for the great photos.Trying to figure out where the one with the tall buildings in the background was taken
Comment by: Pw on 27th March 2014 at 19:02
The lad holding up the cabbage looks very much like one of my uncles he was very tall.He always had a pen and allotments and grew everything.He kept hens,ducks and geese.He even had a duck pond I used to go fishing in.This is a good memory jog. Thanks Walter
Comment by: mawdesleytractor on 23rd December 2015 at 01:37
Sorry I thought this was about the tiny, obscure, lifeless, inbred, snobby commuter enclave called Mawdesley in Lancashire.
Comment by: Janet Thomas on 3rd April 2020 at 15:37
I have a copy of this photograph, my grandmother Nancy Price, my dad John Price and my aunt May Price are all in the picture. My dad always said it was a picture of the cabbage club.