Photos of Wigan
Photos of Wigan
Album Contents
Album Contents
Wigan Album
Mesnes St
21 Comments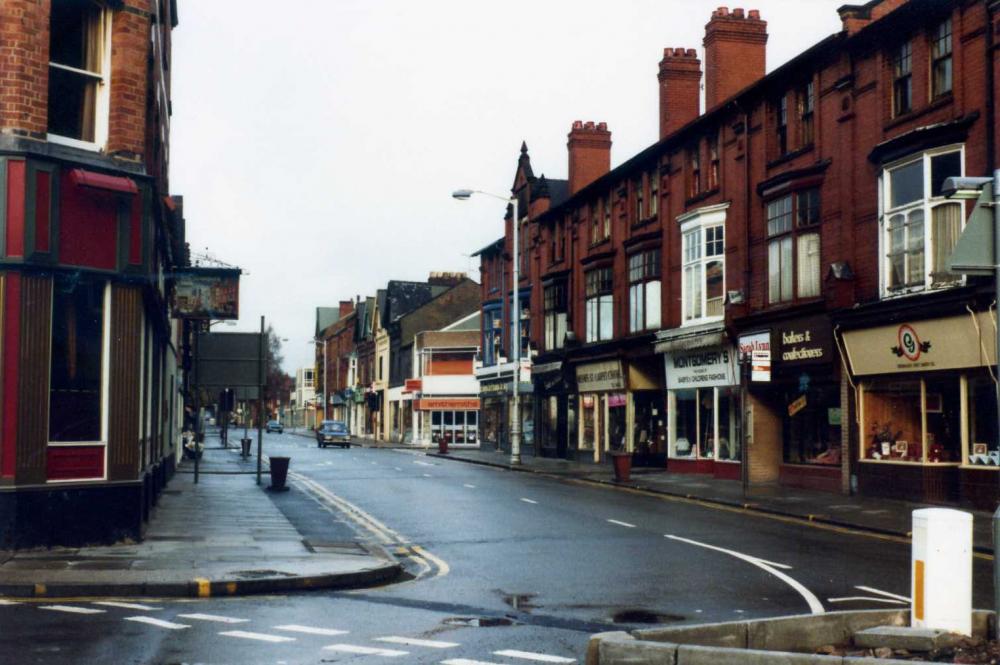 Mesnes Street early 1980s
Photo: Stuart
Views: 3,833
Item #: 24926
Taken on a Sunday
Comment by: Helen on 6th March 2014 at 08:11
I can still recognise Mesnes St from this pic taken in the 1980's...I remember it from an earlier time ! Think the 'yellow' shop front towards the back was the Scotch Bakery & there was a shoe shop in the parade shown...they had a X-ray machine for childrns shoes. My mother always made sure my shoes were very sensible...I hated them.
Comment by: English Electric on 6th March 2014 at 08:27
What as the name of the pub on the left?
I remember having a pint or two in there whilst a student at Wigan Tech.
Comment by: RON HUNT on 6th March 2014 at 08:32
Market Hotel When Colin Cook was the landlord it was one of the best pints of IPA in Wigan not forgetting the pies...
Comment by: Kenee on 6th March 2014 at 10:43
The Market Hotel on the corner of Marsden Street. I had a few pies and pints in there in the 1960's. I don't remember that traffic island, I think it must have been temporary.
Comment by: DerekB on 6th March 2014 at 15:50
Helen, the yellow shop you refer to would have been Smiths Bookshop even in the early 80s, but it was on the site of what at one time was Baileys Scotch Bakery.
Comment by: Helen on 6th March 2014 at 19:09
DerekB, that it. Baileys on the corner of a back alley that went through to Dicconson St. I used to get off the bus at the old bus station in the Market Sq, opposite the Congregational Church & walk past Baileys, stopping to buy a parkin on the way home to my Auntie Greta's in Dicconson St. There was a little arcade on the left hand side of the pic where there was a shop Bon Marche where I got my first red tap shoes....
Comment by: Grannieannie on 6th March 2014 at 20:47
Helen, do you recall the name of that shoe shop? I used to go there and my mum would always choose my shoes, much as yours did! Incidentally that machine you mention was called a pedoscope and I couldn't use it either!
Comment by: Helen on 7th March 2014 at 09:05
Grannieannie...I'm afraid I don't know the name of the shoe shop....we are talking the 1950's ! Can anyone one else help ?
Comment by: irene roberts on 7th March 2014 at 10:19
The baker's shop next to Greenhalgh's was Sarah Lynn's.
Comment by: Albert. on 7th March 2014 at 10:30
I have mentioned this fact previously. The first belisha beacon crossing, in this country, was erected in, Mesnes Street, Wigan, on the 6th, of July, 1935.
Comment by: Thomas(Tom)Walsh . on 7th March 2014 at 10:44
The shoe shop was Scotts . We used to take our childeren there for Sartright shoes, Scott's relocated to Standishgate .
Comment by: John on 7th March 2014 at 12:29
Bailie's also had a good, old-fashioned cafe/restaurant upstairs in the 1950s, with waitress service.
Comment by: Grannieannie on 7th March 2014 at 14:38
Thanks Tom for recalling the name of the shoeshop, I remembered it as soon as I saw your posting. I can stop banging my head in the wall now!
Comment by: Albert. on 7th March 2014 at 14:46
In the late fifties, when Chinese restaurants became a feature in our high streets, there was one on the right, just after you turned into Mesnes Street, from Standishgate. One Saturday night, I was doubled up with another officer, and we got called to this restaurant, which was up a flight of stairs. A large gentleman was disturbing other customers' with the obscene language he was using, as well as having done some damage to furniture, and crockery. He was refusing to vacate the premises, until he had finished his meal, which was half a plateful of noodles, and other concoctions. My colleague suggested that he take the meal out with him. I will not elaborate on the container that was used, but he was very unhappy about the container the remnants of the meal was placed. I can assure each of you, he did leave the premises, not a happy soul.
Comment by: Albert. on 7th March 2014 at 20:53
Sorry. Should have said the restaurant was on the left, not the right, as you entered Mesnes Street from Standishgate.
Comment by: A.W. on 8th March 2014 at 11:09
I remember Bailey's Scotch bakery, the front of the building used to stick out a bit from the rest of the buildings in Mesnes Street and the door was actually in the angle at the right hand side. I too recall the short cut through the alleyway there.
Comment by: Eric on 8th March 2014 at 15:45
Didn't think there was a Chinese in mesnes st in the 50s, thought the first one was it he happy palace?
Comment by: DerekB on 8th March 2014 at 15:45
Albert, wasn't the Chinese restaurant you refer to in the little arcade that runs from Standishgate into Marsden St. I remember one of the first Chinese being upstairs with it's entrance from this arcade but can't remember one on Mesnes St itself.
Comment by: Albert. on 9th March 2014 at 13:23
DerekB, and Eric. I could have sworn it was in Mesnes Street, on the left from Standishgate, but as it is two recollection to one, I therefore concede to your memories. The premises where definitely upstairs, and it was a Chinese restaurant. As my colleague, and I were leaving, my colleague said to the Chinese proprietor, in his expert Chinese. " What you wantee, is a big chucker outee".
Other shops in menses street in the 50's and 60's were Crawfords wool shop, Turners pram shop and Atkinsons grocery.
Can anyone remember the name of the baby wear shop which was situated on the corner of the Royal Arcade ( Marsden St end) in the 1970s. Montgomeries was the one in Mesnes St but I just can't think of the name of this one