Photos of Wigan
Photos of Wigan
Album Contents
Album Contents
Wigan Album
Scholefield Lane, Scholes
15 Comments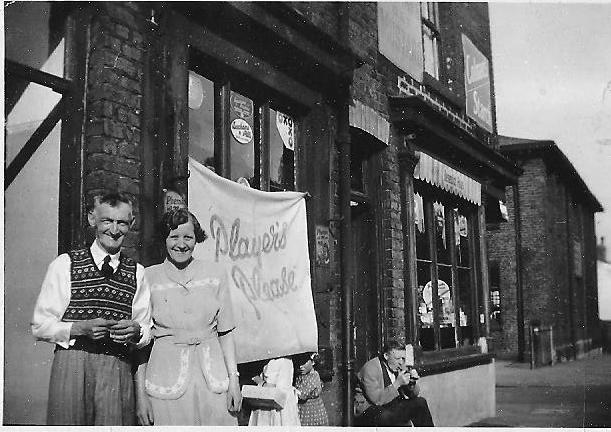 Enjoying The Sunshine on Scholefield Lane circa Late 1950s
Photo: JohnAlan
Views: 3,767
Item #: 24888
Mr Mrs Carney outside their Fish and Chip Shop and Brookes' Grocers. The photograph was taken on Scholefield Lane and also shows St Catharine's infants and junior school on the corner of Catherine St. At the very edge of the photo can be seen the gable end of the Spotted Cow pub, painted white. Sybil Worthington's (nee Eatock) dad can be seen sitting on the step enjoying his pipe. I believe the shop sold sweets, some patent medicines and good old pop.


Comment by: Keith on 1st March 2014 at 18:02
Great photo JohnAlan - thanks for posting - brings back so many memories.
Comment by: watchalot on 1st March 2014 at 18:49
the shop on corner lived a lad in our class his name was percy? in 50s could never remember his second name
Comment by: jim holding on 1st March 2014 at 20:20
yes john another great pic,,,thanks again for posting.My sister Margaret used to be friendly with Sheila Carney.So many memories as Keith says
Comment by: irene roberts on 1st March 2014 at 20:42
A lovely photo of a vanished world. Thanks for posting.
Comment by: Joan Beckett-Wilding on 1st March 2014 at 21:52
My Grandma Margaret Rooney used to go in the spotted cow.
Comment by: Bill JOLLEY on 2nd March 2014 at 11:25
BRINGS BACK MEMORIES,,,,,,,, REMEMBER THESE SHOPS SO WELL USED TO LIVE IN CATHERINE TERRACE
Comment by: Carol on 2nd March 2014 at 12:25
I remember all of the toffee shops had the canvas flap over the window to protect the goodies from the sun. You had to stand under it, just as those little kids are doing. (I'm 55)
Comment by: Maggie K on 2nd March 2014 at 18:50
I was only 9 when we left Birckett Bank and I remember the Spotted Cow well but not these shops. I also remember well going into the school via that entrance.
Comment by: sandra fields on 22nd June 2014 at 19:53
the toffee shop was annie Connors
Comment by: Mark Higham on 16th July 2014 at 12:11
My beloved late mother (Audrey Higham ne:Yates) loved this couple. She was brought up in Florrie Street, only 25 yards or so behind where the photographer stood to take this photo. She told me that, during the odd air-raid during WW2 (my grandfather working nights at R.O.F., Euxton), she and my grandmother took shelter in Carney's basement and after the all-clear, Mrs. Carney would get the fryers going and make fish & chips for everyone ! What a smashing memory for a young girl to have – it stayed with her all her life.
On her behalf, "Thanks Mr. & Mrs. Carney !"
Comment by: Andy & Janice Corner on 7th June 2015 at 20:57
My mum had the shop on the corner Marjorie Deacon (nee Benfold) wife of Gordon Deacon.
Comment by: dave naylor on 17th March 2017 at 01:53
my auntie ann connah and Emily connah ran corner shop late 60s till they demolished it they were the connahs from linney st. Mary.my nan.dolly ann Emily and5 brothers who worked at clarington forge. married jack valentine.miner from frog lane... anybody remember these folk?.. I went to st Catherine's. my mum was Joan Naylor/ valentine. 19caunce rd... great times ..live in London now.. can't compare ..different world now.. love scholes!! long live the memories!
Does anyone remember Marsdens butchers, or Conroys greengrocers ?
Comment by: Kathye on 2nd April 2018 at 22:41
This is my Nana and grandad. I remember Conroys Bambers off licence. Had a lovely childhood in Scholes
Hi my name is Margaret Connah I also went to ST Catherine, I use to go in aunties shop regular. My dad Thomas Connah had 6 brothers and 2 sisters we came from Platt Lane and granddad from Stanley St. my brother and sister may know you they are older than me love to know more about you