Photos of Wigan
Photos of Wigan
Album Contents
Album Contents
Wigan Album
Poolstock Lane, Worsley Mesnes
13 Comments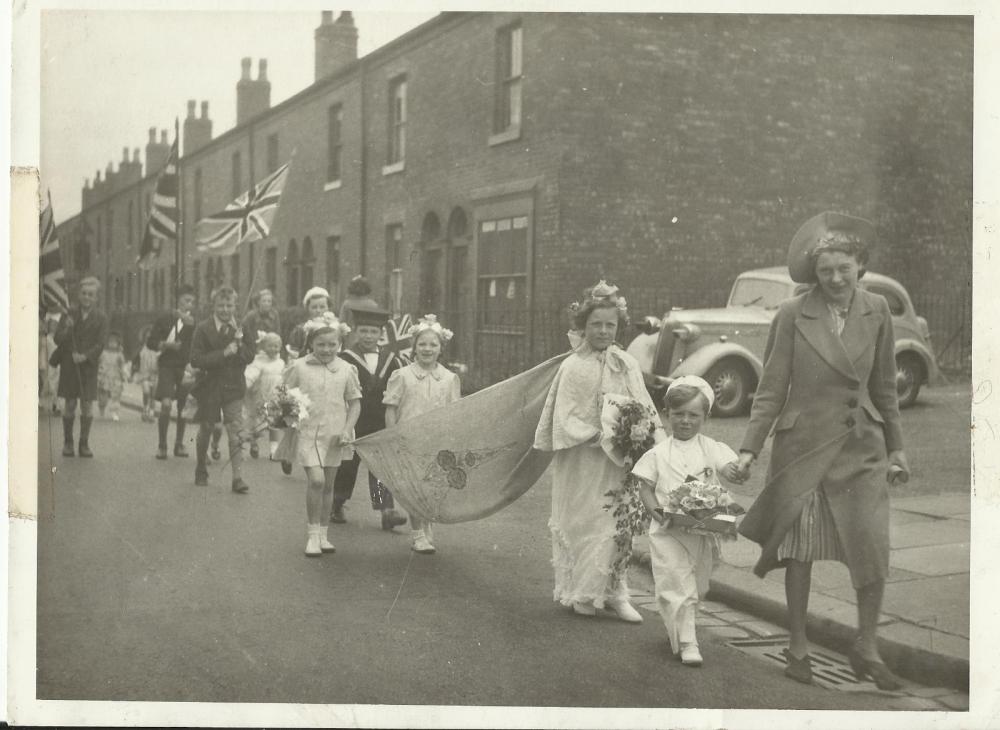 St James' Mission Rose Queen June !943
Photo: Cathy Bolton
Views: 2,200
Item #: 24498
Sunday School teacher Phyllis Lee (Wharton) leading the procession along Poolstock Lane.
The car is parked in the opening opposite the Bold Hotel.
Thanks to Ethel Moore for this picture.
Comment by: Peter on 18th January 2014 at 08:37
Great set of photos Cathy mrs whartons daughter Muriel was in my class at st James
Comment by: a another on 18th January 2014 at 15:22
wer,nt murial your girlfriend in those days peter ?
Comment by: Stuart on 19th January 2014 at 10:33
Cathy, fantastic photos. What makes them even more special is the fact they are taken during WW2 when photography was frowned upon.
Comment by: DerekB on 19th January 2014 at 14:03
Wonder who the Vauxhall car belonged to? )Note the wartime headlight covers) Must have been someone in essential services. No petrol for leisure motoring in those days
Comment by: mw on 23rd January 2014 at 16:24
the shop you can see there ,my dad used to send me to get a battery charged , I don't know what for
Comment by: Dw on 23rd January 2014 at 19:22
Comment by: Doreen on 23rd January 2014 at 19:54
MW - would the battery that you took to get charged be for your Dad's bike light? Just wondering if the time was late 50s early 60s?
Comment by: mw on 25th January 2014 at 17:31
Doreen , I seem to think I took the battery to be charged for the wireless !! I was only a youngster but it does stick in my memory, I used to live in Holt st, which was just opp,on the other side 0f the road
Comment by: mw on 25th January 2014 at 17:33
yes Doreen it must have been early 50s
Comment by: Doreen on 25th January 2014 at 22:17
MW I was born in 1954 and my sister who is 8 yrs older told me she took batteries to be charged and I have this memory of going with her once with the bike light battery - I've more than likely got it wrong though! I'm not from Wigan so this must have happened in most northern places.
Comment by: mw on 26th January 2014 at 10:57
DW. was the shop called Shentons ,it was a long time ago , so I may be wrong !! correct me if I am please
Comment by: Dw on 4th February 2014 at 21:29
The shop was called shamrocks
Comment by: Cathy Bolton on 26th February 2014 at 19:36
I showed all the comments to one of the twins in the picture and she cleared up some of the questions.
The shop belonged at that time to Tom and Alice Sharrock. They had a daughter called Enid who would have been 12 when this picture was taken.
It's possible that there was no electricity in Holt Street until the early 50s, so radios (or 'the wireless' as it was called) was powered by a battery or 'accumulator' which had to be taken to a local shop to be charged. Sharrocks was a hardware shop but my husband used to take his auntie's to a newsagent near to her house in Bolton Road, Ashton. I expect they were none too pleased when electricity was installed in all the houses as they would lose some of their income.
I suppose that you had to pay for electricity installation and as a lot of houses were rented you were at the mercy of the landlord!
The shop on the other side of the opening, where 'Premier Sun' is now, was called Rushton's and they sold groceries.