Photos of Wigan
Photos of Wigan
Album Contents
Album Contents
Wigan Album
Poolstock Lane, Worsley Mesnes
9 Comments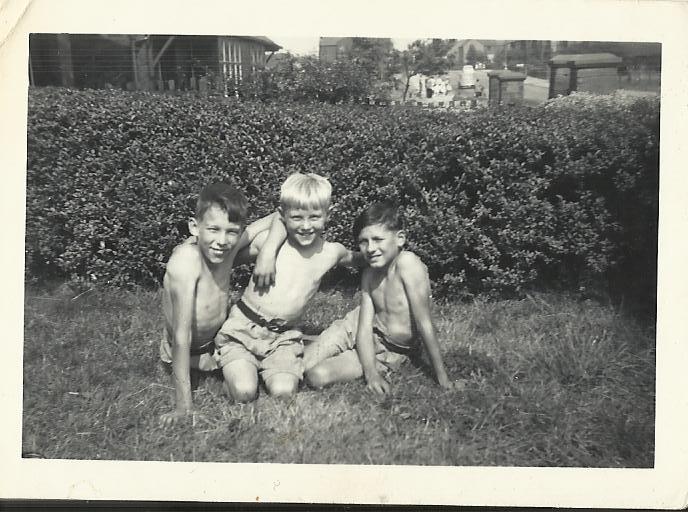 Poolstock Lane before St. Judes was built
Photo: Cathy Bolton
Views: 2,550
Item #: 24471
These three boys are sitting in a front garden on Poolstock Lane, near St. Paul's Avenue. A massive monkey puzzle tree is growing in that garden now.
Picture taken around 1952 - so a long time before St Jude's was built.
Just fields between Poolstock Lane and Warrington Road, St. Paul's Avenue was cobbles and cinders and was known as 'the Coach Road'. The land St. Judes was built on was a pond.
Comment by: JB on 16th January 2014 at 16:04
Nice picture. I was always under the impression that the 'coach road' ran between St Paul's church and the graveyard. . . but I could be wrong.
Comment by: Sue Ward on 16th January 2014 at 19:40
On the site where St Judes is now was a duck pond and when I was small we used to go often to feed them.
Comment by: J.J. on 16th January 2014 at 21:27
JB your right the path that cathy as mentioned used to be known as st georges path,but i dont know why,i have also skated on that pond many times in the 1940`s
Comment by: Joan Beckett-Wilding on 17th January 2014 at 10:58
Does anyone know who these 3 lads are.
Comment by: mavis on 17th January 2014 at 16:41
I use to walk up the coach road from the tippings arms up to st pauls church goose green , the we would walk down st georges path , cross the road on to hawkley pad , as we knew it ,happy days
Comment by: Albert on 18th January 2014 at 19:42
I recollect, before St Jude's was built, My wife, and I attended Mass, in a large wooden building, at the bottom of St Paul's Avenue, on the left hand side, before you entered Poolstock Lane.
Comment by: Cathy B on 19th January 2014 at 12:23
Ian Graves, Garvin Graves, John Bolton
Comment by: sandra webster on 20th January 2014 at 15:52
Cathy I think they may have already started to build the council estate between poolstock lane and warrington rd as we moved into Macauley place in 1953 which is just behind St Pauls Ave ....
Comment by: Cathy B on 22nd January 2014 at 20:30
You'll be right Sandra. I can't really put a date on this picture but I guessed that the older boys look about 9/10. They were born in 1943 and the one in the middle was born in 1946 so your guess is as good as mine!
Mr and Mrs Berry lived in the house joined on to this and in the next pair of 'semi's were two brothers called Hurst, and Bamfords (they had a pie and cake shop up Carr Lane when those shops were built) lived in the end one.