Photos of Wigan
Photos of Wigan
Album Contents
Album Contents
Wigan Album
christopher street lower ince may queen
21 Comments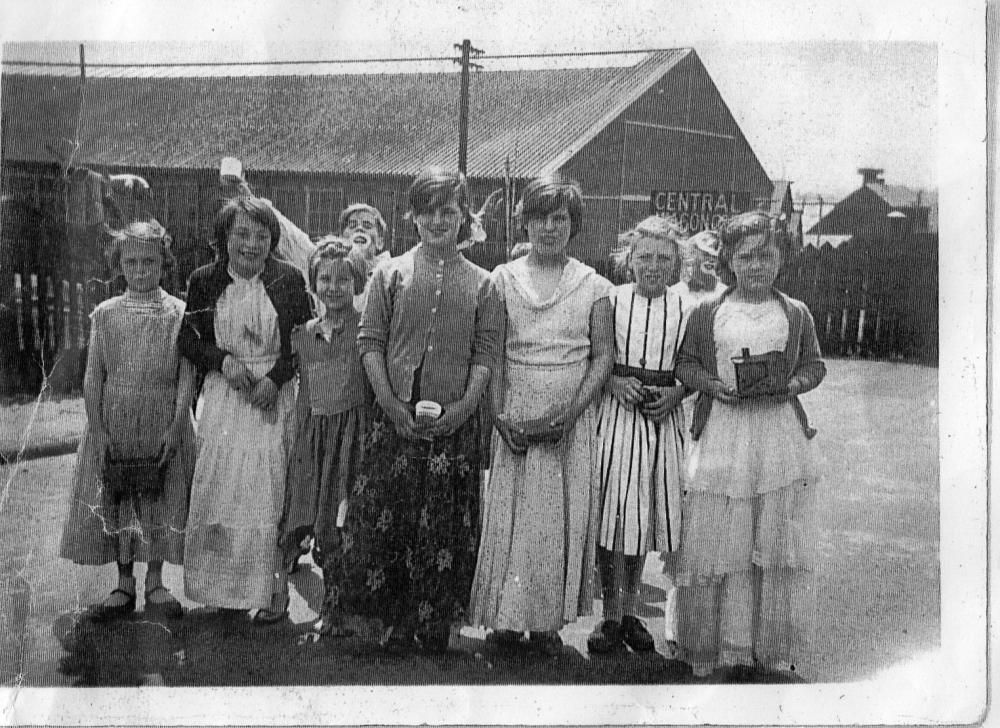 christopher street may queen
Photo: carol
Views: 3,210
Item #: 23231
early sixties
Comment by: carol on 15th April 2013 at 22:37
left to right
jean fishwick mary smart mary hilton helen & betty (twins) winstaley barbara banks lynn porter boy at the back i think alan hilton
Comment by: aitch on 16th April 2013 at 21:21
I spent the first couple of months of my life 1939 down Christopher street (number 34), with my grandparents till our house was vacant in Petticoat Lane
Comment by: aitch on 16th April 2013 at 23:55
I also forgot to mention, I started work there in 1954, in the foundry, which was to the right of the picture, the small building to the right was originally part of the foundry workshop, where I was employed as a dresser, which entailed chiseling the sharp edges off number and name plates before buffing them down with a grindstone.
Comment by: Albert. on 18th April 2013 at 18:57
Aitch. Is this street where Ince Council Office was on the corner, in Ince Green Lane?.If so, did Higher Ince commence on the other side of the railway brdge?.
Comment by: carol on 20th April 2013 at 17:36
Albert yes Christopher st is where the council offices are.
I was told the boundary line is on the side of the bridge where Ince Parish church is some say it is near the Manley. The postal address for Christopher st was Lower Ince.
Comment by: aitch on 20th April 2013 at 17:49
It certainly is Albert, but although I have lived in Higher Ince all of my life, I am not sure where Higher Ince and Lower Ince start and finish, I always thought it was near the clinic, which was just beyond the Public Hall
Comment by: Bill Fleetwood on 20th April 2013 at 21:34
We were always informed that Higher and Lower Ince were divided by Lower Ince station and the railway line,don't know whether it is fact or not Harold!
Comment by: aitch on 21st April 2013 at 10:21
that would be about right Bill, the clinic was always in Higher Ince, and was just before Lower Ince station, but I still seem to remember a signpost on the corner of Church street with the legend Higher Ince poining to the left, and Lower ince to the right, but maybe my memory is not what it was.
Comment by: Carol Hilton on 21st April 2013 at 10:38
aitch.In 1939 my dad lived at 24 christopher st and my mother lived at no.50 they married in 1946 and lived all their life at 24 and we where all born at 24
You would have gone the side of our house to clock on the clocking on room and canteen was at the back of our house just missing in the picture
What was the name of your grandparents?
Comment by: aitch on 21st April 2013 at 19:13
Carol, my grsndparents lived at number 34, Bob and Alice Whittle, they had 3 children, Edna, Jimmy, and Robert, my mother was Edna, I do vaguely remember the Hiltons
Comment by: glyn on 21st April 2013 at 22:49
Carol.
Was Alan Hilton your brother.
Comment by: mary hilton on 21st April 2013 at 22:58
aitch i carols sister mary.we knew whittles
Comment by: josie on 22nd April 2013 at 01:03
aww I know most of these girls,lynne porter, jean fishwick,mary smart, etc lovely photo carol !!! your maiden name wouldn't be parr ?
Comment by: Carol Hilton on 22nd April 2013 at 08:27
aitch knew your grandparents.
Glyn yes Alan is my brother
Josie my maiden name was Hilton i married Terry Togher he went to cardy you would have know his brother Mike who sadly died in feb this year
Comment by: Albert. on 22nd April 2013 at 11:58
My granmother lived over the bridge in Raven Street, no. 1 or no. 2. She died in 1949,or 1950, aged eighty six years. I remember her telling me, she was working in Whitechapel, when Jack the Ripper was active.
Comment by: irene roberts on 22nd April 2013 at 13:36
How fascinating about your Grandma, Albert! I knew Raven Street well in the early sixties as my schoolfriend Christine Shirley lived at no.6, and we were forever walking between her house and my house which was behind St. William's Presbytery wall. Farmer Street used to fascinate me; on dark Winter nights it looked almost Dickensian and oh! there were some real "characters" lived in those streets.
Comment by: mary hilton on 22nd April 2013 at 23:14
I see mary smart a lot shopping in Wigan.Its over 30 yrs. since I See Betty Winstanley one of the twins from this photo.my daughter was in hospital and betty came in with her daughter.
Comment by: mary on 22nd April 2013 at 23:39
Bill Fleetwood did you go in the amberswood across from the park hotel
Comment by: Michael Kelly on 2nd October 2013 at 22:31
Mary how's your Alan keeping I would like to get in touch with some of the boys from the street
Comment by: mary hilton on 19th January 2014 at 20:32
hi mike sorry not been on ww for ages. r carol say u left message.r al ok he was saying he love to cu.
Are you the Carol Hilton who was manageress of a shop called Jailbird in Wigan in the early 80s, then you opene your own shop, I think it was called called Sincerely Yours?