Photos of Wigan
Photos of Wigan
Album Contents
Album Contents
Wigan Album
christopher street lower ince may queen
8 Comments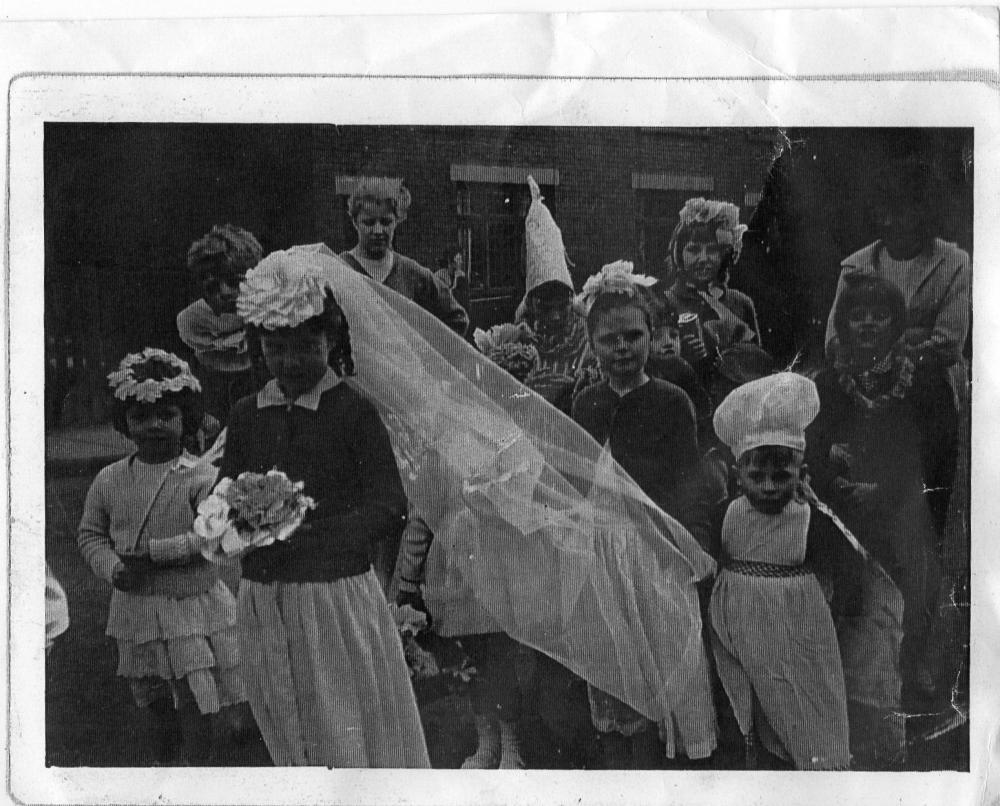 christopher street may queen
Photo: carol
Views: 2,278
Item #: 23230
early sixties
Comment by: irene roberts nee griffiths on 16th April 2013 at 09:29
Remember all those skipping rhymes,
Jumping into Mam's clothes-line?
"Eeper Weeper, Chimney Sweeper,
Had a wife but couldn't keep her".
Hopscotch chalked out on the flags,
Marbles kept in draw-string bags;
May-Queens formed all over town,
Mam's net curtain, cardboard crown.
Remember Ince in '62?
We were nine then, me and you.
Comment by: carol on 16th April 2013 at 11:25
at the back left to right clown john crossland then his older sister kathleen crossland the clown with poited hat thomas molyneaux, mary hilton, sandra ? (i think she was kathleens friend) behind the queen carol hilton left joan crossland ? christine kitts, dorothy crossland, stephen wharton (baker)weeks before the may queen our mams would be making flowers/ruffs sewing costumes out of crepe paper we would set off from christopher st. turn left on to ince green lane down manley st,turn right on to warrington rd passed the big and little rock pubs some of the men would come out of the pubs and give us some coppers we would walk up to the derby arms on chapel lane then we would turn around to go back for a party in the wagon works canteen. we used to bump into other street may queens along the route sadly you don't see any these days.
Comment by: carol on 19th April 2013 at 17:56
been informed the girls name is Brenda Carless not sandra and her dad was caretaker at Rose Bridge
Comment by: mary hilton on 21st April 2013 at 23:15
yes carol it is brenda careless.her dad was caretaker at rose bridge school
Comment by: josie on 22nd April 2013 at 01:17
lovely old pic carol we lived next door but one to the kitts, and I was friends and worked with joan and Kathleen crossland joan works in greggs not seen Kathleen for ages we had some good fun at work, rapapports in anderton st ince beltin times ,I am relaited to the Hiltons through marrage of my uncle frank mawdsley he married Doreen Hilton,he passed away now ! he was 80 yrs old my mams brother ,who was the queen ?.
Comment by: Carol Hilton on 22nd April 2013 at 08:32
Josie i was the queen.I bump into Mary Kitts every now and again
Comment by: Jarvo on 23rd April 2013 at 12:10
Irene: Lovely little ditty...Brings back so many lovely memories of our May Queen in Lambton Street, Pemberton. I wish I could go back!
Comment by: irene roberts on 23rd April 2013 at 13:14
Thanks, Jarvo. It's just a little bit out of a poem I wrote for a friend's 60th birthday and I think I put the full poem on your Poetry Corner when I first joined Wigan World.