Photos of Wigan
Photos of Wigan
Album Contents
Album Contents
Wigan Album
Wells St Scholes
11 Comments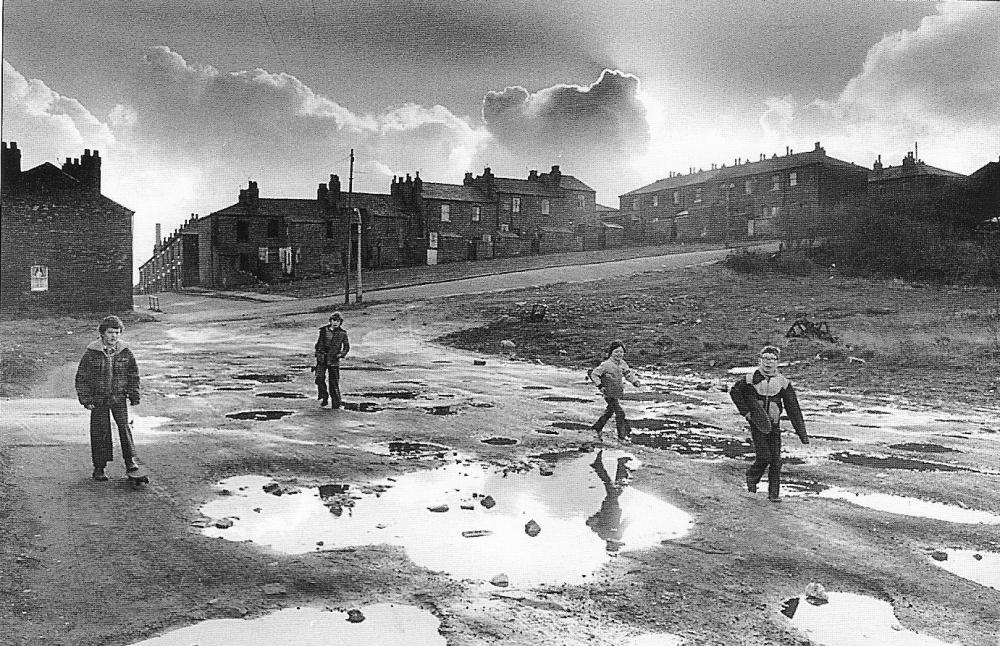 Young Boys At Play Wells St circa 1960s
Photo: JohnAlan
Views: 2,509
Item #: 21661
What a dramatic photograph this is with a wonderful sky. The scene is possibly at the bottom of Lorne St with the backs of the houses in Leader St . To the right at the top would be the Sandhole and to the left St Catharine's Recreation ground. living in Golborne St I often played in this area especially on the rec. What a sad scene this picture depicts - the end of an era for the community. If you carry on the way the boys are walking you would pass the bottom of Caunce Rd, Knowles St and Stanley Sq and then arrive at Platt Lane. Turning right along Platt Lane will see you pass Thickness Row or Garden Houses leading to a dirt track which took you onto the Platt Lane fiels, 1, 2 and 3 having passed under the narrow railway bridge of the Whelley loop line. What happy days I and my mates had in those days. Out all day till dusk on balmy sunny days with no worries about being abducted or assaulted or worse. Children of today miss out on so much.
Comment by: john on 18th October 2012 at 13:53
Comment by: Standisher on 18th October 2012 at 13:56
Looks like they are all carrying skateboards, don't remember seeing those in the sixties. More like early to mid seventies. Good evocotive photo though
skateboarding kids i think they are robert and shirley dunn they lived in wells street great photo
Comment by: tony on 18th October 2012 at 15:32
johnalan i'm not sure about the 60s more like the 70s to me with the skate boards but i'll stand to be corrected.great photo.
Comment by: aitch on 18th October 2012 at 16:25
Seems like you have the same book I have JohnAlan,!!
Comment by: c.p on 18th October 2012 at 16:30
I know it says 1960s but it looks like mid seventies to me with skate boards and lumber jackets also the lad to the left looks like Joe Murray and the lad furthest right his brother Paul Joe is 47 now and Paul about 45
Comment by: kevan t on 18th October 2012 at 21:34
Not sure when the 'manufactured' skateboards arrived on the scene, but I do remember tearing down the hill at the top of Coniston Ave at Orrell on a plank of wood that had quite literally had 2 skates nailed to the bottom of it. Lord knows whose idea it was but we emigrated to Oz in 1964 so it's possible that this could be late 60's.
Kevan
Comment by: c.p on 19th October 2012 at 08:19
Think your right Julie it is Rob and Shirley
Comment by: D. on 19th October 2012 at 09:49
It's true, skateboards were virtually unknown over here till the late 70s/early 80s, before that no kid would have know what to do with one. They were poular in America decades before they caught on over here.
not rob + shirley dunne i grew up with them here had a sister called angela mum n dad dorothy n joe , we lived at 55 leader st .this picture from wigan observer .i have a copy .this is bottom of what we called the wembley .which was a dirt road from well st to platt lane.norman blackledge lived in end house on left of picture in well st. rob dunne end house next block further up street.
Comment by: Joseph on 18th November 2018 at 20:08
Lad to the right with glasses is wearing a Budgie jacket made famous by Adam Faith on the TV series Budgie which ran from 1971 to 1972 so this would date the photo.