Photos of Wigan
Photos of Wigan
Album Contents
Album Contents
Wigan Album
Regent St Scholes
14 Comments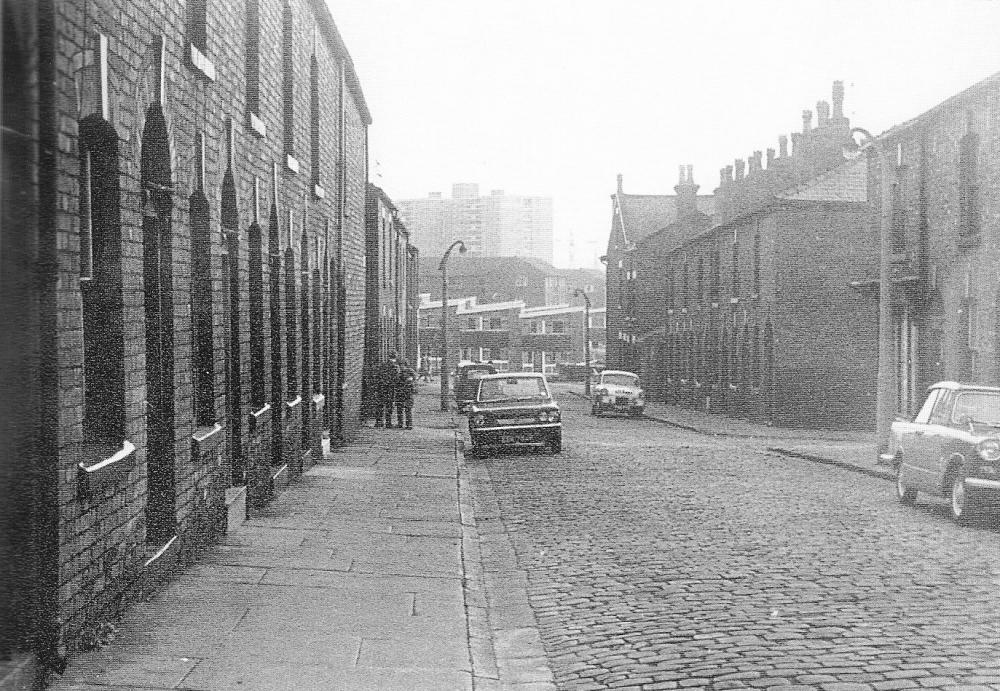 Regent St Scholes Late 1960s
Photo: JohnAlan
Views: 4,716
Item #: 21660
I lived in Scholes (Golborne St and Scholefield Lane) until I was 14 years old then Whelley and miss the old Scholes tremendously.
Looking towards Greenough St with Lime St the other side of Greenough St, Arden St crossed Regent St mid picture. You can see the progress(?) with the new council housing which I don't think are there now what 40+ years or so (They are still standing in Upper Morris St), and Lime St Flats in the distance and the high rise flats in School Lane. There is a Hillman Imp on the left and a Triumph Herald on the right with possibly a Hillman Minx behind it.
Comment by: Thomas(Tom)Walsh on 18th October 2012 at 11:58
Thank you John,it brings back great memories of yore. Every house window sills polished everyday ,steps moped along with an area of pavement immediately out side the front door. People had such pride in their homes.
Comment by: Margaret Wall on 18th October 2012 at 12:16
These are lovely old pictures John. I'm so glad that someone had the foresight to capture the images of our old Wigan streets and railways etc. They are wonderful to see and thanks for sharing them with us!
Comment by: derekb on 18th October 2012 at 15:42
The tall building on the right of this photo at the end of the street and fronting Greenough St. will be The Regent pub, won't it?
Comment by: Frank Orrell on 18th October 2012 at 15:55
All the recent pictures submitted by JohnAlan are scanned from the book 'Wigan Fifty Golden Years' produced by the Wigan Observer in 2002. I'm not sure whether it's still in print but the publishers were Breedon Books.
All the pictures in the book were taken by Wigan Observer and Post and Chronicle photographers.
Comment by: RON HUNT on 18th October 2012 at 17:14
The building on the right would be the Doctors surgery for Drs.Ince and Mills
Comment by: Tony G on 18th October 2012 at 17:56
very right too!!! Me and my old friends in the 60's, as children, always played in thisstreet: it led to Longshoot, where we would light fires or sleigh in the winter. Oh! that of 69!!!! We all got chickenpocs'!!!!

Anyway a great pic. I feel the high rise flats are manion House. The crane to the leftis building Derby House. The 'dutch houses', are Windmill Close.
Comment by: derekb on 18th October 2012 at 18:49
Re Frank Orrell's comment about the book 'Wigan - Fifty Golden Years' If anyone is interested I think it can be found in most Wigan Library branches. It is certainly in Standish branch library.
Comment by: walt (nth Yorkshire) on 18th October 2012 at 23:13
My mother was born in Scholes 1912, my grandparents and great grandparents lived in Bolton Street, Does anyone have a photo of this street, please post it if you do, Ta!
They ruined the best "skilly"stadium in the world when they re-built Scholes area!
Comment by: JohnAlan on 19th October 2012 at 08:40
Frank - we havew a lot to thank the Wigan Observer for. Without the forethought to take and use these great photos these scenes would have been lost for ever and a part of our heritage confined to our minds eye.
Comment by: Tom P on 19th October 2012 at 19:30
I lived in the house second window down on the left, tiled step. Happy days.
Comment by: Alan Evans on 25th May 2013 at 13:16
Does anyone remember Charlie winnard the hawker he lived in the houses on the right of the picture.I lived in the first house on the left he used to deliver fruit and veg on his horse and cart me and his grandson Alan berry used to help,then he let us take the horse to the stables at the side of st George's church good days
Comment by: Mr X on 15th February 2018 at 23:27
Regent Street and Oxford Street are the busiest streets in London, but Wigan also had Regent and Oxford Street off Greenough Street, approximately Sullivan Way is now. There was also Vaughan Street, Burlington Street, River Street and Westminster Street where George Formby was born. A tiny street with eight houses was Tichborne (Tichybone) Street.