Photos of Wigan
Photos of Wigan
Album Contents
Album Contents
Wigan Album
Aspull
11 Comments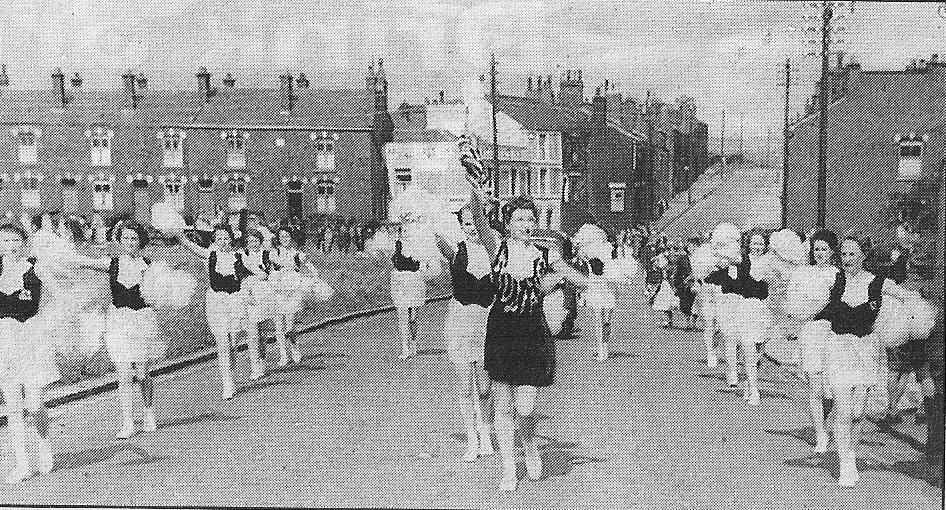 Scot Lane Aspull circa 1956
Photo: JohnAlan
Views: 4,477
Item #: 21156
The photo shows Scot Lane (before the new shops and houses were build on Moorside) and Stanley Road. Aspull Morris Dancers parading and showing their skill maybe during one of the Aspull church walking days. The house at the bottom of Stanley Rd and going up Scot Lane have long since gon, although those shown on the right of Scot Lane are still there as shops. Can anyone identify the occasion or girls taking part?
Comment by: Margaret A on 5th August 2012 at 12:30
I think this is Aspull Carnival in the 50's or 60's
Comment by: christine singleton. ne walker on 12th August 2012 at 14:27
i just want to know did anyone know my dad allan walker. he lived on bolton rd it is the house on it own just before the church. he had a brother jimmy and a sister janey. he went to live in hindley when he got married
Comment by: Sandra Miller (nee Kay on 22nd August 2012 at 19:37
This would have been a carnival. The girl in front was Betty Havelin. I was a little girl then and was mascot but not on the picture.
Comment by: MY NAME IS LINDA RUTTER NE HULME on 2nd October 2012 at 21:47
THIS IS aSPULL CARNIVAL IM THE FIRST GIRL LEFT OF BETTY WE WHERE ONE OF THE BEST TROUPS IN THE NORTH WEST OUR DRESSES WHEREWHITE SATIN SKIRTS WITH A RED VELVET TOP WE BETTY LIVES IN lONDON I WOULD LOVE TO GET IN TOUCH WITH SOME OF THESE GIRLS WOULD LOVE A REUNIO
I was in juniors 1/R Marlene Silcock, 2/r Betty Lewis 1/L Linda Hulme,4/L Jenny Hulme?
Comment by: Kathy Lee on 3rd February 2014 at 22:19
Didn't Betty Havelin move to Southend on Sea when she got married I married a lad from Essex and used to travel to London on the train with Betty on a couple of occasions . If my memory serves me right she married a lad named Alan Tremayne
Comment by: Linda Rutter was Hulme on 4th February 2014 at 18:40
Hi Cathy Betty still lives in London she divorsed her first husband then she lost her partner last year we still send xmas cards
Comment by: kathy lee on 5th February 2014 at 21:33
Next time you send her a card ask if she remembers travelling from Wigan to London with me My name was Close before I married
My mum said she was in the aspull morris dancers,her name then was margaret meadows, or seddon, anyone know if she's on this pic.
The gable end to the wall at the back right of the picture was owned by my grandad Billy Croston. He also had 2 more shops on that row but i think that they was rentals. Uncle Pierce used to live in the houses to the right of the picture and had a couple of cattle trucks.
My mum and my auntie was in the morris dancers do you have any pictures it was Mary mercer and Ivy mercerf