Photos of Wigan
Photos of Wigan
Album Contents
Album Contents
Wigan Album
Woolden Street, Newtown
12 Comments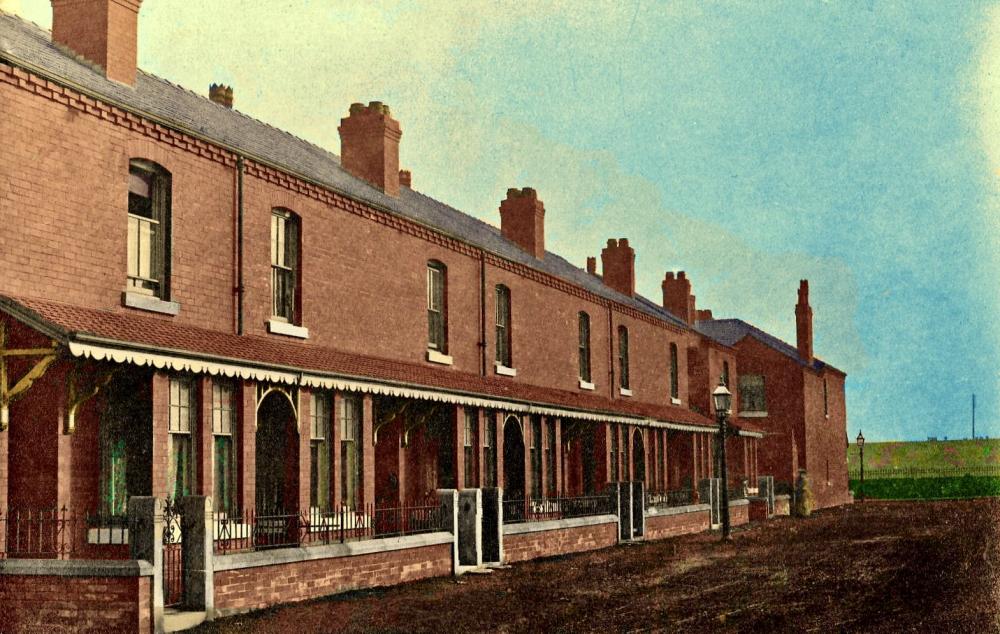 Woolden Street, Newtown 1909
Photo: Tim Cooke
Views: 2,804
Item #: 20484
An old black & white postcard dated 1909 that I found by chance on ebay. I was born in this Street in 1968, and my Dad still lives there. I coloured it in myself, and can you spot the lady at the end of the street! The houses must have recently been built as there seems to be no pavement or road surface. That is Alexandra Park and the railway embankment in the distance.
Comment by: Joseph on 22nd April 2012 at 22:14
Yes they do look newly built, as you can see the efflorescence on the front wall bricks. Look at those lovley sash windows too, deadly when the cord went though. Great photo, Tim.
Comment by: David on 22nd April 2012 at 23:18
Comment by: RON HUNT on 23rd April 2012 at 11:06
I wonder how much they cost???? Better built than today's houses
Comment by: dave c on 23rd April 2012 at 12:22
You can tell it was taken when the houses were first built, nobody had pinched the gates or the railings. Great photo
Comment by: winder on 23rd April 2012 at 14:37
If you compare the photo with a modern day view on Google street, nothing much has changed. The garden walls have still got their coping stones and some have still got railings on them.
I like the way you've coloured it from black and white.
Excellent.
Comment by: Syd on 23rd April 2012 at 14:55
Oh Dave.c, You are such a cynic! But your comment really made me laugh. Just wonderful.
Comment by: fran on 23rd April 2012 at 20:04
The railings and gates would have been cut off in WW II. Those there now are replacements.
Comment by: winder on 23rd April 2012 at 20:53
Yes indeed, Fran.
Something to do with the war effort.

Forgot to mention earlier, that the gate post's look to be the original ones as well in the Google street shot.
Comment by: Mick on 24th April 2012 at 10:28
The removal of iron railings etc to aid the war effort, was typical of govermental organisation.
Once the damage had been done, it was found that the iron could not be reused, and more often than not it was simply dumped, often at sea; no doubt so it could not be seen as a reminder of incompetence.
Comment by: Sheryl B on 24th April 2012 at 23:32
At school as an 8-year-old in Australia in 1957, I had one of these sash windows come down full force onto my left thumb, which promptly split open, bloody gushed forth, I experienced one of the worst painful episodes of my life for a short time, I was also scolded for trying to work the window by myself, my thumb was rinsed off in the drinking trough, roughly wound up in a piece of rag and then I was sent to walk the 1 mile home. Great memory that! :/
Comment by: Tim Cooke on 26th April 2012 at 19:04
Many thanks for all the comments. I didn't think it would get much attention!! Aye, the gate posts are still there, albeit on fewer houses. A few have been replaced by brick built ones. One of the posts on my Dads house was replaced by a new replica stone gate post last year. As long as I can remember though, there was always a wooden replica gate post as the original one cracked and snapped off in a cold winter in the early 60's! Over the years the post got filled in with filler and other kinds of bonding material until it finally gave up the ghost! I've never lifted anything as heavy in my life as the new gate post!
Comment by: Michael Ardern Mason on 21st August 2014 at 18:59
Great photo Tim. My dad always said that Woolden Street,with its view of the bowling green, was the nicest street in Newtown.