Photos of Wigan
Photos of Wigan
Album Contents
Album Contents
Wigan Album
scholes
26 Comments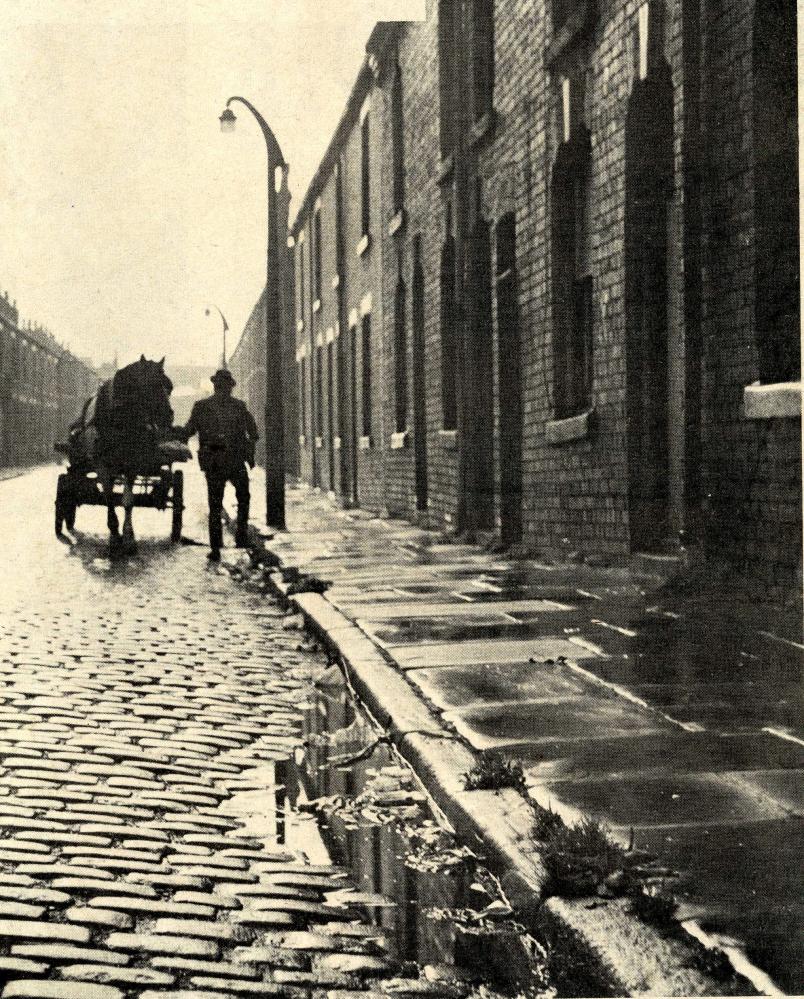 Scholes Street 1960s
Photo: Scholes Malc
Views: 6,164
Item #: 19676
off Caunce Road
Comment by: gideonfel on 21st January 2012 at 11:31
What a wonderful and evocative picture! A reminder of what we've lost.
Comment by: Margaret on 21st January 2012 at 13:03
It's amazing that this was taken in the 60s. I lived near there and remember playing on the cobbles and picking tar out of them. People would pay a fortune for them now.
Comment by: ste s on 21st January 2012 at 20:09
that sreet is paved with gold york setts and york flags last for ever
Comment by: Garry on 21st January 2012 at 20:10
Raaaggg booonnne, any old rags! plenty white steps from his rubbing stones in that street you can bet.
Comment by: aggie on 21st January 2012 at 20:51
lovely picture. very happy times without all the pressure of todays generation
Comment by: John on 22nd January 2012 at 11:51
Great picture. I was born in Scholes (School st)and this type of picture still fascinates me. The street lamps look very modern though. . . or is it me?
Comment by: Gale Trainor on 22nd January 2012 at 12:28
In truth...Cockroach infested slums.
Comment by: Scholes Malc on 22nd January 2012 at 17:44
'Gale Trainor' or is it Mrs Bouquet?
I never saw a cockroach because mother kept the house clean
it was not a 'slum' .........it was home!
Comment by: dc on 22nd January 2012 at 20:04
Well said Scholes Malc the majority of housing in Wigan in the 50 & 60 was Terraced housing with cobbled streets
Comment by: Helen on 23rd January 2012 at 10:11
Wonderful photo. Neat, tidy street. People must have worked hard at keeping things looking as nice as they could. Most would have been ashamed at the words cockroach & slums. I think their cups were half full in those days...not half empty as many people today think their's are.
Comment by: Lyn Forshaw on 23rd January 2012 at 12:04
We lived in that aea for a while. Nice people, but despite mam being a stickler for cleanliness; our house was infested by all sorts of bugs. Tried everything but we couldn't get rid of them. Fortunately, the council rehoused us in a new semi. We thought we'd gone to Heaven!
Comment by: hc on 23rd January 2012 at 13:56
I also lived in a terraced house which never had bugs! they wouldn't stand a chance! even the front doorstep was 'donkey stoned' and we always had a neat semi-circle made with the donkey-stone just outside the step on the pavement.You can't say all terraced houses were slums. I can show you semis that are real slums today!
Comment by: JohnAlan on 23rd January 2012 at 15:18
Great pic, I lived the first seven years of my life in Golborne St which was also off Caunce Road. We moved to Scholefield Lane in 1955. If there were slums they were the result of the people living there. Most kept them clean and cared for and you could leave your door open without risk. Wigan council ruined the area by demolishing virtually all the property. Not much is left of the old Scholes and it is much the worse for it. Scholes was a great place to grow up in in the fifties and sixties.
Comment by: Tom Walsh on 27th January 2012 at 17:30
I was born in Mc Cormick St.,and I am very proud of my heritage . My Mother would the leave the rent money and the clubmans money on the sideboard leave the door opened each would take there money and mark the book . in every house there was a gas meter full money no one would ever think to touch it. If anyone in the street was Ill neighbours would care for them . no need for asbos in those days, a quick I tell you're Mam or Fr.,Lappin or Teacher, would bring the most unruly chid to heel. No mod cons ., but as Scholes Malc says wonderful homes and communities. Most things have changed for the better, but certainly not everything .
,
Comment by: dk on 27th January 2012 at 20:01
Very true Tom, and put very nicely.
This picture says it all!I loved seeing the pavement flags after rain! All clean and sparkling ( no sign of thrownaway chewy then!) I always wondered what became of the lovely stone flags. In every town and village - they just disappeared - did the councils sell them all to make a big profit???I lived in John St and I have searched high and low for a picture of the street. The only one to be seen is the one with the pub at the very bottom which was called the Prince of Wales.
Comment by: H. on 30th April 2012 at 14:13
And you could leave you door open!
Comment by: Liz Holland on 30th July 2012 at 18:40
Is Scholes Malc Malcolm Holland? Jeff Hollands cousin. Jeff was born & raised in Scholes nickname Jetty to school buds. He lived in Stanley St for a while his parents were Ernie and Margret Holland. Jeff passed away last year.
Comment by: RON HUNT on 12th August 2012 at 23:55
Hi Liz are you Jeff's wife? Can you send me your e.mail address I was in the same year as Jetty at the T.L.S and today I met up with a school pal who was Jetty's best friend at school. He was shocked to hear the news about Jetty and he remembers you and I think he would like to contact you.
You can e.mail me at ron@wiganworld.co.uk
I was very sad to hear about Jetty. He booked for 6 of us from TLS to see the Beatles at Leigh Casino just after their first record and before they had a number one.
I found his obituary on Google search
http://www.legacy.com/obituaries/toledoblade/obituary.aspx?n=jeffrey-michael-holland&pid=149037459&fhid=6367#fbLoggedOut
Hi John I do remember you from long ago Jeff often told people about the night that he and his mates went to see the Beatles and Roy Orbison too? before fame incredible. Glad you found his obit from the Toledo Blade.
Comment by: carmel on 7th October 2014 at 00:05
just been reading the comments from scholes.
I was born next door to shovel broom i dont remember as we moved when i was two.
.
Comment by: OldResident on 5th February 2015 at 13:51
I'm sure this is Linney Street. Horse & Cart walking towards St Catherine's and just behind the lamp post, Isabella St leading on to Caunce Road...
Comment by: Jerry on 8th June 2017 at 10:55
Filthy streets, disease and slums. That's why the council demolished them. I'm absolutely sure that no one who is suffering from nostalgia over those times, would want to live in such houses again. The reality is far different from the memories. I'm now 80 years old and I bless the day such houses were made things of the past.
Comment by: Joe Thomas on 12th June 2020 at 15:00
This is Linney Street oldresident i was born at 34 further up on the left this is the bottom end near Platt Lane wonder if the rag and bone man is Arthur Kelly
I lived in Spring St, Hardybutts and lots of my friends lived in the terraced houses off Scholes, I think the people leaving the nasty comments about slums and infestation should think back and see how they would like their memories spoiled by these kind of comments, lives were different then and we were all in the same boat and were happier than a lot of children nowadays.