Photos of Wigan
Photos of Wigan
Album Contents
Album Contents
Wigan Album
Platt Bridge
22 Comments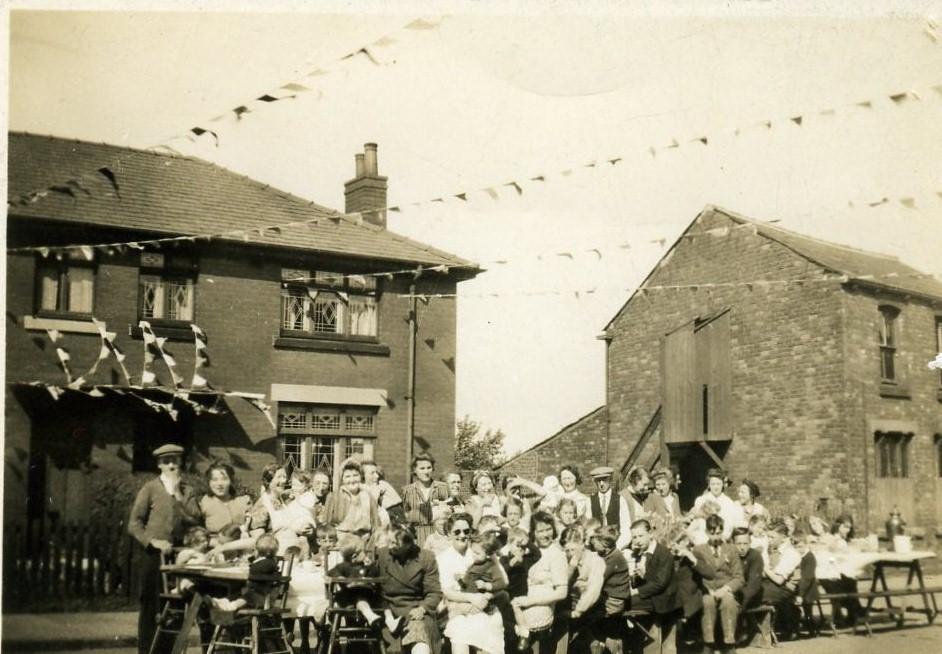 Street party 1945
Photo: Margaret Rowden nee Morris
Views: 4,994
Item #: 17600
This was taken in Millers lane. I was born in Number 22.
Comment by: Dennis Miller on 20th April 2011 at 07:23
There is a blast from the past! I recognise the building over to the right, it was a wood yard if I remember. I lived not 100 yards from it, on Vicarage Close, which WAS the Vicarage when this shot was taken... a good one!
The building at the back was, when this was taken, a bakers. it was such a great place, it would be listed today. it was run by Mr. Wolstenholme, who had a shop in warrington road. it was taken over by John Bolan. After them it became a builder's yard.I can just about identify most of the people including my Mum & me.
NICE TO SEE ALL THE OLD PHOTOS I WAS BORN IN PLATT BRIDGE IN WILSON ST I DONT NO THAT BUILDING BUT IT MUST BE NEAR THE BRICK CROFT YES CLIFF
Comment by: Dennis Miller on 23rd April 2011 at 07:00
Cliff... if you lived in Wilson Street you probably remember the Vicarage on Victoria Road. If you had walked up the 'backs' of Collinge Street, up the left side of the Vicarage wall, you would emerge onto Millers Lane almost exactly where that photograph was taken from.
photo must been taken from jhon bailis door step but i dont remember the building dennis cliff
Comment by: Steve on 25th April 2011 at 20:08
An Aunt & Uncle of mine lived in Queen St which was just off Millers Lane before the old building.I wonder if Millers Lane was named after the building which could have been a corn mill originally ?
Comment by: maggie on 1st May 2011 at 11:13
Millers lane was named, after the council houses were built, Millers Lane after Mr. Miller who lived in the house which was on the corner of Millers Lane & new Street. he was the Doctor's fee collector.
Comment by: Steve on 2nd May 2011 at 20:08
According to Ince Directory for 1925-1926 Millers Lane was then known as Foggs Lane. I agree Margaret it would have been changed to Millers Lane after Tom Miller J.P. Doctors Collector [Doctors Mon] I remember seeing Mr Miller often on my way to Holy Family School. He always wore a hat a Homburg I think!
margaret morris i remember you well i was born at no 46 millers lane the photo shows my aunties house
cliff i lived in wilson street i remember you and your brother albert members of the wilson st gang along with the the Roberts family phil/trev and glen get in touch
Comment by: dennis moore on 23rd February 2012 at 15:51
hi-just found this site-i lived in wilson st,next door to the Edens and the Rigbys lived at the top of the street and i remember Terry Entwistle(played for wigan rugby later on)lived in Millers lane.does anyone remember Polly Allens shop on the corner of collinge st?
There was a shop on the corner of Millers lane & Collince Street, there was a shop at the corner of Collince Street & Victoria Road. I do not remember the name you say, but my mind has gone blank (sign of age) when I try to think of the names of the people who ran them. I remember the name Rigby, but not the other one. The window on the extreme left of the photo was my bedroom, the next one - out of shot was where I was born!
Comment by: stephen shirley on 14th March 2012 at 12:45
the shop on the corner was sid dernleys my parents lived 30 millers lane
Comment by: dennis moore on 21st March 2012 at 19:31
the shop on the corner of collinge street and victoria road was called polly allens
Comment by: ste shirley on 21st April 2012 at 16:44
when i was a kid say 40yrs ago it was sid dernleys cornor of colling street on victoria road
hi- i am talking polly allens in the 1940/50s perhaps it was sids later
Comment by: cliff on 3rd May 2012 at 19:47
it was still pollys in 1959 when i when was in there
Comment by: val on 23rd June 2012 at 19:23
iwas born 57 millers lane in 1947 but i dont recognise the building next to the houses.......... loved living there. My grandparents were the liptrotts.
Comment by: JOHN BAILEY on 8th November 2012 at 13:36
The shop on the corner of Millers Lane and Collinge St. was run by Mary Clayton who lived at the bottom of Abram.the shop at the top of Collinge St.was owned by polly Allen the shop opposite was Jones.Mrs Jones son Gordon was the art teacher at Moss Lane school 1956 when I was there,he didnt stay long he replaced by Mr.Bithell.
Comment by: David Connolly on 14th December 2013 at 15:27
Are you the same Dennis miller I went through school with st.nathaniels/moss ln /springview
Comment by: GARETH DICKINSON on 2nd January 2014 at 02:48
I LIVED IN VICARAGE CLOSE ( HAPPY DAYS ) I REMEMBER DENNIS MILLER AND DAVID CONOLLY WELL.