Photos of Wigan
Photos of Wigan
Album Contents
Album Contents
Wigan Album
barnsley street
13 Comments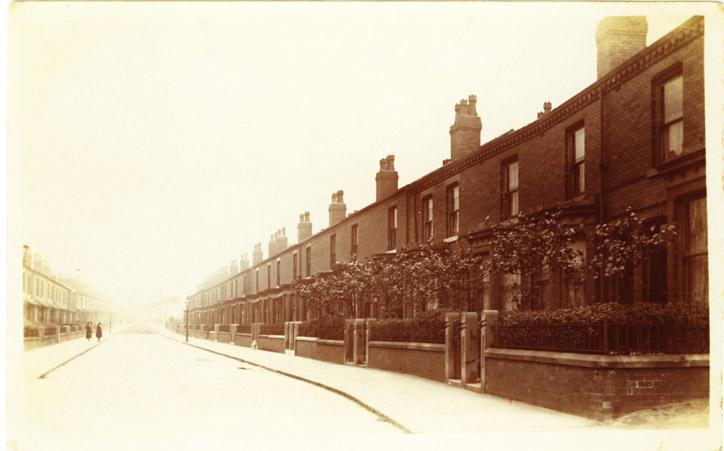 Barnsley St.
Photo: Allan Hughes
Views: 6,335
Item #: 17474
Barnsley street, photo by millard of market st, wigan. Approx 1903 – 1906, except for having no cars there's not much changed in a hundred years.
Comment by: janet on 5th April 2011 at 15:21
I have a brother lives on Barnsley St... it doesn't look like that now... bumper to bumper cars down both sides of the road......

Are those climbing roses I see on the front of the houses on the right... they would be the old fashioned roses, it would have smelled heavenly when they were all in bloom....
Comment by: Cyril. on 5th April 2011 at 17:27
Yes, the vehicles in Barnsley St are packed in like sardines in a tin.

An old fashioned climbing pink/white rose with beautiful perfume is Madame Alfred Carriere, ideal for planting near an entrance door.
Comment by: John Gaskell on 3rd May 2011 at 15:22
I was Born at 62 Barnsley Street.
Comment by: Tonia Preston Nee Partington on 5th February 2012 at 21:16
Myself and my 2 older brothers were all born at 79 back in the early 60's my grandparents Frank and Kathleen Boulton also lived at 79. Her parents also lived in the same street but on the other side of the road. their name was Meadows.. We moved to Hodges street in about 1968 and my mum Joan is still there!
I grew up at 22 Barnsley St from 1943 to 1958,all the Mates lived there.
John Gaskell-David Latham-Marion Harris- Rosemary Harris-Alan Hill-David Hill-Margaret Barker-Susan Duckworth-Janet Duckworth-Alan Powell-Wayne Lupton-Frank Nalor-Maurice Cunliffe-Ralph Ainsco-Enid Walsh-David Walsh-John Oakden.
Yes my dad David and my uncle Alan lived in this street
I lived at number 13, remeber all the folks mentioned by Derek, you went to Australia if I remeber correctly. I am in Canada, living on a sailboat near Toronto. Happy days.
I lived at 46 Barnsley st until 1974 good neighbours may good memories of child hood Dave Willie Wilson The Stones family, Fairhurst, Bear, Williams , Clarke ,Hutchins
Comment by: David Connor on 16th April 2016 at 07:12
I lived next door to Alan Powell at no.19, my grandparents house William and Annie Rigby.
Comment by: brian postlethwaite on 8th June 2016 at 20:50
I lived at 99 Barnsley street 1935 to 1957
Comment by: Ann Piché on 15th February 2018 at 15:08
I lived at 9 Barnsley Street between 1948 and 1956. My surname at the time was TOLSON and my father is the police officer photographed doing point duty pictured in another area on this site.
Comment by: Paul bibby on 26th January 2020 at 21:44
I live at number 15 and I wish it was this now you cant move for cars the street is awful
Hello Ann, you were in my class at the Blue Coat School. Hope you are well and happy.