Photos of Wigan
Photos of Wigan
Album Contents
Album Contents
Wigan Album
Cambridge St
13 Comments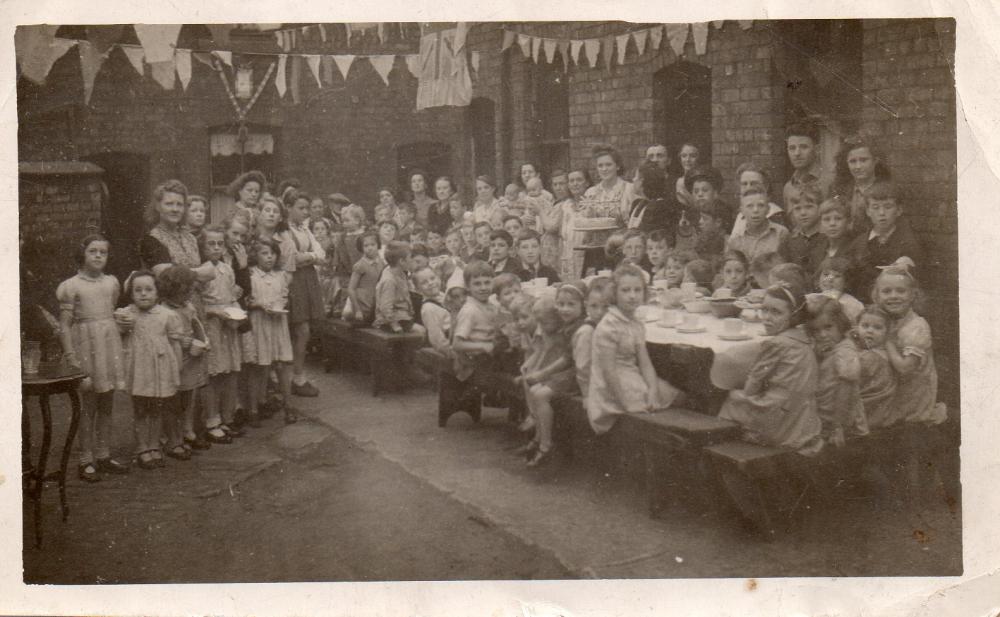 cambridge st party
Photo: brian
Views: 3,357
Item #: 17415
back of cambridge st&dean st yard
Comment by: Joseph. on 29th March 2011 at 13:52
Is this a VE day party or Coronation Party, and is Dean street backs or Teck street? Thanks.
Comment by: brian on 29th March 2011 at 15:26
sorry got st wrong tony keane on the corner cambridge st& teck st
Comment by: tony keane on 30th March 2011 at 14:21
the party is ve day. in our backyard offcambridge st @dean st six houses in the yard three in cambridge st three in dean st
Comment by: brian on 30th March 2011 at 19:38
tony you lived on corner sullivans next then wooseys them in dean st were colliers,gregorys &?
Comment by: Joseph on 31st March 2011 at 15:16
Thanks for that.

Have you any names for the people on the photo?
Comment by: tony keane on 31st March 2011 at 17:14
The other person who lived in the yard was old Mr.Gaskill.(Billy Gaskill and the twins grandad).
I can just see my own head poking forward in the middle - remember many of the children shown
Comment by: John Gaskell on 22nd April 2012 at 20:42
Tony Keane,
Billy Gaskell my grandad; lived with His daughter Nelly and Frank Burns with their two daughters in the end house in Dean Street; Across the street lived the twins Joseph and James with their parents Jimmy and Mary Gaskell. Mary's maiden name was Bennett
Comment by: StuartP on 30th May 2012 at 12:08
Did Mary Gaskell / Bennett have a daughter Alice?
Comment by: gregorys on 15th December 2014 at 23:03
The man and woman in the door archway are my grandmother and grandfather jhon William Gregory .mary gregory
Comment by: Julie Thorniley on 13th June 2015 at 19:14
My aunt and uncle Sheila and Dennis Brown are on the right hand side of the bench..my mum Eileen hadn't been born then...
Is the Billy Gaskell you mention the son of Elizabeth and William Gaskell? Did he have a brother, John? John Gaskell was my great grandad and his family were from Dean St. Would love to share some info!
I have a similar photo taken from a different angle. My grandmother, Winifred Hurst, great Grandmother, Jane Farrell and Auntie Rita Hurst are on my version but they're missing from this one. They lived at 3 Dean Street.