Photos of Wigan
Photos of Wigan
Album Contents
Album Contents
Wigan Album
Market place Wigan
6 Comments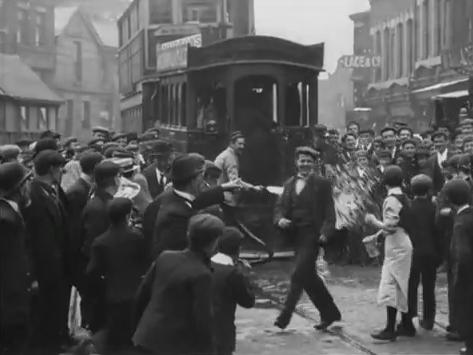 Market Square 1902
Photo: BenJ
Views: 3,001
Item #: 17215
This is a still from a Mitchell and Kenyon film who were very early film makers, taken in Wigan's Market Place in August 1902. This repeated a scene from the Lumiere brothers in France in 1895 who used similar stunts with a hosepipe and willing "victims" to create interest. It was shown in August at Wigan Town Hall and was part of a two hour film presentation called "Life in Wigan". Another show including the "Hull Kingston Rovers v Wigan RL" match was exhibited by the Edisonograph at the Public Hall in Wigan in late October 1902. Typical cost of entry varied from 2 and a half new pence to 15 new pence.The match was played at Hull on October 25th, Wigan losing 8 - 0. The films always seemed to be shown very shortly after they had been made, I suppose to maintain interest.
Comment by: dave c on 23rd February 2011 at 10:58
I've seen extracts from these films on TV, does anyone know if copies are available anywhere (preferably in DVD format as a cinema film projector might not go down to well with her indoors !)
Comment by: wes knight on 23rd February 2011 at 11:33
you can watch this clip on youtube,type in search,living wigan 1902.
Comment by: Nicola Gaskell on 23rd February 2011 at 12:29
You can catch snippets of this film on You Tube, its amazing, I think there is another one of Springfield Track too..
Comment by: Wigwann on 23rd February 2011 at 21:05
Some films are available on Amazon.
Comment by: Duncan on 24th February 2011 at 10:21
Dave c. These films were avaialble on dvd about 5-6 years ago, I was given one for a present then.
Comment by: dave c on 24th February 2011 at 13:04
Thanks everyone, after a bit of a search, I managed to order a copy through the British Film Institutes website